Impact Corry: Reinventing Rural with Connectivity and Community
Erie County nonprofit creates huge impact for their small city
December 13, 2022 at 11:30 AM
There's more than one third-class city in Erie County embracing a first-rate effort to remake itself. That's what I learned on my 35-mile, 50-minute drive from Erie's west side to a 139-year-old building in downtown Corry. This historic structure features tin ceilings, brick walls, burnished wooden doors and a treasure trove of unique antiques repurposed for practical uses.
But a visit to this well-preserved commercial structure at 4 South Center Street, which houses Impact Corry and the Corry Community Foundation, is not an exercise in nostalgia. Rather, it's a way to learn about Corry's current success stories and to get a glimpse of the community's specific, achievable plans to improve connectivity, revitalize neighborhoods and expand and link green spaces, among other goals.
Collaboration is a key principle in the work that Chuck Gray does as Executive Director of Impact Corry. The Corry Community Foundation, the Erie County Gaming Revenue Authority, and other organizations have helped assist Impact Corry financially. And there are many reasons why Impact Corry and the Corry Community Foundation, which aids 24 other nonprofits, share offices. "Our organizations have a coworking/resource-sharing arrangement, but the collaboration goes much deeper than that," said Gray. Shelby Scouten, executive assistant to the foundation, "volunteers to take minutes at Impact Corry meetings," Gray explained. "We proof and edit for one another, we share and overcome challenges together, tell truths together. Shelby is one of the most socially savvy people I have ever known. I count on her insights, advice and perspective," she said.
Gray can also turn to a corps of volunteer "champions" who step up to make sure that Impact Corry listens to Corry residents and delivers on their ideas and priorities. These #PositivelyCorry champions include Wendy Neckers, owner of the Painted Finch Gallery, 32 North Center Street. Neckers opened her fine arts gallery in 2012 and added Epiphany's Emporium, in the adjoining space at 34 North Center, in 2017. Neckers views Corry as "a place of dreams" where dreams are actually coming to fruition. "I'm excited to see the possible changes and the changes that have already happened through Impact Corry," she said.
Valerie Beckerink, Neckers' sister, manages Epiphany's Emporium, which specializes in handcrafted, one-of-a-kind artisan pieces. The family is originally from Clymer, N.Y., but Corry is home. "It's a lovely place to be and we just have to reinvent ourselves and to invite people to enjoy it with us," said Beckerink. The two retailers and other Corry businesses have outdoor café tables and chairs all painted in the same fresh shade of green. The coordinated color scheme signals that Corry is a place to "come have a coffee and sit and chat for a while," said Neckers.
Revitalization plans may not come with color palettes but they share common themes. For example, Charles Buki, the consultant who wrote "Erie Refocused" for the city of Erie, also prepared the comprehensive plan for Corry. In both plans, he found that the cities were dealing with blighted neighborhoods, empty storefronts, and the loss of core industries. You could also say that the two cities share some manufacturing DNA. Climax Manufacturing Company in Corry built geared locomotives designed to transport logs, coal, sugarcane and other goods from the 1880s until 1930, according to the Corry Historical Society. GE Transportation in Lawrence Park, just across the Erie city line, rolled out its first locomotive in 1912; Wabtec, GE's successor, continues to build locomotives here. NuBone Corset Co. was founded in Meadville in 1908 but business really blossomed after it moved to Corry in 1910. Then, in 1920, NuBone relocated to East 25th Street in Erie, according to the Erie Times-News; it closed in the 1960s.
With its annual Corry Climax & Corsets Arts & Innovation Festival, which debuted in 2021, Corry is capitalizing on trains and underwear, the two industries that helped make it famous.
But Corry's turnaround relies on much more than a fall festival with a clever, alliterative name. And Impact Corry's tagline makes clear that this project's sense of place is different from urban Erie. It reads: "Reinventing Rural through collaborative community, economic and civic development." Since Corry's strategic plan was completed in 2021, Corry has invested $8,654,447 in five focus areas: strengthening the city's fiscal balance sheet, activating the city center, ramping up connectivity, linking and improving green spaces, and revitalizing neighborhoods. Every dollar invested in Corry returns $14.47 to the community, according to Gray, and Impact Corry has $20,957,810 in pending funding requests.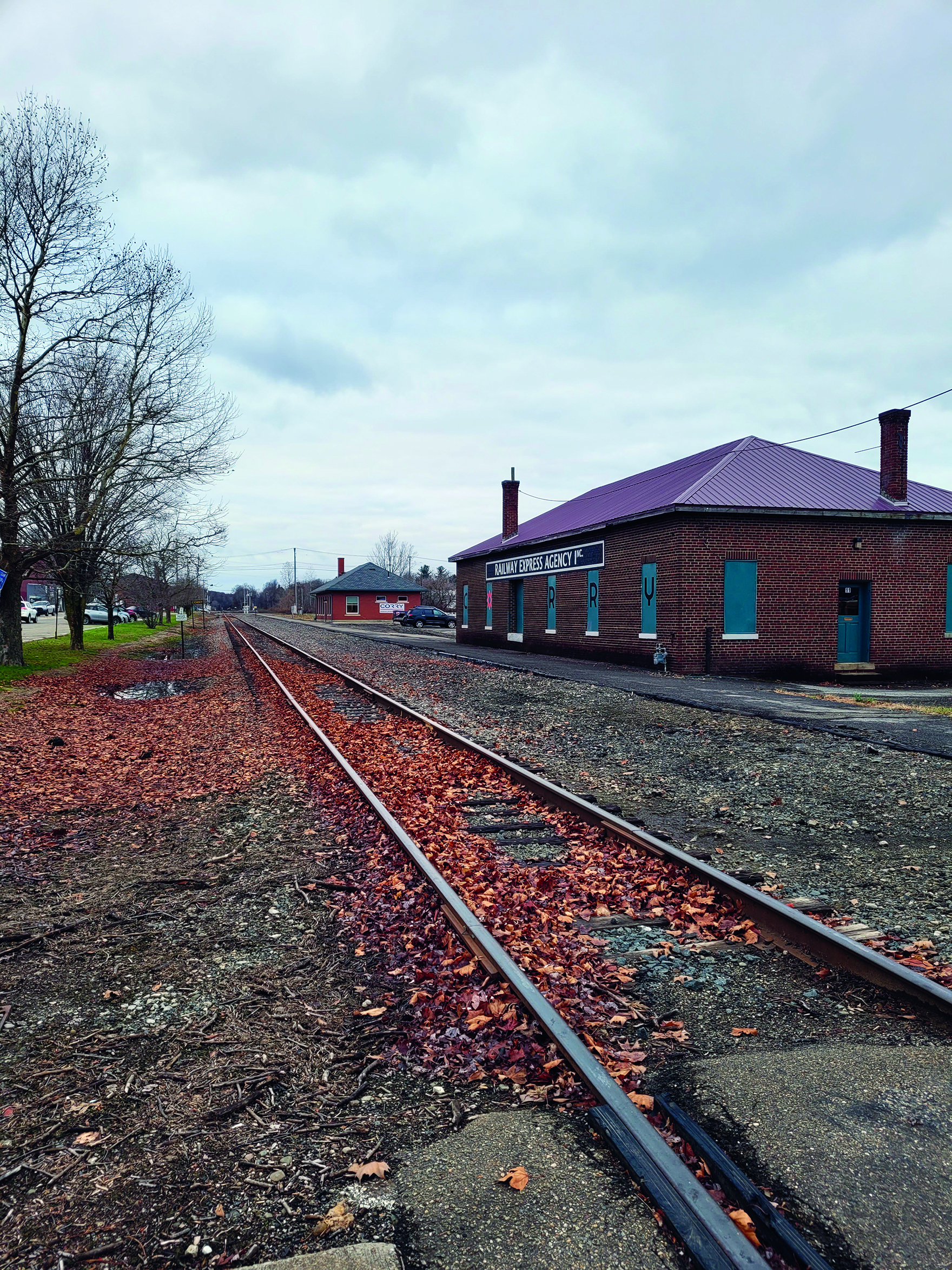 Plans are in the works for the new Corry Rails + Trails Park which will beconstructed on the site of the old Oil Creek Railroad station and yard, inking the past with the future. (Contributed photo)
Gray outlined numerous accomplishments in all five sectors. For example, a new Airport Authority and Board now operates the Corry-Lawrence Airport, so that the city doesn't incur airport costs. The city's North Hills Municipal Golf Course had been losing money but with a new commission overseeing the course, it's making a profit. Both changes have eased pressure on Corry's city budget. To meet demand for technology and skilled workers, Corry is implementing universal Gig Fiber Optic Internet and transforming the former Corry Memorial Hospital into the Corry Area Technology Center and Hub (CATCH). Impact Corry is also working to secure broadband connectivity for the Corry Area and Union City school districts.
"We believe in transformation," Gray said. "Ideas become real at the point of action." "I thoroughly believe we in Corry are poised for a renaissance," she added. And what would the Renaissance be without magnificent art and beauty? Indeed, during my visit to Impact Corry office, the lightbulb went off about why economic development, innovation and artistic creativity go hand-in-hand. Reusing a historic building and filling it with repurposed antiques, including doors that serve as office dividers and an old wooden railroad luggage cart to display brochures, helps to communicate that "this is Corry," said Gray. "We're beautiful. We just have to realize the beauty is here."
Kitty-corner from the Impact Corry office at the intersection of Center and Main Streets, the new Corry Rails + Trails Park will arise in phases on the site of the old Oil Creek Railroad station and yard. Along with green space, trails and a brew pub, there is a design for a glass gazebo. Filagree butterflies will alight on the roof. Their wings will flap when visitors pump swings below. When they look up at those delicate butterflies, they will see that they resemble fancy, custom-made NuBone corsets.
Meet Chuck Gray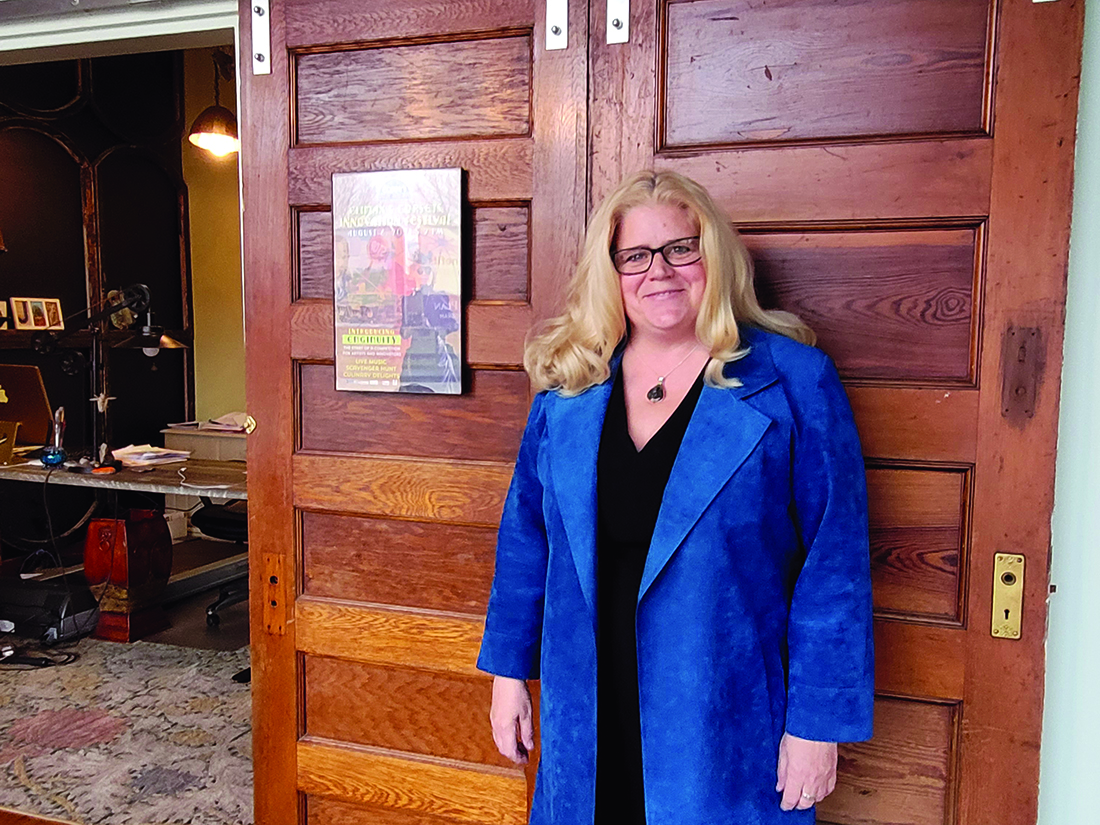 Charles "Chuck" Gray, executive director of Impact Corry, has experience as a grant writer, planner, management consultant and entrepreneur. She also worked as artistic director of the Struthers Library Theatre in Warren, her hometown.
Returning to Warren after having jobs around the country, she saw the warning signs that Warren was no longer the community she had grown up in. "It used to feel like everything was going well," she said.
Until it wasn't.
She could have left. Instead, she stayed, determined to do "anything I can" to help Warren. Now she is employing her talents for visualizing change and documenting progress at Impact Corry, with the website, impactcorry.org, and in tactile displays at the Impact Corry office.
On burlap bulletin boards, she maps out progress to fix up blighted properties with a color-coded map, showing 42 projects completed, 14 in progress, 82 on the waiting list and three neighborhoods left to tackle.
She documents progress with before-and-after pictures of commercial and residential rehabs.
She keeps handouts for the public clipped to another bulletin board on topics ranging from reviving business districts to strengthening innovation in rural hubs to reducing blight on your own block.
And to understand how she translates ideas into action, check out the postcards and notes she has posted on another wall, where her words of inspiration and resolve include these: "Believe in yourself," "See the beauty in the everyday," "Clean up what you have" and "Extol the wonder of local resources."
Liz Allen hopes to return to Corry soon, perhaps for "A Hometown Corry Christmas" on Dec. 2 from 5 to 10 p.m. You can reach her at lizallenerie@gmail.com.