In Search of the Perfect Pint
A tour of the region's thriving craft beer culture.
October 3, 2012 at 8:18 AM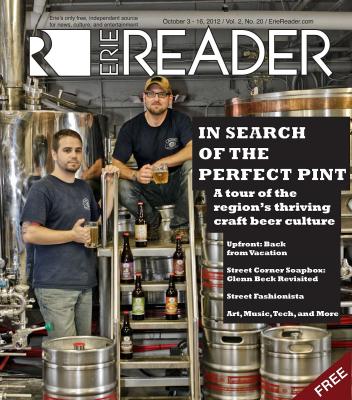 I want to introduce you to a friend of mine. He's pretty great. In fact, you may have met him before.
He's a pretty cool character, although he always seems to be able to get you feeling all warm on the inside. My friend is always there for me during pretty much every occasion, from the happiest of celebrations to the lowest of times.
I've asked him before where he's from, but I always get a different answer. He's not always everyone's favorite because he's so full of character – subtle, smooth, and bright at times; bitter, dark, and complex at others.
He's the type of guy who seems to find a way to sneak in everywhere. One day, I'll see him at the game, helping us root on our favorite team. Next, he'll be chilling with the socialites at a special event, sometimes even hanging out with the President.
So yeah, my friend beer and I are pretty close.
Of course, I'm not the only person that entertains such a relationship with the brew, since beer is the most widely-consumed alcoholic beverage and the third most popular drink in the world behind water and tea, which makes for quite a lot of beer buddies.
Beer has been around quite a long time, although we're still not exactly certain about the birth date. While beer may possibly date all the way back to 9500 B.C. when cereal – the grain, not the breakfast staple – was first farmed. The earliest chemically-confirmed barley beer was discovered to have been made somewhere between 3500 and 3100 B.C., when it was used for special ceremonies in the central Zagros Mountains in Iran.
Fast-forward several thousand years; the beer business is booming. Countries from around the globe consume this beverage in large quantities, including brewing powerhouses like Germany and the Czech Republic, the world leaders in beer consumption per capita. These Eastern European nations may have an edge in the rankings, but we Americans sure don't slack in the beer-swilling department.
According to The Beer Institute, the average American citizen drinks an average of 28.3 gallons of beer each year, or over a dozen cases for the more spatially inclined. While U.S. leader New Hampshire (43 gallons per person) and unsurprising bottom-dweller Utah (19.2 gallons per person) act as the bookends for our national list, Pennsylvania sits just ahead of the average at 29.1 gallons per person.
However, a recent study made by food industry research firm Technomic showed that the U.S. beer industry actually suffered a decrease of 1.3 percent in 2011. Does this mean that our friend beer is becoming less popular? Well, that depends on what you're drinking.
While the overall U.S. beer industry took a hit, craft beer has continued its rapid ascent over the past few decades, growing by 11.2 percent last year alone. While brewing giants Budweiser and Miller saw sales decrease, craft breweries continue to pop up across the nation. According to the Brewers Association, there were 2,126 individual breweries in the U.S., the most since 1890, all thanks to a growing number of beer-drinkers that are willing to spend a few extra bucks for home-grown quality.
Of course, that number includes both micro and macrobreweries, but what exactly is the difference between the two? Mainly, it comes down to overall beer production. In order to be considered a "craft" brewery, an establishment must produce less than 6 million beer barrels a year and have less than 24 percent of the company owned by a macrobrewery. Microbreweries are even smaller, with a limit of 15,000 barrels per year. The largest craft brewery in the nation is the Boston Beer Company, maker of Sam Adams. Other well-known groups include Sierra Nevada Brewing Company, Dogfish Head Craft Brewery, and Southern Tier Brewing Company.
While the craft breweries largely outnumber their macro brethren, they still hold less than 6 percent of the market share, but the beer-drinking public is still going out of its way to purchase the smaller brands.
"There's definitely still a lot of people that aren't super in tune with craft beer, but the people that are in tune are so passionate about it that it's really helping us to expand," says Southern Tier Head Brewer Dustin Hazer. "The amount of craft beer in bars, even in Erie from years ago when I was here, has just blown up. I remember doing this festival [Beer on the Bay] a couple of years ago and some of the places only had your big three [Budweiser, Miller, and Coors], and now all of a sudden they're getting Phin & Matt's and our IPA [two of Sothern Tier's brews]; it's definitely cool to see."
Hazer likes what he sees in this region. Before coming to work for Southern Tier, a critically-acclaimed company located less than an hour east of Erie in Lakewood, N.Y., Hazer was in Arizona, in the employ of Four Peaks Brewing Company.
"It's really great to be back to the area after being out west for a while," Hazer says. "There are a lot of really great breweries out there, but coming back here, I knew a lot of the guys. It's a close-knit group of brewers around this area and it's really fun to be back and in this community."
Of course, like the denizens of any community, these breweries come in all shapes and sizes. The experience you'll have when visiting a brewery really depends on which establishment you visit. Given the wide variety of breweries either in the city of Erie or within driving distance, there you can experience the continuing craft beer explosion without taking too much time out of your day.
If you wanted to fill an entire day with the different craft breweries nearby, however, you certainly could. In fact, in order to see exactly what our region offers to the beer world, we here at the Erie Reader took a day-long trip to some of the local establishments. It's a hard job, I know, but I present to you a day in the world of Northwest Pennsylvania craft beer.
***
It's a farm.
I'm not sure exactly what else I was expecting from Sprague Farm & Brew Works, but my first note on our first destination, as pointed out by Managing Editor Ben Speggen, was a rather obvious one. Still, for anyone used to throwing back some brews in a more urban setting, this rural setting may not be an expected establishment for fine beverages of the adult kind.
We pull up to the farmhouse not too long after 11 a.m. after a 40-minute drive full of discussions about National Bacon Day and the possibility of water as a gateway drink to other beverages. Our small group of Erie Readerites spills out of the light blue minivan, eager to sample the wares of our first stop of the day.
It's a gorgeous day outside, which just adds to the charm. Surrounded by trees and crops, this Venango County farm is exploding with colors, from the various shades of green and brown to the shock of blue from the walls of the barroom. Inside, the barman greets us with our first drafts of the day. As I sip on my mason jar full of Spraguer Logger, a delightful amber-colored märzen lager with a malty flavor and clean finish, I enjoy the homey interiors, as well as a sign on the wall that reads "Unwatched children will be given espresso and a free kitten."
Soon, we're approached by Luke Steadman, the 24-year-old brewer that works with husband-and-wife team Brian and Minnie Sprague to churn out these homemade craft brews. Decked out in his black Johnny Cash T-shirt, the laid-back beer-man leads us through a tour of the establishment.
Mason jars in-hand, we walk outside to the porch and witness what appears to be a hop canopy. Steadman explains that the hops, a flower cluster that is used to flavor beer, is a unique strain that they have essentially let grow out on the side of the barn. Just across from the porch is a pavilion, where the Spragues have built a new structure that's still blessed with the smell of freshly cut wood. Inside, Steadman informs us that the bar was built from the mast of one of the restorations of the Brig Niagara.
Lying in a box nearby is a batch of the flavoring agent itself – sweet, sweet hops. Steadman sifts through the green buds that have been set out to dry, offering some for us to inspect. Outside, Sprague has numerous hop vines running in a line, ready for picking right on the premises.
"We're one of the only regional breweries that actually grow our own hops and barley," Steadman says. "We malt it ourselves, so the High P.A. [a pale, highly hopped brew at Sprague] that's over there is actually one of the only ones that's a true estate beer, where it never leaves the premises.
Much like the homey feel at Sprague, their beers add to the comfort factor. From back during the early years of Sprague when they would serve beer from a piano – the "best-playing piano in the world" according to Luke – to now, the farm has the charm of a backyard party. The piano sits in a room with pieces of beer memorabilia, as Steadman tells us about when Sprague would throw parties, serving brews from taps that they installed in the instrument. Eventually, they retired the piano and put taps behind a traditional bar.
While Editor-in-Chief Brian Graham and Contributing Editor Cory Vaillancourt toss horseshoes between sips of the summery Ale Mary Wit or the smooth Rustbelt amber – a refreshing, aromatic wheat beer named after Minnie Sprague and a copper-colored variation on a pale ale – Steadman chats with Speggen and me by the crops, talking about brewing with sweet corn. Editor-in-Chief Adam Welsh is by the front, laughing with the Spragues. There's a sense of family in the air, as well as in the unfiltered beers they start brewing at 3 a.m., a delightful cloudy nectar.
After a few rounds, we have to leave the farm to continue our trip. We bid adieu to Steadman and the Spragues, as the beer-sampling members of our group pile into the back of our chariot, while the alcohol-free duo takes to the front.
As we start heading south, it's already past noon. While our day may have started early for us, the brewers at our destinations are hard at work before some of us even make it to bed. However, the early hours and process of brewing isn't the only sweat-inducing labor local beer makers toil over to produce craft beverages.
"By far, it hasn't been the easiest job I've ever done," Jason Lavery, president and brewer at Lavery Brewing Company, says about his profession. "The brew days are intense. Brew days are really about 10 percent of what we do. Ninety percent is probably cleaning or packaging, so brewing is kind of the easy part, honestly. Getting the beer out of the tanks and into the bottles and kegs and then cleaning up after it is the majority of the labor of love."
When talking to the different brewers, there's always a good possibility that you'll hear those final three words again, the "labor of love." People on the outside of the beer industry might see brewing as the job of the ages, but from the odd hours to the heavy lifting, the brewing career isn't all fun and games. Still, these brewers won't trade in their punch cards any time soon.
"It's definitely a labor of love, but it's not too bad. I'd much rather be doing this than go back to being a machinist," says Justin Dudek, brew master at The Blue Canoe Brewery in Titusville. "Everybody thinks it's this dream job where I get to drink all day and party, but that's not it. I couldn't even tell you the last time I drank a whole beer while working. It's hard work, it really is, but at the end of the day, I get to make beer for a living and I get to make people happy and experiment. You get to meet a lot of people. That's probably my favorite part. You meet tons of tons and tons of people and travel around to these different beer fests. It's a fun job to have."
Through all the different events and the trade, the hard workers at the different breweries have created a kinship with each other. In fact, instead of shutting out the competition, the various brewers will extend the proverbial olive branch and, every so often, some supplies.
"They have all helped us out a lot, we've helped them out," Lavery says. "They're always there to answer my calls, and now that we've gotten established, we've been able to help out some other brewers. When we got started, we got some yeast from Erie Brewing [Company], Chris Sirianni at the Brewerie [at Union Station], well, we can't even describe how helpful he's been for us. Pretty much, I've got everybody on a text message basis all around town."
***
One of the newest members of the region's craft beer community, Timber Creek Tap & Table, marks the next stop on our trip. After driving past a questionable hitchhiker in golf apparel and a discussion about the differences between mice and rats, we pull into the parking lot of the Meadville establishment.
From the moment we spot Timber Creek, we already see how different craft breweries can be. Unlike the rural feel of Sprague, the brewery in front of us seems to have more of a connection to city nightlife. Trading in the warm woodwork for neat stonework, Timber Creek has a modern Colorado look, right in Meadville. Head Brewer Jake Vorisek comes out to greet us. He bids us into the tap room, his gentle face smiling softly as we walk in. Immediately our eyes are drawn down to the section of the floor replaced with industrial-strength glass, providing a clear view of the brewing tanks below.
As we're shown around, everything looks fancy and new, partially because a lot of it still is. Timber Creek opened to the public back in May, part of the recent explosion of new breweries around the country.
"The beer market here is booming because people are popping up all over the place now and expanding, so it's great to get into that industry," Vorisek says. "It's cool for us, because in Meadville where we're at, the population is enough to support a brewpub and a restaurant, so Meadville has needed this for a long time. They're excited for us and we have a good time."
Soon, we're led into the dining half of the establishment – the "Table" portion of Timber Creek Tap & Table – where we try some of Vorisek's drinkable delights. The bar has a long glass window behind it, which displays the clean stonework and wooden pillars in the room. The crew and I treat ourselves to several sips from the septet of samples arranged in order of lightest to darkest, enjoying everything from the Liberty Blonde to the Black Bear, a crisp ale and a dark porter, a brew made with brown malt that is often paired with chocolate or coffee notes. Vorisek's home recipes are a hit with the group, as the aggressively hopped Fresh Squeezed IPA is a big fan favorite.
For now, however, you'll have to make the drive down to Meadville to try these delightful drafts, because they're only served in house since Timber Creek's brew is only available for sale on the premises. While they might apply for a license to distribute their wares, the application process can certainly pose problems, especially for a new brewery just getting started.
"The regulation is kind of ridiculous," Lavery says. "Going through the six-month journey to get a license that's set up for a brewery like Budweiser to open up a new plant, it's so archaic. For many of these small breweries that are opening, 95 percent of the stuff on those applications doesn't apply to us. In that sense, it kind of hurts us."
Part of the process that pains potential craft beer companies, is that in order for someone to apply to start a new brewery, they must already have all of the necessary equipment in place in order to actually apply. However, since the process can take around six months, these new owners are paying back loans and dishing out money for rent, even after purchasing all the gear in the first place.
"Not to say that everyone in Cincinnati at the Alcohol and Tobacco Trade and Tax Bureau – which is what regulates alcohol – is incompetent, but they're pretty incompetent," Lavery says. "We've had our application lost, we've had a girl there go on sick leave for like three months and never passed our application on to somebody else. We've heard so many horror stories, so I don't think it's necessarily the laws that hurt us per se, but that kind of redundancy and annoying-ness is not helpful either."
Despite the maddening regulations, craft brewers are still fighting past the initial hardships to not only survive, but thrive, much like our next stop on the tour.
***
After surviving a rogue bee in our vehicle that caused a perhaps beer-aided freak-out – I remained calm, despite being allergic to the venomous flying devil – we successfully navigate the short ride to the Voodoo Brewery despite making a bee-encouraged wrong turn.
Like Sprague and Timber Creek before it, Voodoo has its own unique feel. The layout of the bar area is long and thin, with the bar itself sitting along the left-hand wall. The walls feature different shocks of color, while some wall space serves as a massive chalkboard for ordering purposes, giving the room an urban-chic feel situated in downtown Meadville. Founder and Brew Master Matt Allyn wants to ensure that the clientele at Voodoo have a chance to interact with one another, which means nary a television is in sight so "you can have conversation without distraction," Allyn explains later.
We walk up to the bar to greet Allyn as Wilco plays in the background. I order a pint of Wynona's Big Brown Ale, a slightly bitter, malty drink that the brew master admits is named after a Primus song. We sit down in a pair of church pews and sip our malty ales and hoppy Pilzillas for a bit before Allyn joins us. The man has a wisdom about him as he explains the history of his trade, in part from his more than 20 years of brewing experience and the at least six inches of goatee extending from his chin.
After we snack on some lychees, a Chinese fruit with a lightly floral sweetness, stuffed with goat cheese and macadamia nuts, Allyn takes us back into the brewing room and bottling center. As we walk in, he turns to a laptop to turn off some tunes he has playing for the developing beer.
"I've always been a believer that beer needs music," Allyn explains in a semi-serious tone. "It's a living organism."
He walks us around the tanks, explaining the process of fermentation and the massive amount of science that goes into creating the beverages we're enjoying throughout the tour. From the process of natural carbonation to the fermentation process, it takes a lot of knowledge to create a correctly made batch of beer.
"You have to do an amazing amount of work, and people want to pay two bucks for it," Allyn says, shaking his head.
At Voodoo, you can truly see the mix of art and science at play. However, Allyn isn't the only brewer to stress the importance of science in the craft beer trade.
"It's a really nice mix between science and art," Lavery says. "You get to create these recipes that are your own unique variations and get to learn the science of what each ingredient does. And there's so many different companies around the world that make their own special little product – I guess it's like a painter finding these really unique and rare paints that only he or she can get. Also, the science part of it – you're using all of that stuff that you've learned over all these years and taking these raw products and turning them into a 'good' that people want to buy, to make sure it has stability on the shelf, and to pour it, it won't be all foam or flat."
Eventually, we have to leave Voodoo for our next stop on the trip, but not before I grab a bacon-vanilla milkshake to go, part of an extended menu at Voodoo that provides tasty appetizers and chilly milkshakes in addition to beer. As I'm sitting and sipping in the van, I think back to a sign I spotted on one of the kegs at Voodoo that read "please don't steal these… we have kids we'd like to send to college." It's an amusing, if perhaps sobering thought. Like everyone else, craft brewers are working at a job and paying bills, even if it takes putting in hours of hard work to serve up $2 pints.
"I don't know so much if there's tons of money to be made," Lavery says. "It's a good industry to be rewarded by your work. Obviously some big breweries are making tons of money, but we're not really in that boat. It's not like a cash cow or anything. I think some people get that misconception there, 'I'm going to start a brewery and make a million dollars!'"
Instead of having the resources that the biggest breweries enjoy, the craft trade makes do with what they have and need.
"I do the deliveries in my pickup truck," Steadman says. "It's like the original brewing story. There's really just a few of us that push the whole thing."
***
Even with the current surge of craft beer sales, these smaller businesses still make up just a small share of the market. Although the profits won't ever match that of the major beer companies, Dudek says that there is a freedom to working in the craft trade at places like Blue Canoe.
"If you were working for [Anheuser-Busch] or something like that, it's definitely a factory job," he explains. "It's weird to say there isn't much beer involved, but it's kind of a true statement. You're just pushing buttons and the next thing you know, it's in the bottle. Here, you get to be creative, whereas at the big breweries, they're making millions of barrels a year making the exact same thing. Here, I'm making seven barrels at a time, which is a drop in the bucket compared to what they're doing, so I can experiment with whatever I want."
These experiments are next on the docket for the trip, as we head to Titusville to check out Dudek's Blue Canoe.
The establishment fits somewhere between Sprague and Timber Creek in terms of feel. There's more of a hustle and bustle among the dining crowd, but Blue Canoe still has a homey, relaxed sense to it. A host's podium greets patrons at the door, as the bar is close by on the left. The bar itself is a dark shade of blue, with a small trough that freezes over running across so that beers sitting on the bar can rest on a nice, cold place.
Dudek is sitting at the bar, coming in on his day off to chat. The man reminds me of Allyn from Voodoo with his goatee, glasses, and hat all fairly similar to the Meadville brewer's. However, they share more than just a visual connection, as Dudek used to work with Allyn before leaving for Blue Canoe for more creative freedom.
Blue Canoe has made it a habit to throw some more exotic beers up on the chalk board, which is unsurprisingly mounted to a blue canoe. Much to Dudek's delight, craft beer is growing in not only size, but also in reputation.
"People are getting a lot more beer savvy around here," Dudek says. "There's been a lot of beers that I've put on the board thinking 'Man, nobody is going to drink this,' and some of them are the quickest-selling beers, like the bacon beer I had. I thought for sure people would drink one of them just to try it and it would be in our cold room for a year. It sold really quickly and I was surprised."
In addition to bacon beers and a new Black Chai Affair, a sweet, creamy chai milk stout, Blue Canoe also serves up the usual pale ales and more. Our crew sips at some Heavy Kevys, a scotch ale with a soft, roasted flavor, and Class 5 APAs [American Pale Ale], a piney variation of the popular pale ale, as we chow down on some dinner.
After taking the final malty swig of my Heavy Kevy, we started making our return to The Flagship City. With the experience of four unique breweries, countless beers, and the fascinating people that made them, it was time to make the drive back, cramming into the van for one final stop.
***
Just like every other location, The Brewerie can lay claim to its own unique style. Built into a train station, the bar has some historical weight to throw around.
As Apparition Amber and Hopness Monster – a refreshing reddish brown brew and bitey, trice-hopped I.P.A – flows from the taps, I mark down a fifth craft brewery, in just one day, in my trusty notepad. Even with a trip that took a full day, there are still more places that we have yet to visit, with Erie Brewing Company, Lavery, and Southern Tier yet to crossed off from the list.
Luckily, all these places are located within reach of the average Erie beer drinker, with some lying right downtown. And with the constant struggle to earn the attention and respect of everyone out there, our local brewers can be counted on to keep churning out more batches of the good stuff.
"It's just a matter of how much you want to put your nose to the grindstone and have a passion for learning and constantly improving your product, which we do," Lavery says. "We never sit around on our haunches; we're always trying to improve everything, almost to a fault. We're never happy with what we have."
Well, Lavery may never be sated, but Erie can surely discover local variations of the world's greatest beverage. With so many choices just an hour or less away, the craft brewers in the region are happy to help you make plenty of new friends.

Alex Bieler can be contacted at aBieler@ErieReader.com. You can also tweet to him at @Catch20Q if you have some delicious beers in mind that he should try. In fact, he would really like that.