Just a Thought: December 23, 2015
Same as it ever was.
December 23, 2015 at 10:15 AM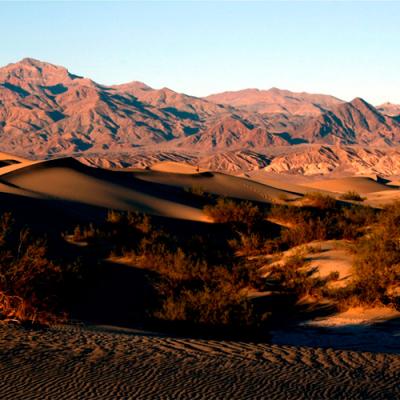 A few years ago, we spent the holidays in Death Valley. This may seem an odd choice. But really, where better to reflect on another year's passage than in the vicinity of creosote bushes that survived nuclear testing, and 2,000-year-old Bristlecone Pines thriving at 10,000 feet.
It's hard to feel self-important in the desert. The Joshua Trees laugh at you Seussically, reminding you how unnoticeably your triumphs and failures register on the Richter scale of history. Moments after you feel all badass for summiting a monster dune, windblown sand erases your footprints, annihilating any evidence of your heroics.
Yet self-importance is the dominant theme of "New Year, New You!" rhetoric, as we determine how we'll personally conquer the next 365 days. Or, collectively, how we'll "never forget" recent tragedies. How could we? They just keep happening.
On that desert trip, I took Annie Dillard's book For the Time Being. In her characteristic way, Dillard brilliantly illuminates our universal challenge of balancing relative unimportance with the need, nonetheless, to try to move mountains while we're here.
"These times of ours are ordinary times," she writes, "a slice of life like any other."
Dillard calls us "ordinary beads on a never-ending string. Our time is a routine twist of an improbable yarn."
Though initially deflating, Dillard's words ultimately free us from worshiping the past, from wallowing in regret and self-pity, and from – most usefully of all – the feeling that we are shouldering an unprecedented burden.
I'm not being cavalier. From climate crisis to income inequality to subjugation of women to racial injustice, things are a mess.
But if we believe we're the only version of civilization which has faced a laundry list of despairing problems, we'll also risk believing we're ill-equipped to contend with them.
If we can't even find the strength to keep our workout resolutions, how can we be strong enough to stand up to injustice? And how did valiant men and women throughout history accomplish such greatness, and earn those untarnished reputations described in textbooks?
Easy. They didn't. They were just as flawed as we are.
"There were no formerly heroic times, and there was no formerly pure generation," Dillard concludes. "There is no one here but us chickens, and so it has always been: A people busy and powerful, knowledgeable, ambivalent, important, fearful, and self-aware; a people who scheme, promote, deceive, and conquer; who pray for their loved ones, and long to flee misery and skip death. … There never was a more holy age than ours, and never a less."
What a relief.
Katie Chriest can be contacted at katie@ErieReader.com.