Kris Risto: A Night of Adventure
September 12, 2022 at 4:58 PM
As you climb the stairs to the upper level of the building, you hear the conversations before you see who is having them. It's the sound before the vision.
You emerge out onto the North side of a large room and need to turn to take in the space. Exposed brick, barn wood, and wide white walls surround a patch worked wood floor. There is natural light entering from a series of windows along the ceiling, that on a good day, can infuse the room with a clarity that makes it an optimum time to view art.
The show that I was seeing this evening was Erie native, Kris Risto's "Singular Being" a collection of drawings and paintings portraying the female figure as both a graphite rendered figure study and as the main character within a mystical setting. 
The women in these works, there are a couple of men who make appearances, but their role is secondary to the heroine, are the central focus in the paintings. This protagonist is depicted with tight muscle, being slim of waist, with long flowing hair, and possessing a general feeling of strength within the world around her. Some of these woman are seen holding weapons, some have wings, others are lounging on stone paths or altars. All of these characters, and I read them as characters, because they are all of a similar size within the picture plane, and they exist in an outstretched environment that becomes a visual stage, are solitary figures in a landscape. Risto has said that these paintings are "explorations into the female form" and that the nudity is "a pushback against the puritanical stances against the naked form", and his figures are proud of their bodies. Who wouldn't be if you had toned muscles, flat stomachs, and perfectly rounded and pert breasts? Risto explained at his artist talk that his first drawings were copies from comic books and this has obviously carried through to this idea of the idealized woman. Kris also spoke about the influence of ancient Macedonian art and the figures represented in myths and legends, he also mentioned the large amounts of nude statues in European cities, and I can see this connection in his paintings. Yes, the artist is drawn to the female figure, but it's a very specific female form that he is interested in.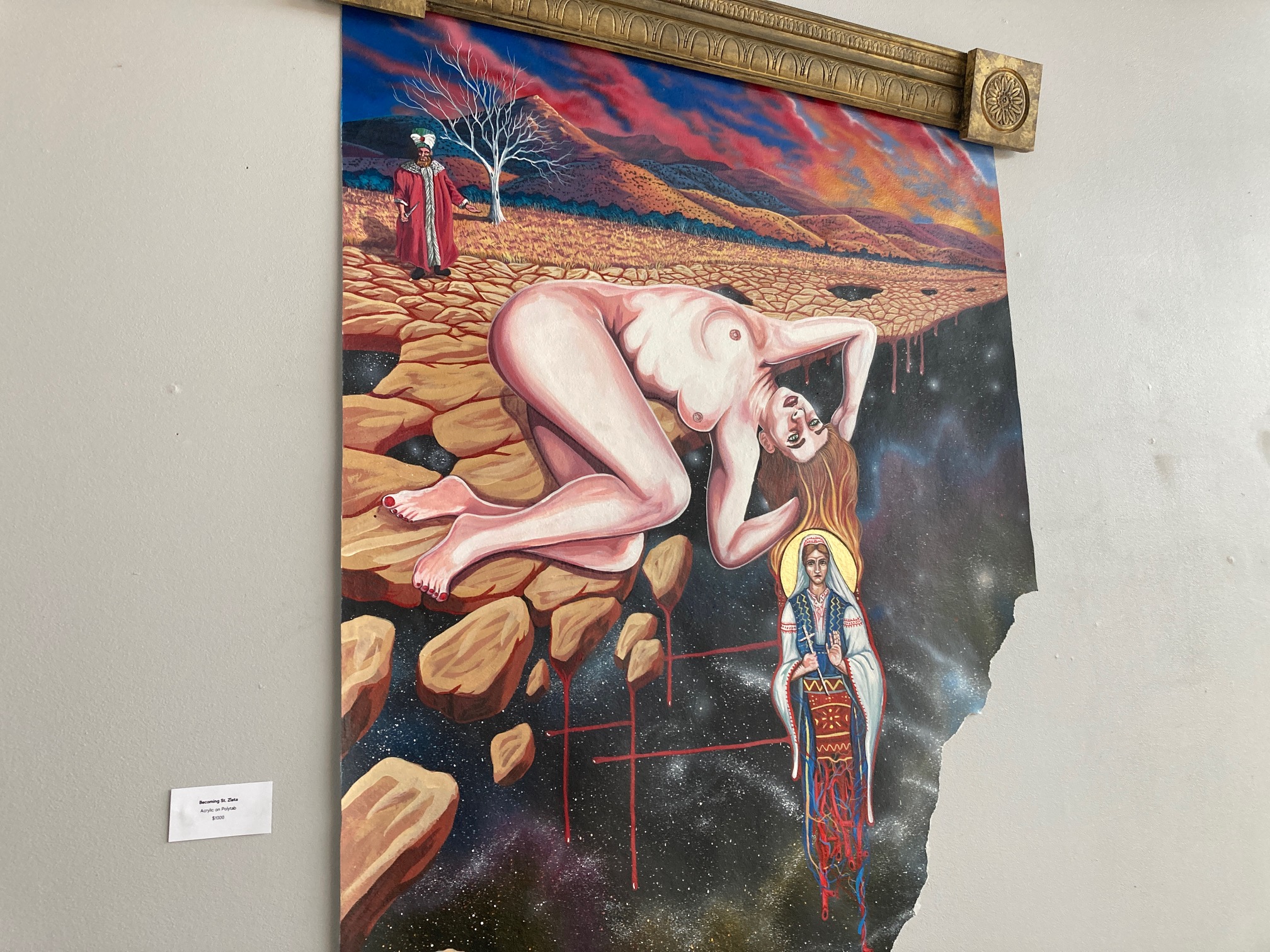 "Becoming St. Zlata" Acrylic on polytab by Kris Risto. 
Though the female character is the focus of the pieces, it's the backgrounds and environments that kept me most interested. His blood red skies, purple clouds, and crumbling castles, fought with the figures for my attention. With each piece I would try to interpret what had transpired before and after the scene that is captured. These are not modern pictures, there is a feeling of ancient times and magic. I thought of Dungeons and Dragons or the covers of Heavy Metal magazine. The large piece that greets you at the top of the stairs, "The Old Ball and Chain", features a nude who has shrugged off her robe and is presented to you leaning against a contemporary chair where the iron ball that she is chained to, sits. She has an almost relaxed smirk that is complimented by a halo. Here again is a mixture of fantasy, the black stiletto heals, shaved pubic region, with a multi-colored sky and mountains, and ancient myth, the stone floor and a Greek urn that is placed at her feet.  Even the black and white graphite drawings are enhanced with added supernatural elements. In one piece a woman's hair becomes a robe that she can hide in, in another a figure has wings that eyes peak from.  
Kris Risto's "Singular Being" is a show that is not for those who will be offended by the worship of the female nude. If you like your ladies strong, heroic, and buxom, it is a visual playground. At first I thought the title of the show was referring to the pictures that held only one figure, but after I looked at the whole body of work, I thought that perhaps it is Risto who is the singular being, a god, who has filled his world with the characters that he finds most pleasing. He has placed them in landscapes that exposes us to a world of intense color, castles to dwell in, and the ability to slay the demons who want to destroy it.

"Singular Being, works by Kris Risto" is at the 1020 Collective through Gallery Night September 17th and will be on display during the 40 Under 40 Experience Party. // 1020 Holland St.