Kris Risto's Quarantined Inspiration
How one local artist is creating a captivating series of COVID-19 paintings
April 28, 2020 at 1:13 PM
Sometimes when we're faced with trying times, we're able to rise to the occasion. For artists and creators, time under quarantine has served as a period of introspection, isolation, and sometimes, of inspiration. 
Local artist Kris Risto is always dynamic. The former president of the Northwestern Pennsylvania Artists Association (NPAA) remains one of the key driving forces in Erie's arts community for years. Always highly supportive of other local artists, he also has a talent and skill that's virtually undeniable. As one of the main proponents of the Erie Open Figure Sessions, Risto is fascinated by the human form. His paintings often have a touch of surreal or psychedelic imagery, mixing religious iconography with a vivid, dreamlike atmosphere.
When COVID-19 became a local reality, Risto properly hunkered down. Able to work from remotely, he's staying home, spending even more time in his basement studio. 
He's since painted a series of nine works, in what will likely be an ongoing project (there were eight when we first spoke). They've explored varying concepts of life while quarantined. One dominant motif of course, is toilet paper, that sacred tissue that's maddeningly become one of – if not the – most hoarded items in recent memory. 
Nick Warren talked to Risto about his series, some of the ideas behind his works, and his tentative plans for the future.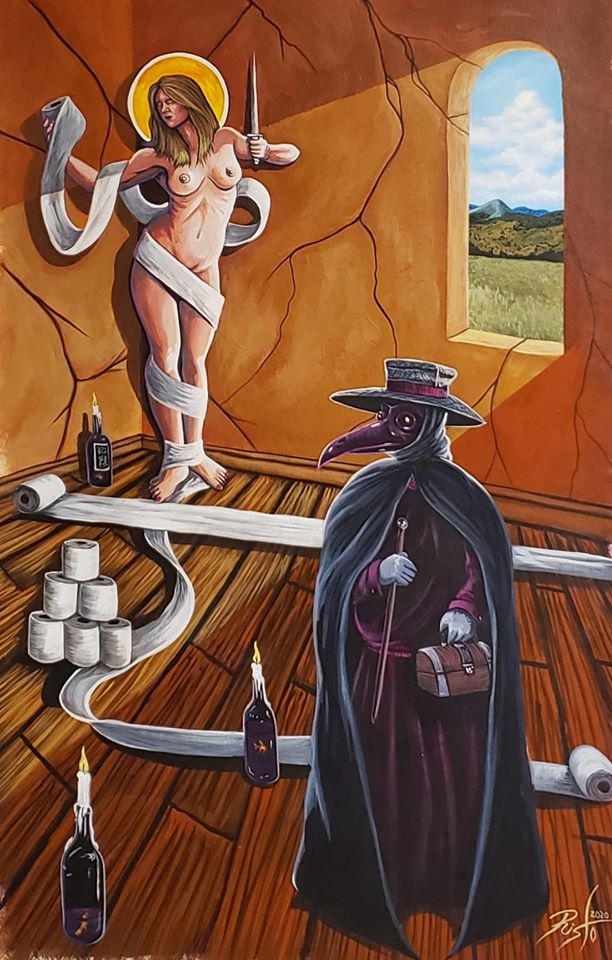 Paranoid Parable
Acrylic on polytab, 20" x 30"
The first work of the series.
Nick Warren: so, obviously, I'm here to talk about what you've begun recently.
Kris Risto: Yeah, it's been ... It's weird [laughs]. This creative thing just kind of happened, just like that. I'll start painting, so I just kind of stretched out some of this Polytab stuff that I've been painting on. And it's like one right after the other.
NW: I saw that you recently posted seven of them all together in a row.
KR: Yeah, there's eight I've done total so far [at the time of this interview]. And I actually stretched more this morning. So there will probably more in the next few weeks.
NW: Which one ended up being your first one?
KR: The first one is the one with the plague doctor and the nude in the corner. That's kind of where I started with it. And that was when the toilet paper thing was going on. Honestly, 20 years ago, when I was graduating from Edinboro, I used to have toilet paper running throughout my paintings. I would do these little surreal paintings with rolls of toilet paper flying through them. So a friend of mine reminded me that "yeah, you're doing that 20 years ago," and I thought I could maybe incorporate that it back into it, and that was kind of the start of it.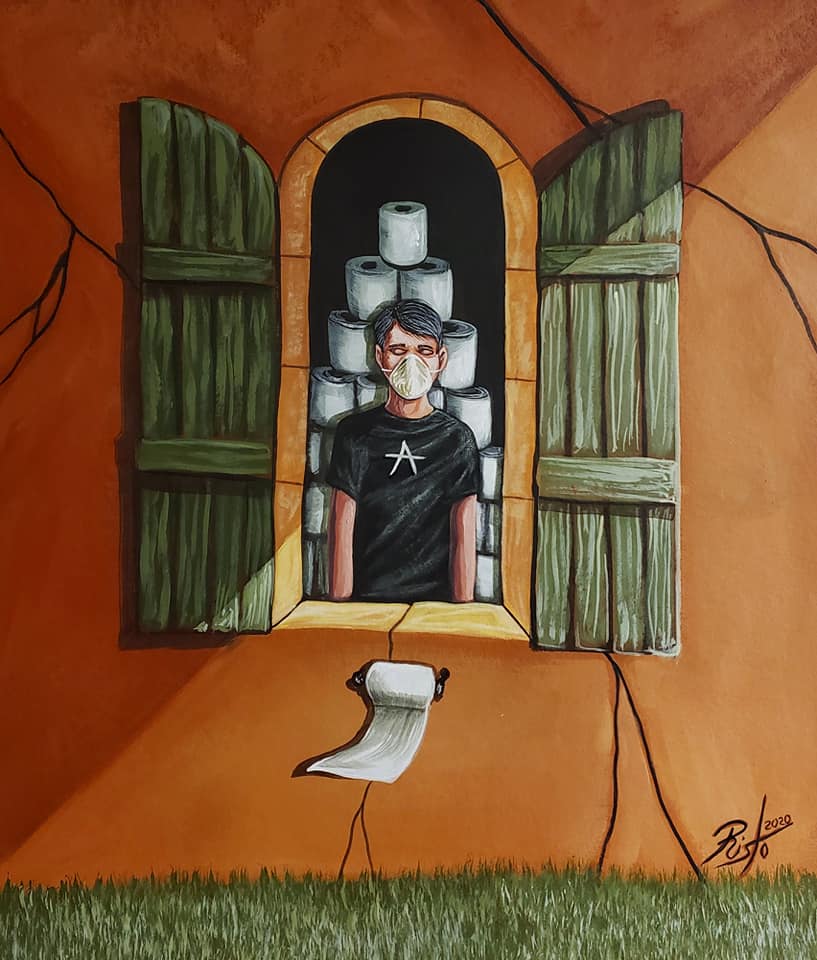 The King of the Now
Acrylic on polytab, 16" x 20"
Risto's son often serves as a model of the painter's works.
NW: Obviously, it's heavy on symbolism. What do you make of toilet paper as a symbol?
KR: Well initially back then I was using it by messing around, throwing it around, toilet papering houses, just being young and foolish, and then now ... when all this started, I was like why toilet paper? 
NW: Like, why did we choose that? Why has it become the commodity and the currency?
KR: And it's so ridiculous, there's really no explanation for why people just chose to hoard it, you know?
NW: Yeah, except that maybe, I guess, fear of running out?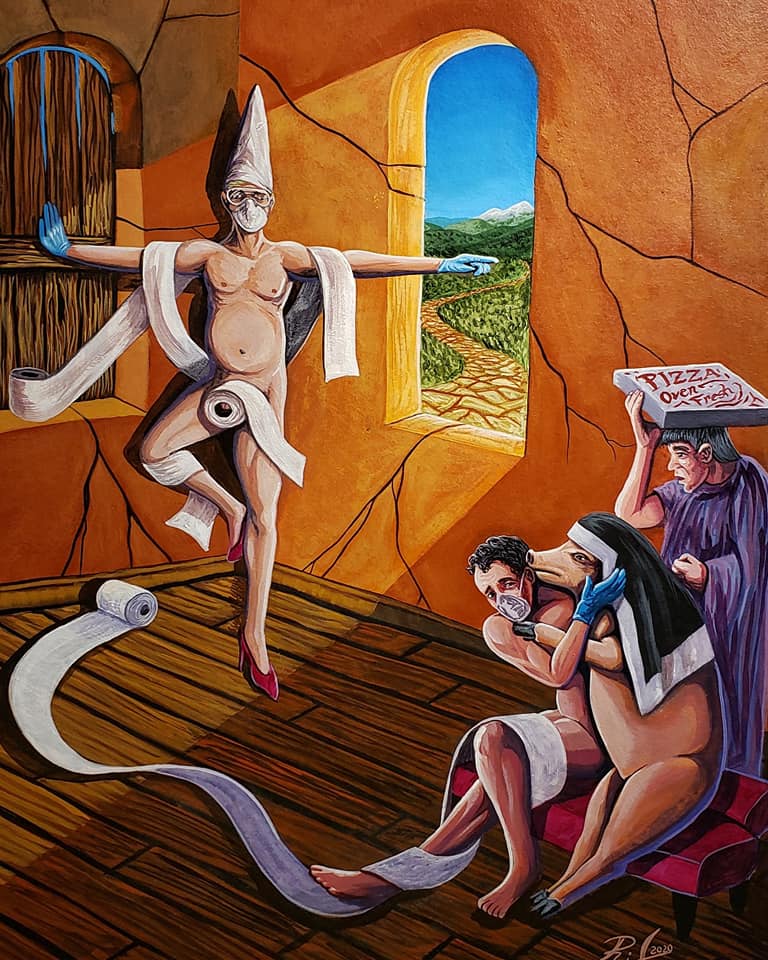 The Wizard of Now
Acrylic on polytab, 16" x 20"
Inspired by a detail from Hieronymus Bosch's Garden of Earthly Delights.
KR: Yeah, I think people are kind of getting adjusted to it. But I mean now it's just bizarre, the world we live in. I saw some close friends the other day at the grocery store and, normally they're the kind of people that I would hug and say goodbye, and we just briefly spoke and just kind of walked away and I'm just like, "this is so odd."
NW: Yeah, the few times I have seen people out, coincidentally, I have been like, "Oh, hi!, Okay, I'm going to be on my way." I'm guilty of that too, moving along quicker than I normally would.
KR: And I've also kind of like been looking at other artworks like Hieronymus Bosch. I copy parts of his painting in one. Assuming that was medieval times during the plague. Then the plague doctor, I looked at that symbolism and I think one of the paintings also has this icon wall and all the figures were wearing gags for some reason – I couldn't find any reason why, or what wall that was – I'd have to look it up again, it was from some church in Macedonia but I decided to change the gags into facemasks. So I'm like, this is perfect.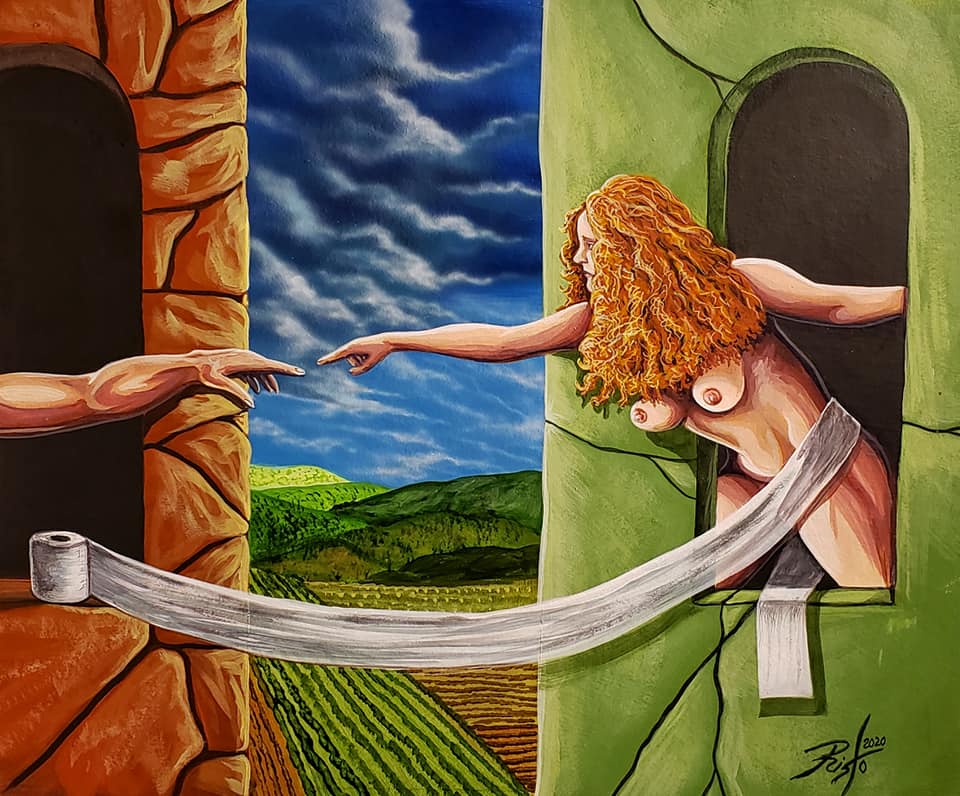 Yearning
Acrylic on polytab, 16" x 20"
Inspired by The Creation of Adam from Michaelangelo's Sistine Chapel.
KR: And they're all fairly small paintings. They're mostly 16" x 20, one is 12" x 16" and then that first one I did it's 24" x 36," so there's one larger one. And I don't know where it's going to go, honestly. I'm just going to keep going and see.  
NW: Yeah, it's very fascinating. Have you found that this has connected with other people so far?
KR: Oh, yeah. People were like, wow, like, "wow, you're hitting the nail right on the head." Like, this is how I feel. It's just strange t imes and they are just strange little paintings, they're full of paranoia and fear, and this kind of sense of dread and isolation, you know?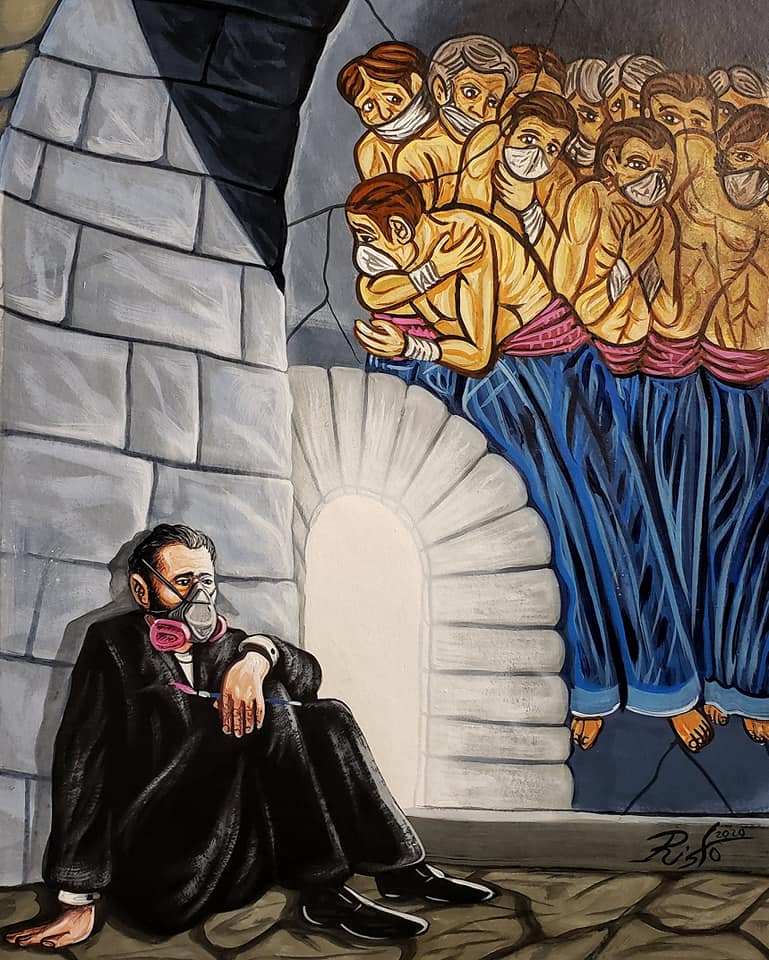 The Iconoclast
Acrylic on polytab, 16" x 20"
Inspired by a Church painting in Macedonia.
NW: Yes, and I also love that, characteristically of your style, there are also bright and vivid with well-illustrated people and stuff like that. So it's not just grim darkness. 
KR: Right, right. They're brightly colored. And normally most of my paintings up until now have been outside spaces, big vistas. And now I'm like, "Okay, now it's the inside and there's like a little window or like lighting coming in." I think my studio being in my basement is kind of helping to. And it's weird when days I don't have kids, I come downstairs and then I'm painting a painting and look over and I'm like, 'Oh my god, the sun's already setting!' Like I just killed the whole day.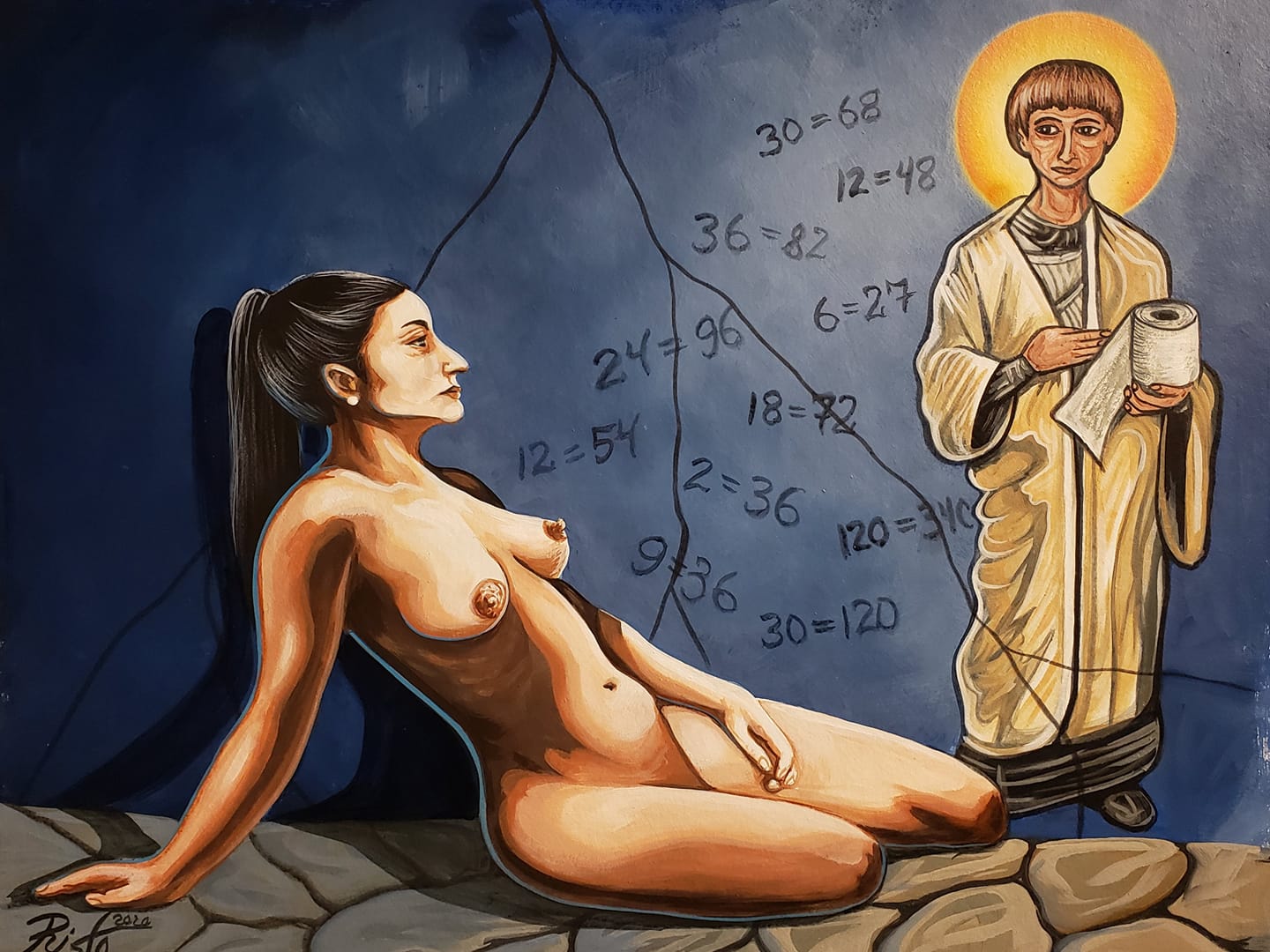 Toilet Paper Math
Acrylic on polytab, 16" x 20"
Risto often relies on models from the Erie Open Figure Sessions, blending figure work with befuddling statements on toilet paper packaging.
NW: Have you found this to be an effective tool to spend the days? Fine art notwithstanding?
KR: Oh, yeah, completely. When you get into a zone like that time kind of flies by. I forget to eat sometimes. [laughs] For being an artist, like you, you're a downtown person, you get out. We're around people. I have my hermit side, where I can wall-up in my studio and just spend time making stuff. But then we also have the performance aspect of it. We want to bring this to people, and that's the part that's kind of drive me crazy. I can't go out and listen to music and talk to people and get more ideas. It's just me. I'm the only one around.
NW: Yeah, because you're your social person too. Obviously, you have an introverted introvert side as well, but to be able to connect with fellow artists ... 
KR: Yeah, it's all part of it. It's like everybody. You feed off of everything. Music, visual, whatever. It's a pretty cool community we have, but now it's just like 'No, it's just yourself.'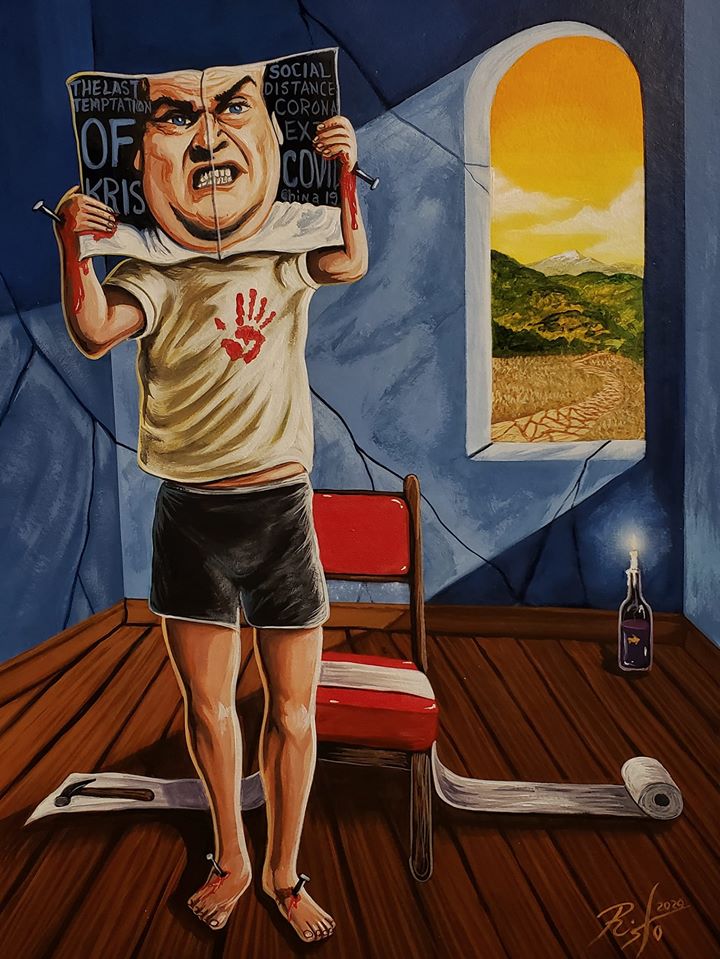 The Last Temptation of Kris
Acrylic on polytab, 16" x 20"
A revisit to a previous painting by Risto in 1999, featuring a magazine spread of Chris Farley.
NW: What's your usual turnaround time? I know you're able to work pretty fast.
KR: I paint pretty fast, and I'm always making stuff too. I have a hairdryer right next to me and instead of waiting for the paint to dry, I speed-dry it with a hairdryer. Like I said, I have more ideas than I can actually do, you know? So I painted these and I'm like "wow, I need to stretch another sheet of poly tab just to get more."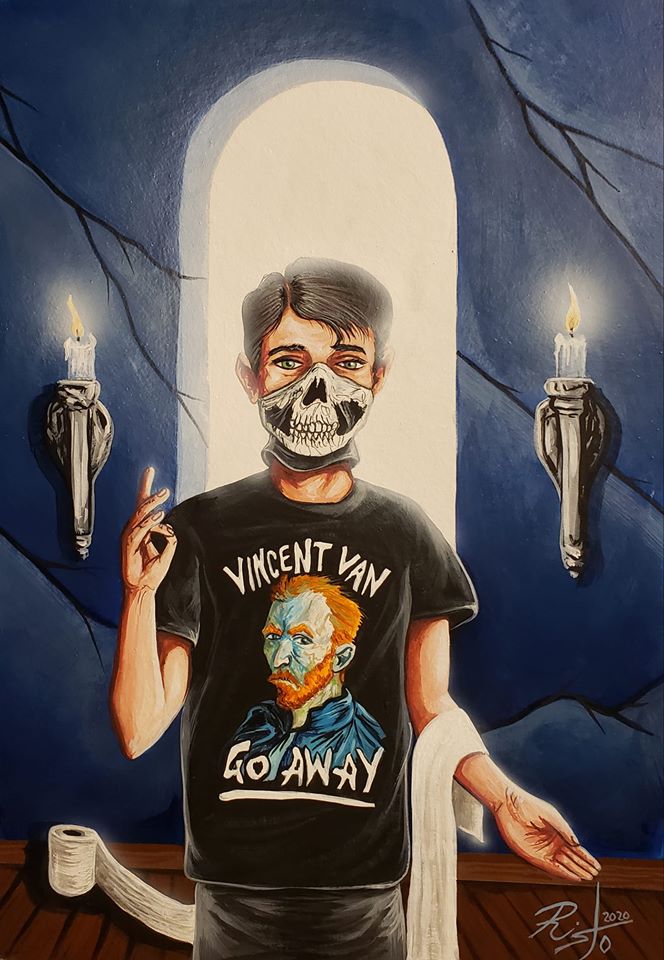 Vincent Van Go Away
Acrylic on polytab, 12" x 18"
Inspired by a t-shirt in Risto's wardrobe.
NW: Did you know you happen to have enough materials on hand too? 
KR: Yeah, well, the polytab role, I bought it five years ago, and I did two murals, and I had to buy an industrial quantity of it, so the roll was five feet by 450 feet. So yeah, I've got a decent-sized roll still.
NW: And where were those murals located?
KR: Ones on the La Nuova Aurora Society club and the other one is at the Majestic Bakery.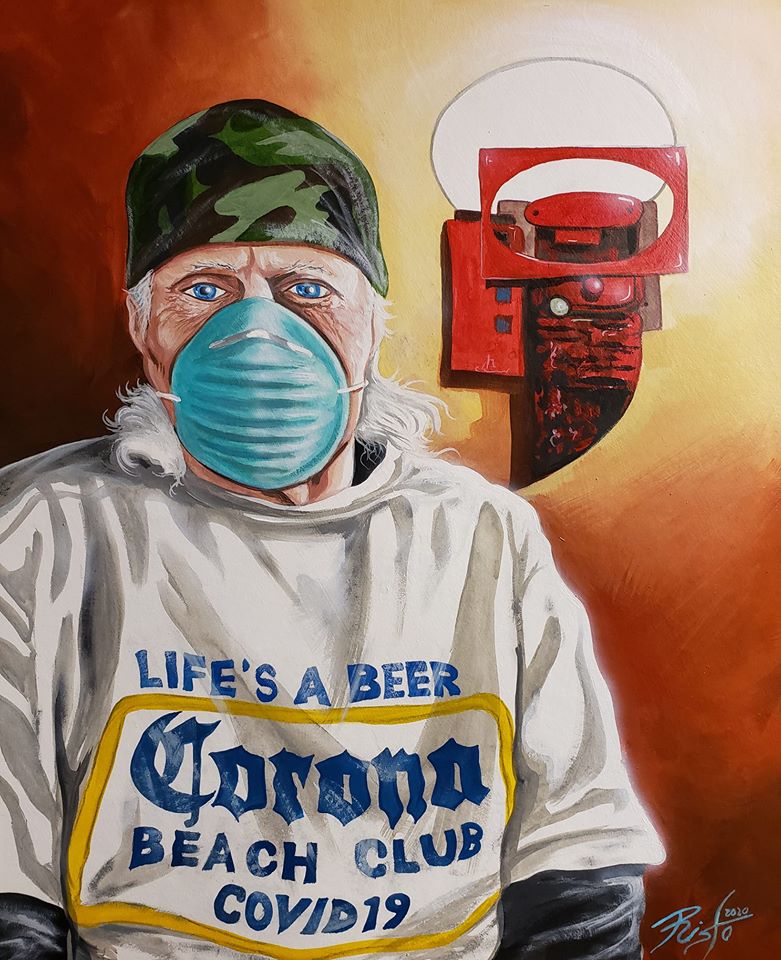 Life's a beer
Acrylic on polytab, 16" x 20"
A portrait of beloved local artist, Risto's friend Fran Schanz.
NW: I know some of the comments you had mentioned trying to have a show? Obviously, everything now is right up in the air. It's hard to plan anything.
KR: Yeah, I have. And we don't even know. I'm looking at the Spring Show – and everyone is like "it's still going to happen" – at the Erie Art Museum, but I'm like, how is it gonna happen? Are we going to have people just kind of walking through like, 10 of the time? None of this is figured out yet. We're all in this new territory. 
NW: And galleries are strange too because that might be okay? If people are going to a gallery, with measures, it could possibly work as opposed to like, things like concerts or something like that where it's impossible, right?
KR: Just new territory, man. I was just thinking the other day. The last pandemic was before my grandparents were even born. No living. person he has gone through this. It's bizarre, 
NW: It's not something we've thought about in December. 
KR: No. Ever. I mean, even in the past 50 years. Pandemics? That's like, from 100 years ago? That can't happen now. 
See these paintings and other works by following Kris Risto on Instagram at @krisristoart