Lakers End Season in Boston
The road to the Frozen Four stalled for the Mercyhurst Lakers in Boston
March 12, 2011 at 6:35 PM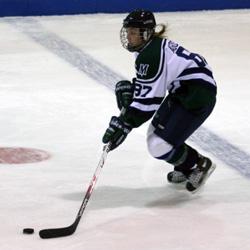 From Erie Reader staff
BOSTON --When it was announced that the NCAA Women's Frozen Four would be held at Tullio Arena, Mercyhurst College envisioned the ending of the season coming with a National Championship on home soil.
Instead, the Lakers march toward the title ended Saturday with a 4-2 loss to Boston University, sending the squad to its earliest post-season exit in three years.
After being selected as a No. 6 seed, the Lakers had to travel to Boston to take on the Terriers at Walter Brown Arena, a rematch from last year's opening round where Mercyhurst won 4-1.
But this year's Boston team was too much to handle, as the Lakers struggled from start to finish while never leading in the game.
It turns out Mercyhurst's road to Erie stalled in Boston.
Jenn Wakefield put the Terriers ahead 1-0 as her shot beat 'Hurst goalie Hillary Pattenden early in the first period. The shot was just the second of the game for Boston.
But as she has done throughout her storied career in a Lakers' uniform, captain Meghan Agosta, the all-time scoring leader in women's hockey history, tied the game with the first of her two goals in the contest.
Despite being tied after one period, the Lakers outplayed the Terriers, holding a 15-5 advantage in shots on goal and controlling the majority of play in the Boston zone.
The second period was a different story for Mercyhurst, who made it to the tournament by going 16-0 in the CHA conference.
Boston took it to the Lakers on both ends of the ice, registering 14 shots on net, while holding a frustrated Laker team to just five.
Marie-Philip Poulin gave the Terriers their second lead of the game with the only goal in the middle frame – her 24th of the season – to put Mercyhurst in unfamiliar territory of trailing after  two periods. The last time Mercyhurst trailed after two periods was against Cornell Jan. 18, when they fell 3-0.
With the Lakers buzzing in the offensive zone, Boston's Catherine Ward was whistled for a body checking infraction, giving the squad its first power play of the game 8 minutes, 2 seconds into the final period.
Agosta needed just over a minute to tie the game at 2 with her 38th goal of the season at 9:06. Agosta finished the season with a team-best 86 points.
But just 1:50 later, the Terriers would take their final lead of the game on Jill Cardella's rebound goal that ultimately ended the Lakers's season.
Wakefield added an empty-net marker with 12 seconds remaining to send Boston University to the Frozen Four.
Mercyhurst ended its season at 29-6-0.