Listen to a killer new track off of Run The Jewel's next album
El-P and Killer Mike are back to business on "Blockbuster Night Part 1," and business is good.
August 23, 2014 at 1:30 PM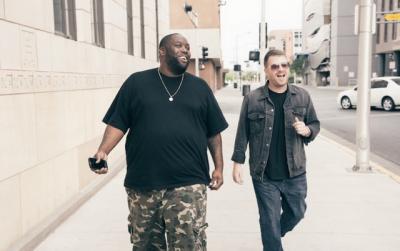 It's been a busy summer for rappers El-P and Killer Mike, the hip-hop superduo that perform together as Run The Jewels. Not only have the two hard-hitting MCs been popping up all over the festival circuit and occasionally stopping by CNN talk about Ferguson, Mo., El-P and Killer Mike got to work on a follow-up album to last year's Run The Jewels, a powerful album that received widespread critical acclaim, including a shout-out in the Erie Reader's 2013 Year in Music.
Well, we won't have to wait much longer for the rowdy rappers to run roughshod all over our stereos, given that the duo's follow-up album Run The Jewels 2 is set to be released Oct. 28 of this year on Nas' Mass Appeal Records. RTJ2 (not to be confused with an extremely well put-together droid) may still be just over two months away, but those eager to hear just what El-P and Killer Mike have been working on can enjoy "Blockbuster Night Part 1." Of course, here's your obligatory NSFW warning for strong language, because it is a Run the Jewels after all.
Sounds like a pretty great intro into RTJ2, right there, with El-P and Killer Mike trading lines back forth over another monstrous beat. Hell, they even sample the Doctor Who theme, which times up rather nicely for the show's BBC America premiere of season eight with Peter Capaldi. It's some pretty gritty stuff made slick by El-P and Killer Mike's lyrical flow, but the two sound like they're having a blast, which is no surprise coming from the duo that put out what might have been my favorite music video last year (once again, obligatory NSFW warning on that link). Add in the fact that RTJ2 will be released as a free download as it's predecessor, and it makes the whole deal even sweeter. It'll be a long two months until Oct. 28, but for now, we have "Blockbuster Night Part 1" to tide us over.