Live Music Preview: Jimi Hendrix Tribute featuring Is What It Is and Kelvyn Bell
"Sometimes a special occasion calls for a special party," writes Alex Bieler. This is that party.
February 22, 2012 at 11:46 AM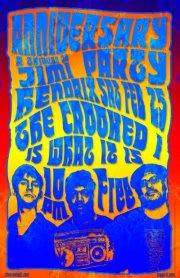 Sometimes a special occasion calls for a special party. So, when a hotbed for great new acts and one of the coolest bands around combine anniversaries while bringing in an influential guitarist and singer to put on a tribute for one of rock 'n' roll's greatest legends, you're looking at one extraordinary event.
Luckily for Erie, Saturday, Feb. 25 will be that kind of a night.
Is What It Is and the crooked i will be celebrating their one and two year anniversaries, respectively, by treating Erie to a free one-of-a-kind show.
That's right. Free.
While IWII tends to play mostly original material, such an occasion called for something else. In this case, a full show dedicated to the music of Jimi Hendrix. After kicking around a couple different artists, drummer Stix Thompson brought up the guitar god and the matter was settled. Now, all the instrumental band needed was its singer.
Enter Kelvyn Bell.
Over the last few decades, Bell has motivated countless musicians with his work with the Black Rock Coalition and the bands Defunkt and Kelvynator.
"I've seen Kelvyn before," said IWII bassist Steve Trohoske. "In the music world, a guy like Kelvyn Bell is top shelf. His career, his style, his vocals—he's perfect for what we're trying to do, so I asked him to join in."
Not only will the quartet-for-a-day be performing a plethora of Jimi jams, the group also plans to play them in their original key to keep the tribute even truer for the legend.
Despite his vast experience in the music business, Bell still gets a tad bit worried when performing in tribute of one of his idols.
"I'm always a little nervous before I get on stage, but this particular performance is nerve wracking because I'm going to step into the shoes of the man, Jimi Hendrix," Bell said, reverently. "As a black guitarist, to be able to play in his honor is very special."
Throughout high school, Bell listened to Hendrix. When he moved on to college, however, he started listening to jazz much more, pushing the guitar legend out of the rotation. It wasn't until he heard someone playing Band of Gypsys that he reconnected with Hendrix.
"It was like I discovered him all over again," Bell said. "I was determined to bring avant-garde jazz into the rock world at the time. When I heard him again, I realized I was trying to do everything he did."
Still, even with the heavy influences in his music, Bell will be sure to add his own touches into the anniversary show.
"You can have every song from every album and it'll sound just like Jimi, but I'm not going to do that," Bell said. "I'm going to do his compositions, but I'm going to put my style on it as well."
When IWII and Bell take the stage at the crooked i, the night will be many things. It'll be a celebration of success for both band and bar, a start to an even better future, and a blast from the past.
In other words, it'll be one hell of a party.