Looking for the Helpers: Turn to the Scientists
Answering the question: "What is the best public policy to counter the health risk from the Coronavirus, COVID-19?"
March 20, 2020 at 12:16 PM
Answering the question: "What is the best public policy to counter the health risk from the Coronavirus, COVID-19?"
"Well, these are interesting and trying times, no? They sure feel like it."
That's the lede I wrote for an op-ed published in the Erie Reader March 18. You can check that out by clicking here. Fair warning: It's 2500-plus words long, so if you're looking to hunker down on a piece, that one's for you. If not, read on here, as this one's shorter. 
Suffice it to say, we're all a bit out of sorts. In the aforementioned piece, I asked the question: Where do we go from here? Spoiler alert: We don't really know. But you likely already knew that.
And things are rapidly changing, like, for instance, when Pennsylvania Gov. Tom Wolf announced the afternoon of Thursday, March 19 that all "non-life sustaining businesses" are to shut down until further notice. Beginning on Saturday, March 21, these actions will be enforced. 
Nick Warren, the Reader's managing editor, got a piece up and posted quickly on the Reader's site, as he has been doing with a lot of updates. He's been churning out updates regularly on the site, so I recommend tuning in there regularly to see where the 'from here' has changed to. 
What's been helping me get through these trying times is, as Fred Rogers advised, looking for the helpers. I hope maybe that that, too, is helping you.
A helper that I'd like to call attention to now is Dr. Avi Loeb, who happened to send out an email the other day asking for some help.
If the name Avi Loeb sounds familiar, it's because he was in Erie last November as part of the Jefferson Educational Society's Global Summit in 2019. Loeb, the chair of the astronomy department at Harvard University, presented on "Extraterrestrial Life: Are We Alone?" to a sold-out crowd at Penn State Behrend.
For a trip down recent memory lane, check out the feature Erie Reader copy editor Matt Swanseger wrote here, where he led with: "Check your egos at the black hole, folks. Turns out we're not so special."
I'll limit myself to one major spoiler alert in this piece, but the short of it is: Loeb, who is also the founding director of Harvard's Black Hole Initiative and director of the Institute for Theory and Computation at the Harvard-Smithsonian Center for Astrophysics, is the kind of academic you wish all academics were. He's wicked smart, funny, perpetually curious, and most awesomely, egoless. He's one of the world's leading minds when it comes to astrophysics and astronomy, so if anyone has the right to have a little bit of an ego showing, it'd be him. But maybe it's his line of work that helps keep that in check (you'll have to read Matt's piece).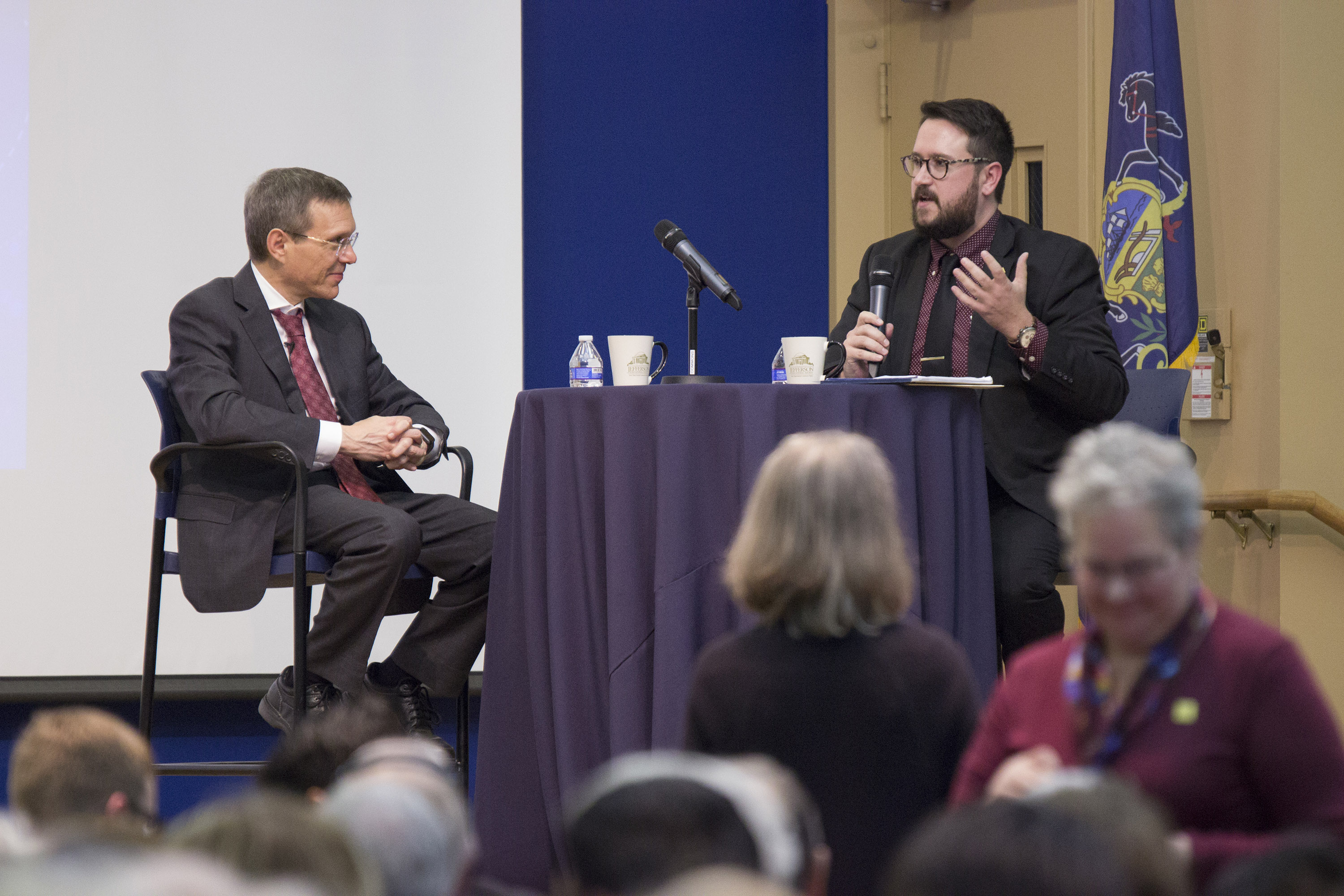 Avi Loeb (left) speaks with Ben Speggen during his presentation at Penn State Behrend.
He's super humble and gracious, too. I can say this because through my role at the Jefferson, I got to know Loeb leading up to the event. And I got to hang out with him before and after his lecture.
Two things I'll remember for the foreseeable future are: How excited he was to talk to a group of 60-plus students before his lecture. He kept remarking afterward how grateful he was that they chose to stick around campus on a Friday afternoon to hear from him. He was honored to be graced by their presence.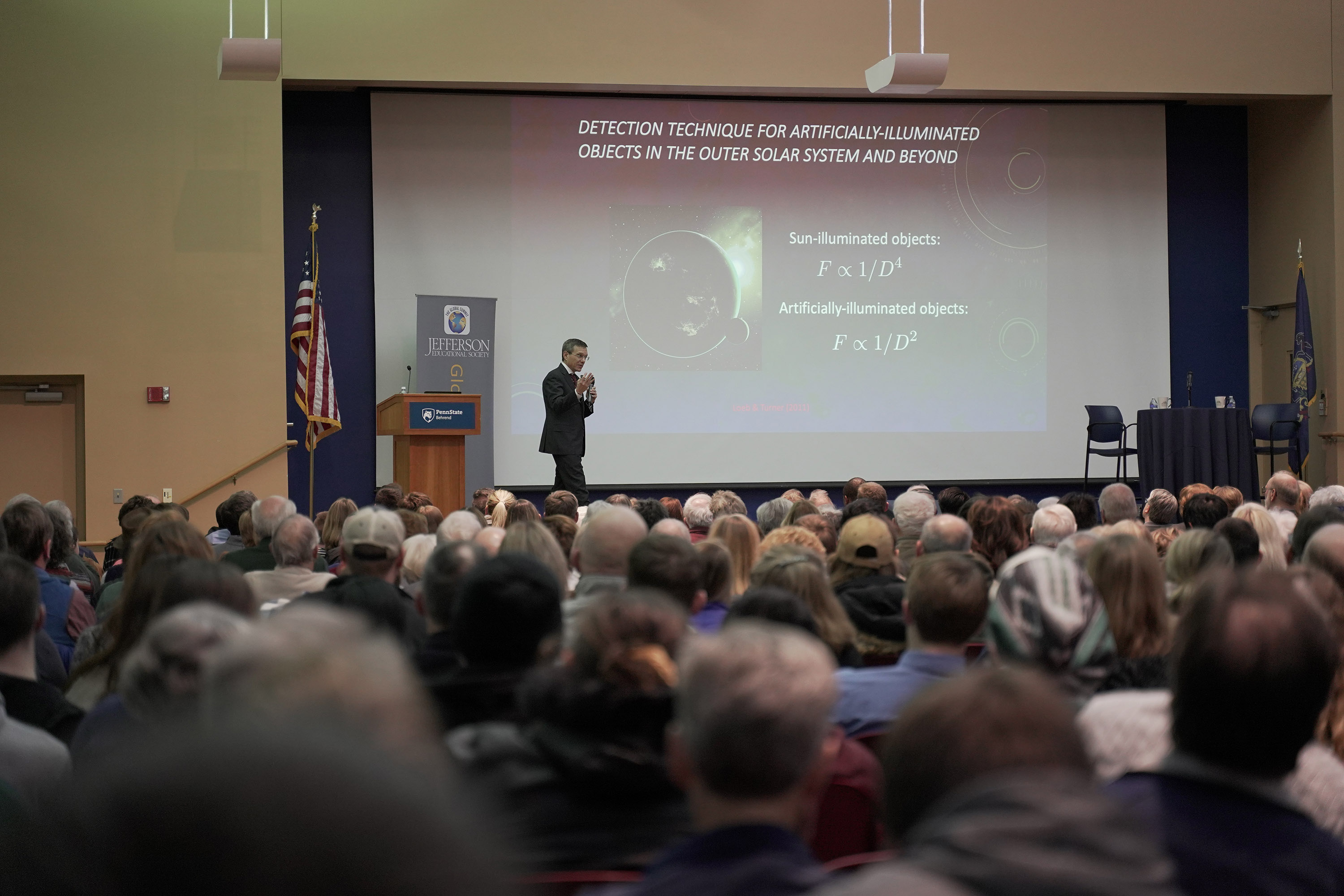 The other was swapping farm stories on our walk from where he had dinner in Behrend's planetarium to the packed-to-the-walls McGarvey Commons lecture hall. From farm-boy to world-renowned scientist and still as down to earth as ever. 
On Tuesday, I received an email from Loeb, who was sharing a commentary, "Flattening the COVID-19 Curves" he co-authored with Andi Burkert that has been published in Scientific American.
In the email in which he shared the piece, Loeb wrote: 
"Time is short. All nations must enact social distancing in order to suppress the spread of COVID-19. Right now, every day that passes without action increases the count of infected people by more than a hundred thousand worldwide. With a 2 percent mortality rate, this means that each day of inaction will allow over 2,000 deaths worldwide. The first plot in the commentary implies that in all countries – except China and South Korea – the numbers are still growing exponentially with a doubling time of only a few days. With no change, a week from now, the number of extra deaths per day of delay could exceed 10,000."
That is, "social distancing imposes hardships, but it can save many millions of lives," as the subhead of the piece reads. 
That's all I'll give away here, because if there's a piece to really help us understand the critical importance of what "flattening the curve" is, a phrase we're hearing more and more and more these days. I can't stress reading it enough.
Then, in the email, Loeb asked us (the blind list of those bcc'ed on the email) to help him spread the word to help all of us (the collective list of all humans who population this little pale blue dot).
So here I am spreading the word – not germs – with you, just as I did with the Jefferson's email list. Wearing a couple of hats has its benefits.
While it's written by scientists, rest assured, Burkert and Loeb's piece is accessible – and that's coming from a bona fide not-scientist right here.
Just look at what Loeb's presentation title is saying. "Extraterrestrial Life: Are We Alone?" Some of you may, in fact, be feeling very alone right now, and that's understandable. Whether or not you believe that there's life out there on planets light-years away from us, that doesn't change the fact that we are far from alone right here in our community. 
We are in this together. Facts, information, guidance from experts will keep us together – even if that means keeping our distance from each other for the time being.
Stay safe, stay sound, and continue to look for the helpers – and help them when you get a chance.
Need help? Leave a note in the comment section below. 
Want to help? Ditto! 
See people helping whose stories you'd like to be shared? Ditto, again! 
I'll be working as I can to share stories and updates surrounding the coronavirus/COVID-19, and other things, at ErieReader.com.
Ben Speggen can be contacted at Bspeggen@ErieReader.com, and you can follow him on Twitter @BenSpeggen.