Making It Work
Manufacturers aim to build skilled workforce
March 27, 2019 at 10:30 AM
By: Liz Allen
Avisit to two local shops illustrates why manufacturing continues to play a pivotal role in Erie's economy — and provides lessons on how to keep it that way.
With two facilities in Erie and one in Wattsburg, Custom Engineering serves a worldwide, diverse market. Its products include giant oil pans for locomotives made in Erie, curved metal bumpers for a new thrill ride at Universal Studios in Orlando, and heavy metal platens that crush wood chips into oriented strand board, sold by Louisiana Pacific for decking.
In addition to making parts for the former GE Transportation plant in Erie, now owned by Wabtec in Pittsburgh, Custom Engineering makes components for GE in Grove City, Pa., Schenectady, N.Y., and Greenville, S.C.
"GE has always been a major customer for us," said James Ohrn, vice president and chief financial officer for Custom Engineering, 2800 McClelland Ave.
Like other local manufacturers that are part of the GE supply chain, Custom Engineering is hopeful that the recent sale of GE Transportation to Wabtec results in stable employment — and potential job growth — at the locomotive plant in Lawrence Park.
Custom Engineering is also pursuing solutions to a challenge that faces other Erie manufacturers: hiring, keeping and re-training skilled workers. To meet that challenge, Custom Engineering is about to embark on an in-house apprenticeship program, building on what the company learned when it partnered with Clarion University of Pennsylvania 15 years ago to train welders on site.
"We probably trained over 100 men and women on how to weld," said Ohrn. The company still employs about 70 percent of those workers. "Our welding pipeline is working out pretty well," he said. Today, Custom trains welders for five weeks in its warehouse; welders are then mentored for three months on the shop floor.
Custom Engineering is hopeful that a partnership with the Regional Career & Technical Center, the adult education program at Erie County Technical School, will train the new generation of machinists. Kit Carson will teach the 10-month course, which will take place at Custom Engineering, on a schedule that fits with the shifts of employees and is tailored for Custom Engineering's unique needs.
"CNC machinists are hard to come by," said Ohrn. "People with high skills are retiring and young people are moving to office management."
In today's manufacturing plants, machinists need to do more than push buttons. They need to read blueprints, understand higher-level math, have good communication skills and be familiar with G-coding, the language used for CNC machining.
Robin Scheppner, president and CEO of American Tinning & Galvanizing, 552 W. 12th St., is a member of Erie Mayor Joe Schember's Business Advisory Council. A recent meeting included a "very spirited discussion about workforce development," including the shortage of machinists and commercial truck drivers, she said.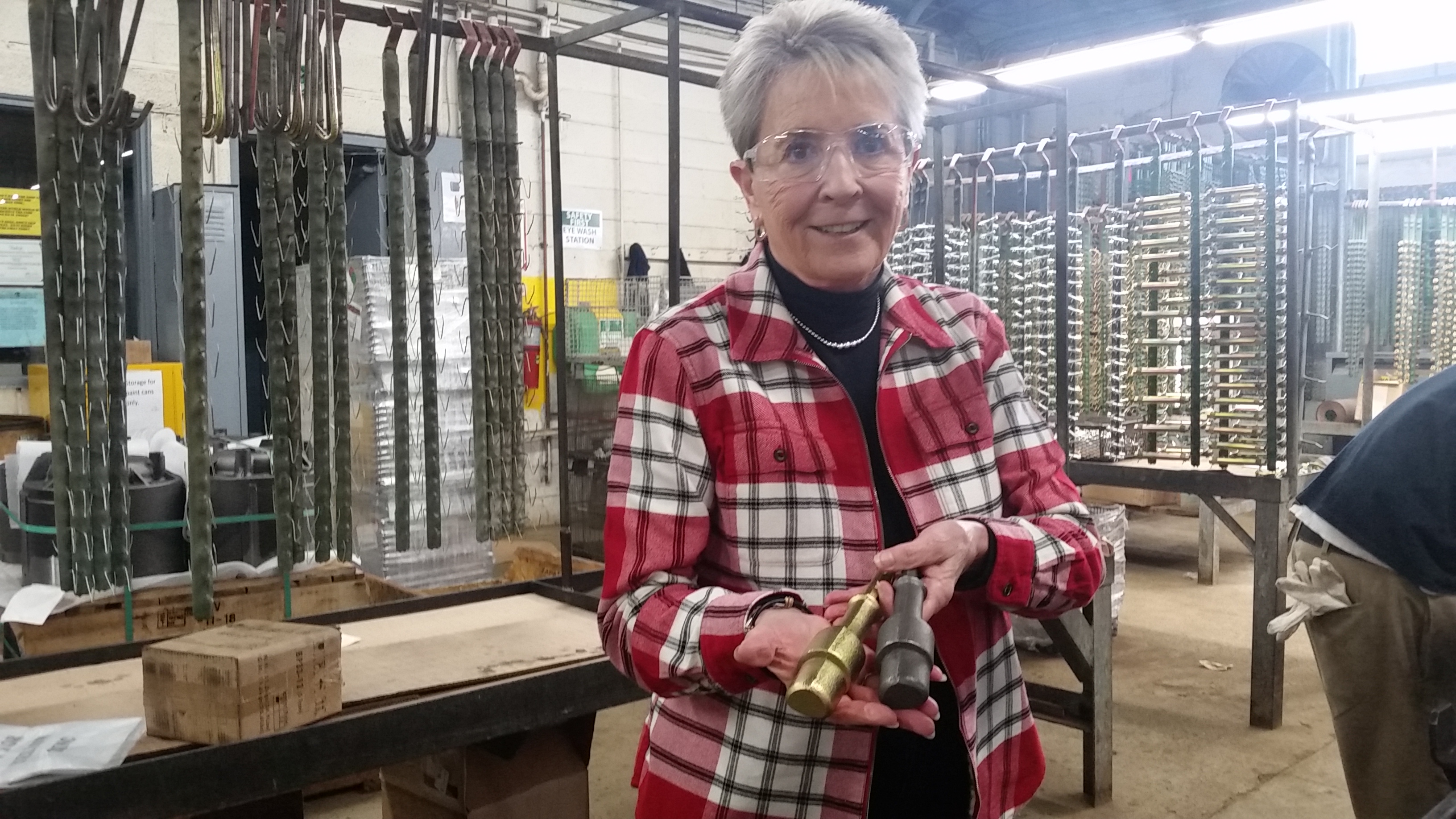 Robin Scheppner, president and CEO of American Tinning & Galvanizing at 552 W. 12th St., shows bolts made by Urick Foundry, just blocks away at 1501 Cherry St. The bolt on the left has gone through American Tinning & Galvanizing's treatment, which protects aluminum and steel from corrosion. "We put the metal finish on metal parts made by other manufacturers," Scheppner explained.
American Tinning & Galvanizing does metal finishing to protect parts against rust and corrosion. Its customers include GE (Wabtec) and aerospace manufacturers such as Belle, Sikorsky and Parker Hannifin. It also has local customers, including Lord Corp., Acutec Precision Aerospace, Urick Foundry (just up the street at 1501 Cherry), and Ridg-U-Rak in North East, whose products include shelving for home and garden centers at Lowe's and Walmart. She marvels that those racks, made in North East from American steel, with components galvanized at West 12th and Cherry in Erie, are in use all over the country. "They might end up in Topeka," she said.
At American Tinning & Galvanizing, employment has doubled from the 42 people who worked there when Scheppner started in 2004.
But her company has trouble "getting people for OJT — on-the-job training," she said.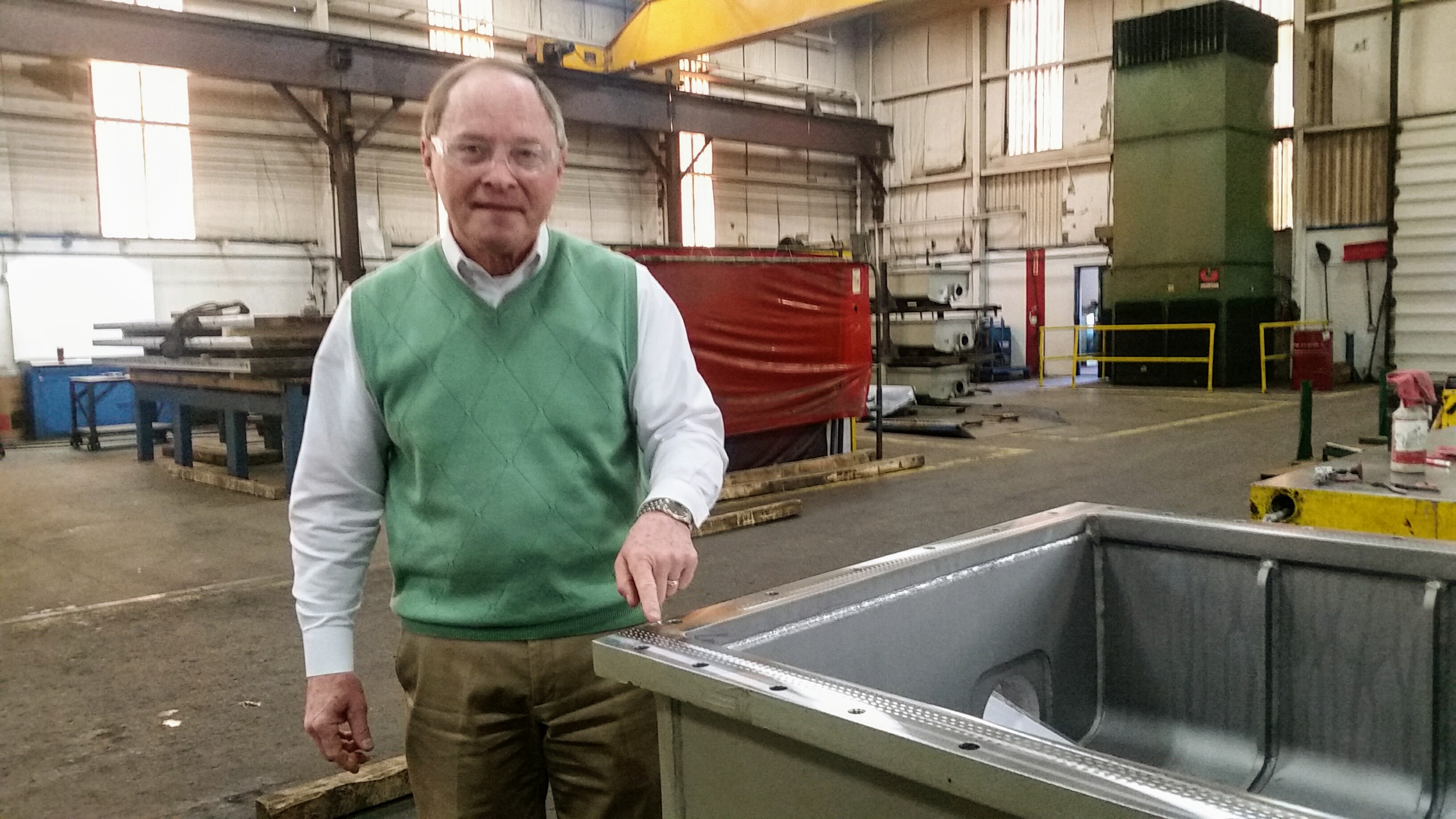 This metal bumper, made by Custom Engineering in Erie, will be used by a Maryland company for a ridecat Universal Studios in Orlando, Fla. James Ohrn, vice president and CFO for Custom Engineering, went on a similar ride with his grandchildren at Disney World. The ride rotates as passengers shoot at targets with a laser gun, he said.
That's why she is an outspoken proponent of United Way of Erie County's community schools program, which aims to give students skills to get on a career path. The program provides school children with access to social services, so they can overcome any barriers to a quality education.
Scheppner's commitment to the community schools program persuaded Ohrn that Custom Engineering should become a corporate sponsor of the new community school at Diehl Elementary, 2327 Fairmount Parkway. Three of the eight corporate sponsors are also on Erie's east side: Reddog Industries, McInnes Rolled Rings, and Team Hardinger.
Ohrn, chairman of the Community Impact Committee for United Way, said it's important to reach youngsters early, as young as Pre-K, to make sure they are able to read and to prepare them for future job opportunities in Erie. "Our focus is to take the limited resources that we have and try to invest them in ways that are making an impact," said Ohrn. "We're passionate about that."
Liz Allen has long understood how important manufacturing is to Erie because her late husband, Pat Locco, was vice president of the Manufacturer & Business Association in Erie. You can reach her at lizallenerie@gmail.com.