McDowell grad and Erie Playhouse alum breaks it big on Broadway off stage
Broadway producer and Erie native Mike Karns answers a few questions before his workshop at the Erie Playhouse July 2.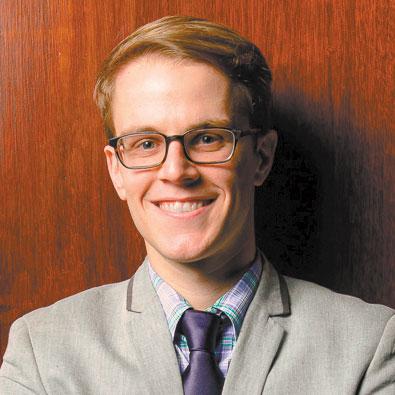 Some people dream about making it to Broadway, but for Erie native Mike Karns, it's a reality. The former Erie Playhouse performer and McDowell Senior High School graduate didn't take the traditional path to Broadway glory – in fact, you won't see him on stage.
Karns may have started out as an actor while he was in Erie, but his theater career happens outside of the spotlight. After double majoring in stage management and lighting design at Penn State University, Karns caught his Broadway break through social media, as one of his first full-time jobs led him to play a major role in the online resurgence of George Takei's career. Eventually, Karns started Marathon Live Entertainment, serving as owner and president while providing social media management to a variety of shows, including the highly-anticipated musical Hamilton. This fall, he'll even earn his first producing credit when Allegiance, a musical about the true-life experiences of Takei during the Japanese-American internment during World War II, makes its Broadway debut.
While Karns is busy in New York City, he's still making time for Erie, hosting a workshop entitled "Careers in the Theater NOT on Stage" at the Erie Playhouse Thursday, July 2. Karns will be joined by Broadway performer Kay Trinidad for the presentation and Q&A session, which is geared toward students and is free and open to the public. The Reader had a chance to talk to Karns about his career trajectory and how Erie made a difference in his journey to Broadway.
Alex Bieler: When did you first realize that a career in theater off the stage was a reality for you?
Mike Karns: I realized that in about ninth grade. While I knew I wanted to make a career in the theater, I didn't have the passion to pursue acting as a career. David Matthews, Almi Clerkin, Richard Davis, Joe Hassler, and everyone on staff at the Erie Playhouse were unbelievably supportive and gave me many opportunities to try out different areas as I was seeing what path might work for me.
AB: When did you get the inspiration to do this workshop at the Erie Playhouse?
MK: My life has taken me on journeys that I never could have imagined when I was in high school and college. I didn't know it was possible to work in marketing, or that someone other than the larger-than-life characters such as Hal Prince could be a producer. I didn't even know what a producer was! I'm still learning about all of the various important puzzle pieces that go into making a show. I wanted to shed light on some of those pieces that people at the Erie Playhouse might not know about. You can see the completed puzzle when you sit in the audience, but you may not know about some of the incredibly cool pieces that go into making it happen.
AB: Did you always want to get into the theater business or was it something that caught you by surprise?
MK: My Mom encouraged me to audition for my first musical at the Playhouse, Joseph and the Amazing Technicolor Dreamcoat. I knew from that first show that I was in an environment that I wanted to be around for life. Though, at the time, I didn't have the slightest clue what that would mean.
AB: How would you say your time in Erie helped shaped the path you took into the theater business?
MK: The Erie Playhouse is a major reason why I am where I am today. David Matthews [Erie Playhouse director from 1972 to 2006] introduced me to a man named Jim Wilhelm, an Erie native and Broadway talent agent, who took me under his wing the summer after my freshman year of college and introduced me to what "the business" was. Jim and his husband Jeff have since become my Uncles in NYC!  They are the closest family I have here, and that introduction was, without question, the crucial first step in my trajectory. I hope to be able to be that kind of conduit for the hardworking, talented kids coming out of the Playhouse in the future.
AB: How much of a culture shock was it when you actually started doing work for Broadway productions?
MK: To be honest, it wasn't a huge shock moving from the Playhouse and college theater experiences to Broadway. On Broadway, the numbers are bigger, the stakes are higher, but at the end of the day it's still a group of people coming together to tell a story. However, I do still pinch myself when I get to work with artists like Lea Salonga and Adam Pascal, who I grew up listening to on cast recordings!
AB: You'll be co-producing your first Broadway show this fall with Allegiance, starring Salonga, George Takei, and Telly Leung. What has that experience been like?
MK: Allegiance holds a special place in my heart. It was the first major commercial production that I ever worked on after graduating. I spent 18 months in the trenches with my bosses, the creators and lead producers of the show, and got to see the inner workings of how a show develops and prepares for Broadway. I was also very pleased to have an opportunity to raise money to help the show get to Broadway and subsequently stay on as a co-producer even after I left my full-time job with them.
I think this year is going to be a major chapter in my trajectory. I am also the Social Media Manager for the musical Hamilton which is, without question, one of the most hotly-anticipated shows of our generation. 
AB: If there's one quick piece of advice you had to give to a student who is considering a career in theater, what would it be?
MK: Try a few different things! I learned as much from the internships and jobs that I didn't like as I did from the ones I did. Also, if you can, don't be afraid to work for no money during summers in college. I was able to tend bar in the evenings to make ends meet! Some of my closest relationships, both personally and professionally, were forged during long hours making absolutely no money doing what I love.   
Most of all, remember that whether it's a new musical opening on Broadway, or a fresh production at the Erie Playhouse, your role in bringing that story to the audience is equally important. Don't take for granted the experiences that this amazing organization is offering to you. The Erie Playhouse is truly one of the premiere community theaters in the nation, and they have the tools to help you figure out what it is you want to do. You just have to be willing to ask.
Careers in the Theater NOT on Stage is free and open to the public and starts at 11 a.m. Thursday, July 2. Call the Erie Playhouse Box Office at 454.2852 to confirm your attendance if interested.
Alex Bieler can be contacted at aBieler@ErieReader.com, and you can follow him on Twitter @Catch20Q.