McKegg's trick lifts Otters past Knights
The Erie Otters traveled for the final time this season to London to take on their hated Midwest Division rival in a crucial game with the teams seperated by just three points in the Western Conference.
January 28, 2011 at 11:08 PM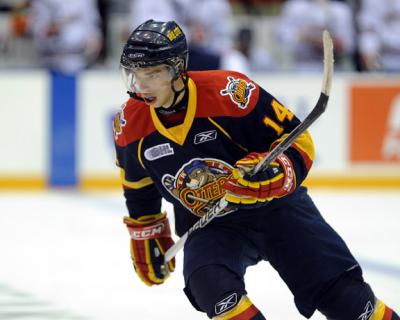 From Erie Reader staff:
LONDON, Ont. – Robbie Ftorek sidelined captain Greg McKegg last weekend to rest a lower-body strain the captain was suffering from.
He's fine now. Just ask Dale Hunter and his London Knights.
McKegg netted his third hat trick of the season and Ramis Sadikov stopped 43-of-44 shots as the Otters beat Midwest Division rival London 6-4 in front of 8, 975 at the John Labatt Centre.
With the win, the Otters earned a crucial two points in the Western Conference standings, trailing sixth-place London by one point. The conference is a logjam, where 10 points separate six of the eight teams in contention.
The Otters jumped out to an early 3-0 lead, as Mac McDonnell's eighth goal of the season at 13 minutes, 15 seconds into the first period started an offensive attack that saw the squad score three goals in just under five minutes on London's Igor Bobkov. McKegg and Shawn Szydlowski netted the other two scores.
London would punch back in the final minute as Dane Fox finally beat Sadikov on London's 15th shot of the period, as he banged home a rebound with 43 seconds to go in an offensive minded first.
Sadikov, making his 45th start of the season, would stop the next 29 shots he faced to stonewall a young London team that scored seven goals the night before against the Niagara IceDogs.
While Sadikov was protecting his net, Bobkov couldn't keep the puck out of his.
Erie would score the next three goals -- Brett Appio's seventh of the season and two more from McKegg, which gives him a team-leading 34 of the season. McKegg was named the game's first star.
With a 6-1 lead and the game seemingly secure, Ftorek pulled Sadikov to let the young Russian rest for the last 4:52 of the contest as he put in rookie goaltender Chris Festarini. Festarini is 0-7-0-0 in his career in the OHL with a .827 save percentage.
Festarini yielded little resistance to the Knights, as Matt Rupert and Fox scored 16 seconds apart with more than four minutes to play to cut the Erie lead to 6-3 and jumpstart the uninspired team.
From that point, London controlled the play in the Erie zone and put shot after shot at the shaky Festarini, before Ryan Rupert put a puck into the Erie net with 26 seconds remaining before time would eventually run out on the Knights. Festarini made just four saves on seven shots.
What used to be a barn of horrors for the Otters, who lost 22 in a row at the John Labatt Centre as of December, 2010,  has turned into a home away from home. The Otters have won the last two games at the JLC, scoring 15 goals in the process.
Erie will continue its march in upper Ontario, as it will conclude the five-game road trip with two games against the Owen Sound Attack this weekend.
Summary:
                                  1              2              3­
Erie                        3              2              1
London                 1              0              3
Summary:  First period_1, Erie, McDonnell 8 (Appio, Paton), 13:15. 2, Erie, McKegg 32 (Holden, Cazzola), 15:48. 3, Erie, Szydlowski 26 (Luciani, Pelech), 18:13. 4, London, Fox 4 (unassisted), 19:17.
Penalties_None.
Second period_  5, Erie, Appio 7 (Varone), 10:50. 6, Erie, McKegg 33 (Cazzola, Luciani), 19:12.
Penalties_ Varone, Erie, (tripping), 0:31; Appio, Erie, (hooking), 8:37; Crisp, Erie, (check to the head), 13:48; Rupert, London, (check from behind), 14:12.
Third period_  7, Erie, McKegg 34 (Holden) 6:08. 8, London, M. Rupert 1 (Tierney, Ferry), 15:08. 9, Fox 5 (Sanza, Moffat), 15:24. 10, London, R. Rupert 5 (Hughes, Tierney), 19:34.
Penalties_ Thompson, Erie, (cross checking), 6:08; Erie, McGuire, (fighting), 9:06; Tinordi, London, (fighting),  9:06;