Meet and Greet
Say hello to Erie's hardiest walkers
January 30, 2019 at 9:15 AM
By : Liz Allen
Say hi to Cathy, Mary, Keith, Ted, Alvin and two guys named John.
I would have liked you to meet Phyllis, too, but I only got to know her through her obituary. Instead, I'll introduce you to Nancy, her card-playing friend. Nancy says the secret to a well-lived life for a senior citizen in downtown Erie is to get out and about every day.
Ranging in age from their 30s to their 70s, these men and women live, worship, work, eat and socialize in downtown Erie. As the much-heralded efforts to revive downtown Erie burst into view, I worry that their stories — and those of others in their shoes — will evaporate into the background.
In a city striving to become more walkable, we can learn from those who forge a daily path on foot.
Some of them are battling addiction, struggling with mental health issues, coping with physical ailments, wrestling with financial woes — or all of the above. But don't tag them as "the homeless."
Rather, they are "experiencing homelessness," in the words of Pat Tracy, coordinator of the Sunday Supper program at First Presbyterian Church of the Covenant.
Others have permanent roofs over their heads but they mourn the loss of a spouse, rue a breakup with a significant other or are just longing for lively conversation and companionship.
Buttoned up and bearing down against the chill of winter, we're less likely to dig for change for the man in the shabby coat who craves a cup of coffee or to make eye contact with the stranger motoring in his cart along State Street to the Dollar General.
Yet taking time to smile or say hello can brighten that person's day, according to everyone I interviewed for this story.
My interest in writing about downtown residents as real people, rather than an impersonal low-income demographic group, began at a late July meeting of the Renaissance District Care Team. There, volunteers from business, education, government and social services received updates about the new pocket park just north of the Palace Hardware building, 913-915 State St. They also brainstormed ways for the Erie Downtown Partnership to build on its "Friendliness and Cleanliness" initiative.
Many suggested that downtown could be safe, welcoming and vibrant without shunning or chasing out the poor and helpless. Lisa Songer, captain of the Renaissance District Care Team, pointed out that people relaxing on benches outside of subsidized housing complexes aren't intruders or loiterers. Rather, those sidewalks and Perry Square are their backyards, she said.
Songer, who moved to Erie from Ohio 15 years ago to work at Gannon University, is the marketing coordinator for Professional Development Associates Inc. She frequently walks from her office at the Renaissance Centre at East 10th and State streets to the Palace Hardware Building, which her company also manages.
One day, she introduced herself to Danny, a guitar player on State Street who is sometimes mistaken for being homeless. Later, she baked him cookies. "He was overjoyed," she recalls. "That eye contact and a smile can make a difference in anybody's day," she said of her interaction with the affable musician — member of the X-Whites and We Hit the Fan.
She also talks about a new woman who moved into the Palace building at the same time that Downtown D'Lights and Gallery Night were being celebrated. "I've never seen someone so ecstatic about living downtown," Songer says. "These people want to be out and about. They want to be part of the community. If they are a part of something, it gives them a little more self-worth."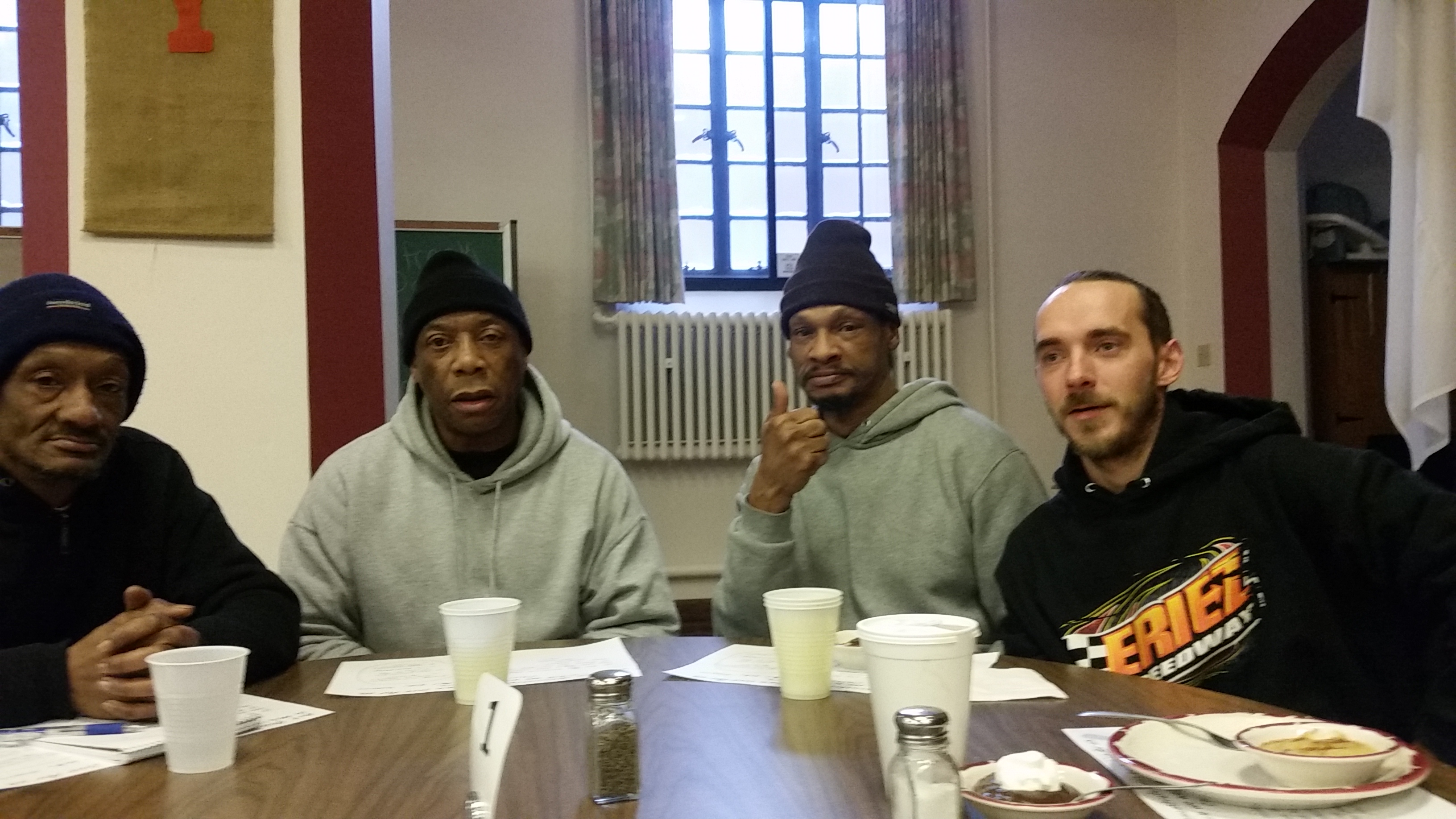 Regular guests at Sunday Supper include, left to right, Alvin Baldwin, John Sterling, Ted Williams and Keith Lear. The free meal is offered 50 Sundays at year at First Presbyterian Church of the Covenant. The men say they enjoy the nutritious meals and the lively conversations. Photo by Liz Allen.
Downtown as home base
That's certainly true for Nancy Schill, 72, who moved to Richford Arms Apartments, 515 State St., 11 years ago, after her house on Shunpike Road became too expensive to maintain. "Gas bills were mounting to $259 a month. It would take me all summer long to get caught up. I would have had to bring in a roomer," says Schill, who worked for 39 years as a "low-paid LPN." At Richford Arms, she pays one-third of her income for rent.
A self-described "people person," she quickly became friends with Phyllis Zack, a widow who moved to the Richford Arms after retiring. They and two other women, who have both since passed away, played the card game Skat every Thursday.
I didn't know Zack, who died Dec. 20 at age 89, but I loved the imagery in her obituary. It mentioned her many friends at Scully's Pub and said that "she could be seen walking around with her 'Cadillac of walkers,' greeting many people around the park."
But Zack didn't stop at Perry Square. Schill says that her friend would walk "clear up to 18th Street. She just toured the city."
Schill owns her own fancy walker, a cushy red-and-black model from Canada passed down from another resident. "When you sit on it, you feel like you are a director in a movie," she says with a big smile.
A breast cancer survivor, she needs the walker because she suffers from congestive heart failure.
When I hear community leaders speak cavalierly about moving seniors or the disabled away from downtown, ostensibly to put them closer to social services, I wonder if the movers and shakers realize that these residents are also consumers who spend money downtown. And they live downtown precisely because social service agencies are nearby. It's also convenient that the bus stops near their front door.
Schill, who has been car-less since 1999, can't travel too far with her walker, because she gets winded, but she gets around.
For breakfast, she eats at Dave's Diner, off Perry Square. Once a week, she takes the Route 27 bus to Shirley's Country Kitchen on Old French Road.
She relies on the low-cost LIFT to go to an affordable lunch, bingo and cards at LifeWorks, 406 Peach St., or for lunch and cards at the Robert B. Wiley Senior Center, 823 Peach St. Every Friday afternoon, she rides the LIFT to St. George Catholic Church, for Eucharistic adoration. "The closer I get to God, the less I worry about myself," she says. You don't need a "barrel" of money to be happy, she says. "It's what comes from the heart," says Schill, who wears a Christmas tree pin on her coat all winter, to remind people to keep the spirit of Christmas alive beyond Dec. 25.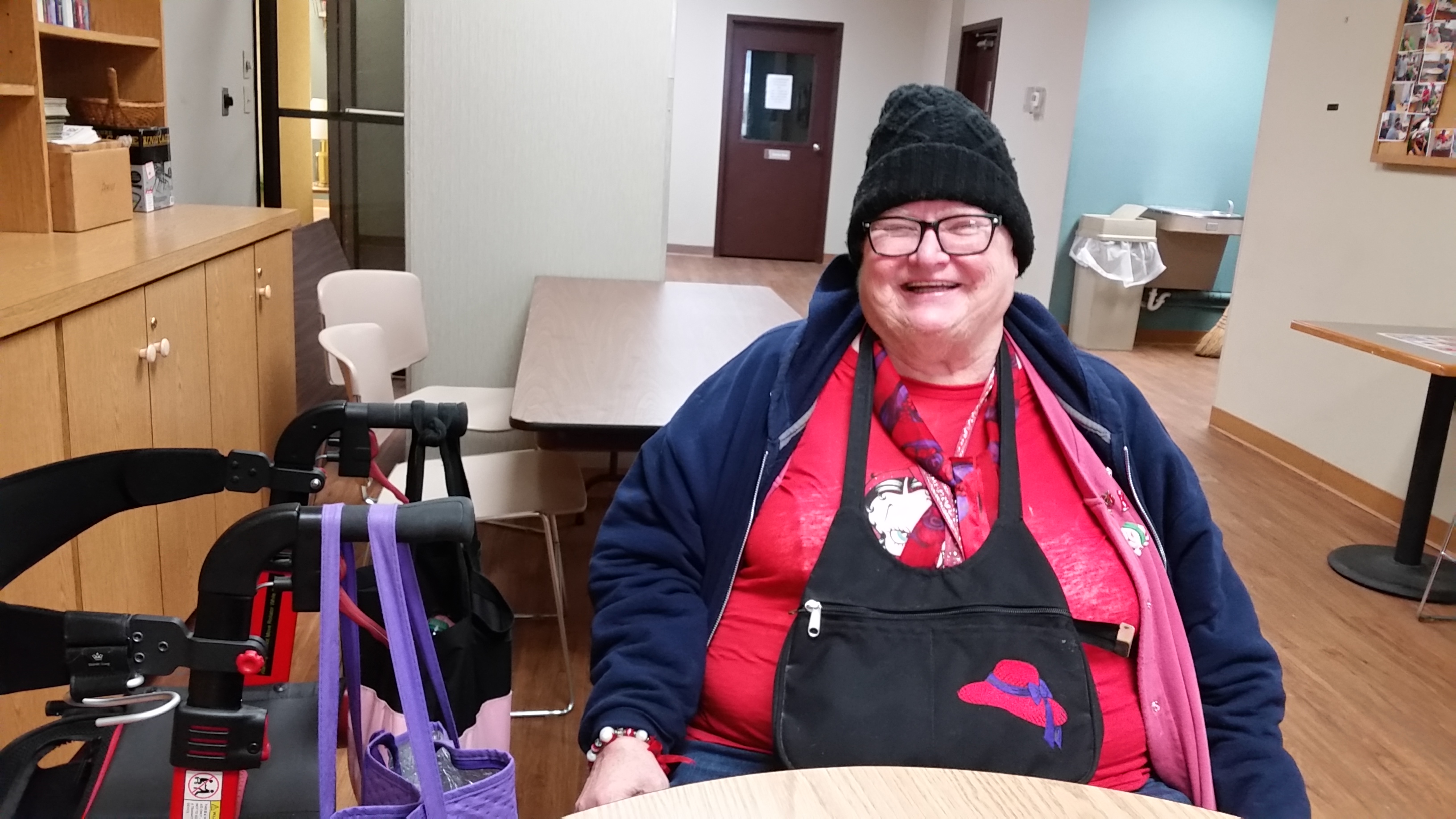 Nancy Schill, a retired LPN, offers a friendly greeting to all of her neighbors in the Richford Arms Apartments. She moved there 11 years ago, when she could no longer afford her single-family home. Photo by Liz Allen. 
Help for the homeless
Those who serve people who are homeless do it from their hearts and celebrate the hearts — and acknowledge the heartaches -- of those they serve.
Their ranks include Pat Tracy, the coordinator of Sunday Supper at Church of the Covenant. A retired high school health teacher, Tracy had always been active at her congregation but felt called to serve in another way when she was driving down Peach Street to church one day and saw people congregated at Griswold Park (the gazebo where they sought shelter has since been removed). "Loud and clear, I heard the words, 'You hypocrite. What are you doing for the least?'"
Tracy, who volunteered for Our Neighbors Place, the seasonal overflow shelter that Church of the Covenant begun in 2011-12, now rotates in two-week shifts among different churches. She and Dale Sweete started Sunday Supper in 2014 "after we heard a guest say, 'It's back to dumpster-diving on Sunday nights,'" because no meals were available to the poor on the Lord's Day.
Now, volunteers from various groups and churches serve Sunday Supper at Church of the Covenant 50 Sundays a year. On the night I visited, attendance was sparser than the usual crowd of 120 to 180. It's hard to walk to dinner when the temperature plunges to the single digits.
I first learned about Tracy's philosophy toward people who are experiencing hard times at a Nov. 13 meeting organized by Mayor Joe Schember's administration to address homelessness. "Don't call them panhandlers," Tracy said then. "These are my friends."
During my visit to Sunday Supper, Tracy elaborates on that theme. "We've become a family here and they are my friends," she says. "People need to belong to something that is bigger than themselves and Sunday Supper is a place to belong."
That night, guests dined on chicken alfredo, green beans, applesauce and pudding with whipped cream, as volunteers came by to serve water, lemonade and coffee.
Church of the Covenant pianist Montgomery Service added to the inviting atmosphere by playing familiar hymns in the background as I chatted with the men at one table.
"I wanted to get out and about a little bit. I like the food and the companionship," says Keith Lear, 33, about why he attends Sunday Supper. He works two part-time jobs, lives with his sister and either rides the bus or walks from his home on the east side to Sunday Supper.
Alvin Baldwin, 54, has been homeless for about seven months and is waiting to get Section 8 housing. He blames himself for his situation. "I think a lot of people out there struggle with addiction," he says. But he believes that "willpower" will help him overcome his issues. "I'm never going to give up."
John Sterling, 66, who has worked as a security officer, nursing assistant, and in manufacturing, is living with friends until he can get on his feet, but he admits, "There is nothing like having your own home."
He comes to Sunday Supper because "it's sociable and they serve nutritional meals."
Ted Williams, 58, who lives alone, comes for the "fellowship," he says. "I just get lonely."
The men start a lively discussion about Erie's tax-exempt hotels. Since they are either working or have worked in the past, they qualify as taxpayers. Maybe the tax-exempt hotels should offer one free night of lodging to those who are homeless, so they can get a good night's sleep and a warm shower, they suggest.
When your lodging is a single cot
But a good night's sleep in a comfortable bed, with the convenience of a warm shower, is only a dream for someone like Cathy, who asked that her last name not be used, and John and Mary, who are happily married.
I met Cathy in the church parking lot after Sunday Supper. Bundled up against the biting winds, she dodged snow drifts as she clutched two free books she got at the supper, including the best-selling kid's favorite, *Dork Diaries. She had been writing her own book for her grandchildren but it got lost when she left it behind at a shelter, she says.
I offered her a ride to the Warming Center at the Mental Health Association of Northwestern Pennsylvania, 1105 Peach St.
From there, she would walk down the block to the Sunday worship service at the Cross, which meets in the sanctuary at St. Paul's United Church of Christ. The previous week, I had attended the Cross, which ministers to downtown residents and people who are homeless. We sang hymns, read the Bible and listened to minister Chuck Nelson preach about the vine and the branches. Afterward, congregants were invited to a simple meal of chili dogs.
Nelson knows Cathy and the rest of the worshipers by name.
"If people were to spend time with the broken, they would see that brokenness is often started by things outside of the person's control. Any honest person, with some self-reflection, will probably realize that their accomplishments were more grace-filled than they credit," he says.
Cathy is witty, well-spoken, and disarmingly blunt. We played voicemail tag for a few days (her boyfriend, who is also homeless, has a cell phone) until we connected for an interview.
I gave Cathy and her boyfriend a ride to Our Neighbor's Place overflow shelter, which was being held from Jan. 16 to Jan. 29 in the social hall at St. John the Baptist Catholic Church, 509 E. 26th St.
Without transportation, the couple would have trudged a mile-and-a -half through sloppy slush, created after a day-long downpour, from Community of Caring, a shelter at 245 E. 8th St. Cathy carried her belongings in a big black purse; her boyfriend has his stuff crammed into several plastic bags.
Shelter volunteers arranged for us to talk in a narrow storeroom, filled with blankets and clothes divided by size into men's and women's things. There were lots of boots and shoes. Now I know why; Cathy's loafers would have been ruined in that miserable walk.
I had a wingwoman along for the interview — my friend Helena, visiting from New York. An hour earlier, we had attended the silent march sponsored by Benedictines for Peace. We walked single-file at the Millcreek Mall, amid the bustle of busy shoppers searching for bargains marked "50 percent off!" or "70 percent markdown!"
Safe from the rain and sleet, we could ponder why we need to "buy, buy, buy!" while so many must cram all they own into a single bag.
Cathy, 61, opens up freely. The streets have ruined her looks, she says, but at 12, she was a pretty but insecure girl, craving affirmation from her mom. "I needed guys to validate me," she says. Wanting to play it cool, she asked a guy for a cigarette. "He gave me a marijuana cigarette and I knew right then that I wanted to feel that way the rest of my life," she says.
"After a while, pot wasn't enough. I tried LSD … One time I had a bad trip. Ozzy Osbourne jumped out of the record and started chasing me around the room. Then I moved on to drinking Boone's Farm wine. I could one-up the guys."
Next, she got hooked on heroin. "When I graduated high school, I had track marks." Later, she married a drug dealer, had two children, stole to feed her habit and did time at the Erie County Prison and the state penitentiary. Her most recent slide into homelessness began in September, after she was released from a six-month jail term imposed when she walked away from a rehab program.
Cathy says she had a lovely childhood, growing up in a home with two working parents, including a father who frequently came to her rescue when drugs got her in trouble.
Still, "by the grace of God, I've raised two good kids," says Cathy. Her two girls have college degrees and good jobs.
A "functioning addict" for most of her life, she has been clean "for months." Will it continue?
"I've been using drugs for 40 years," she says matter-of-factly. But in Erie, it is the kindness of shelter volunteers and the support of peer counselors at the Mental Health Association who help her make it from day to day.
"The people here are so nice," she says about those working at Our Neighbor's Place, where she also has a dedicated caseworker. "They care about your life. They care about your safety. They care about your future."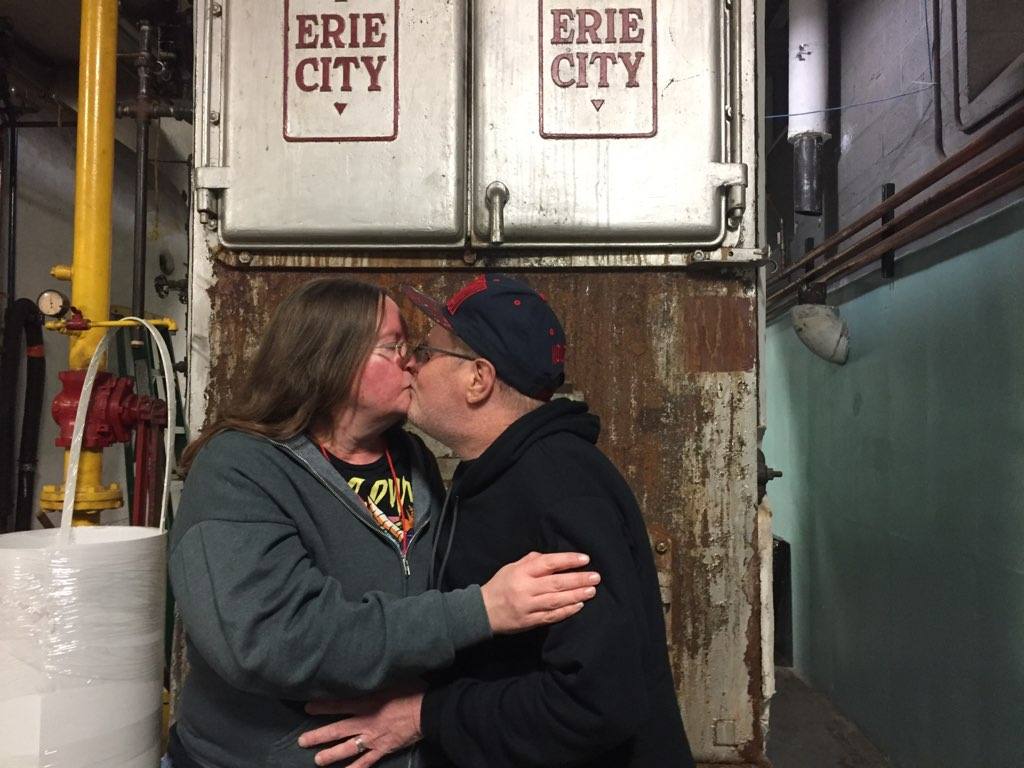 Mary and John Bliss, who will celebrate their 18th wedding anniversary in June, have been living in shelters on and off since 2017, when John Bliss lost his disability benefits and Mary Bliss's pay from Subway couldn't be stretched to cover their rent. Photo by Liz Allen.
Looking ahead
Mary Hoffman, a retired special ed teacher, is one of those caring individuals. She introduces Helena and me to John and Mary, sweet, gentle souls who walked to St. John's through the pouring rain from the McDonald's at W. 12th and Sassafras streets.
They have been homeless off and on since 2017, when John lost his disability benefits. The government says he can work, despite a bad back, bad legs and a bout with testicular cancer. They can't afford rent on Mary's pay from her job at the Subway on lower State Street.
Mary sets up our interview in the school boiler room, to give us more space. An imposing Erie City Ironworks boiler looms in the background.
John, 55, and Mary, 41, met when they worked at Gabriel's in the West Erie Plaza. He asked her out for coffee at Eat' n Park. They talked for four-and-a-half hours, then took a ride to the dock.
"I took her home, walked her to the door, and I said, 'Can I please have a hug?'" John recalls.
He proposed during the grand finale fireworks at Jerry Uht Park (now UPMC Park) on Labor Day weekend.
But he couldn't afford the ring then. Instead, at a baseball game a year later, when John was a contestant during the post-game Launch-a-Ball promotion, he got down on one knee in front of a crowd of 3,500, and gave her a ring.
They have been in and out of shelters since John's disability payments were cut off. They are hoping to get subsidized housing, but the government shutdown makes that uncertain.
"Don't put a person down because they are homeless. Give them a hand up," advises John.
"Homelessness doesn't discriminate. It's not restricted to one group of people. Some like to judge," says Mary. "You could be rich one day and poor the next," her husband adds.
John and Mary will celebrate their 18th wedding anniversary on June 3. The hardest part about being homeless, John says, is that he doesn't get to cuddle his wife at night, because men and women sleep on single cots in separate areas at the shelter.
"This is a test and it makes our love stronger," he says.
At the end of our interview, I ask if I can use their full names. Yes, they say.
Why am I not surprised when I learn that their last name is Bliss?
Liz Allen wants to thank the many peer counselors, too numerous to mention, at the Mental Health Association of Northwestern Pennsylvania who provided background research for this story. You can reach her at lizerie@aol.com.
Learn more

Our Neighbor's Place, hosted by various churches, offers temporary overnight shelter to the homeless through March 26 this winter.

St. John the Baptist Catholic Church, 509 E. 26th St., hosts the shelter through Jan. 29.

Additional sites include:

The Old Russian Orthodox Church of the Nativity, 247 E. Front St., Jan. 30-Feb. 12

First Presbyterian Church of the Covenant, 250 W. 7th St., Feb. 13-Feb. 26

St. John the Baptist Catholic Church, Feb. 27-Mar. 12

First Presbyterian Church of the Covenant, Mar. 13-Mar. 26

For information about various programs sponsored by the Mental Health Association of Northwestern Pennsylvania, including its Warming Center, visit www.mhanp.org or the organization's Facebook page or call 814-455-7165.

For a comprehensive list of resources on homelessness, contact the Erie Home Team at www.eriehometeam.org.