Mercyhurst Prep has been Scalisized
Erie native draws on his past, embraces his future.
September 3, 2014 at 7:40 AM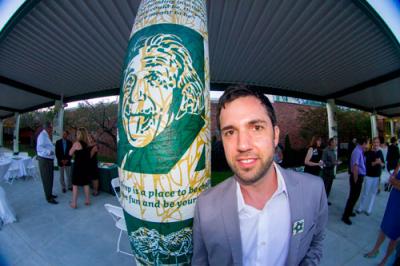 Jazz-rock group Steely Dan once sang, "I'm never going back to my old school," but 1991 Mercyhurst Preparatory School graduate and artist Todd Scalise did indeed go back to his old school. And when he did, he did what many of us probably wish we could do - he drew all over it.
With permission, of course.
For almost six months, Scalise collaborated with MPS alumni and faculty to sort through more than 600 student-submitted drawings that would eventually end up as part of one of the largest outdoor public art installations in the region.
Some drawings were transcribed to vinyl and wrapped around one of 24 columns that support a covered campus walkway. Other drawings were blown up into one of 177 eight-foot by one-foot panels that now adorn the top of the building's facade. All drawings, however, are instantly identifiable as the work of the prolific Scalise.
Featuring a leafy, arboreal background motif that alternately recedes and advances through Scalise's nationally- and internationally-known "Higherglyphics" style, the 8,200 square feet of art that currently adorns MPS accentuates - rather than dominates - the look and feel of the place, despite the mural now serving as the building's most prominent aesthetic feature.
Such a substantial undertaking may sound like a maddening and difficult ordeal, but Mary Ellen Dahlkemper, president of Mercyhurst Prep, revealed what it was really like to pull off a project of this size.
"Todd is one of the easiest people I've ever worked with," she said. "He listens extremely well, is very thoughtful and has good questions. He let us see the process as it moved along and did check-in points. When we had the 600 drawings come through, he printed every single one of them out, brought them in, and we corralled about 40 people and went through them."
As for what these poignant, relevant images will mean to future generations of MPS students - many of whom began their high school careers on Monday, Aug. 25, the same day the donor-funded mural was revealed to donors and dignitaries alike - Dalkemper touted the educational value of the work when she spoke to the incoming freshmen of MPS's Class of 2018.
"When you're out front waiting for the bus," Dahlkemper told them, "or waiting for your ride, or just hanging with friends, read and look at every image that's out there, so that you understand what it means to be a Laker."
Scalise agrees with Dahlkemper. "Graphically, this installation translates Mercyhurst's value system into an accessable, engaging visual public relations mechanism that will heighten the awareness of this institution for years to come."
So if your old school is Mercyhurst Prep, and you ever go back to your old school, when you smile for the camera, think about how your memories will come back to you, while reflecting on Scalise's transformation of space through art.
You don't have to be a MPS alum to enjoy their mural; for more on Scalise's MPS mural – including behind-the-scenes process photos – look for Cory Vaillancourt's web exclusive story on www.ErieReader.com. Cory Vaillancourt can be contacted at cVaillancourt@ErieReader.com, or on Twitter @VLNCRT.