Metal Menagerie
A longtime local car-parts sculptor gets Ripley's acclaim for his delightfully out-there art.
September 14, 2016 at 3:30 PM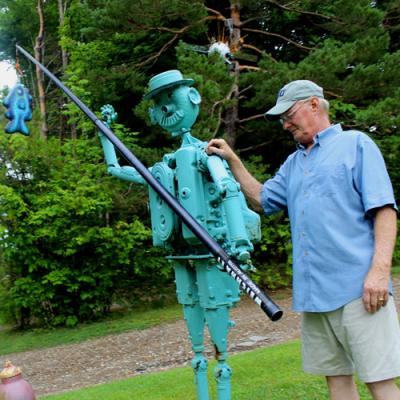 Believe it or not: Not far outside of Erie's city limits, there exists a car-parts creature carnival – in plain view, and free to be explored.
That welded wildlife park (dubbed Schaefer's Auto Art after its maker, and its makeup) is weird and wonderful; and now – with a two-page spread in the latest edition of a Ripley's Believe It or Not! special publication – it's worldwide.
There it is, on page 196 in the recently-released 2016 edition of Unlock the Weird!: "Richard Schaefer is a 'junkyard artist' who has turned his Erie, Pennsylvania, front yard into an art attraction. What started with half of a 1971 Lincoln Continental stuck in the ground evolved into 25 years' worth of amazing artwork crafted from car door handles to tail pipes and everything in between. Schaefer has made almost 20 different car sculptures, including a spider, a two-headed dinosaur, and a rocket ship for the Millennium celebration in 2000!"
But the self-taught artist and talented tinkerer – a warm, friendly, family-oriented, and good-humored guy – isn't letting it go to his head.
"It is a weird book – I'll admit to that," the 66-year-old said humbly about the recent accolades, which he garnered after one of his daughters, Adele, contacted Ripley's on his behalf.
Schaefer's already no stranger to curiosity-seekers. After a quarter-century of making larger-than-life pop-up art out of car parts at his Hershey Road property, he's seen a whole lot of people looking at his creations, and he said he's always been happy to have them.
"If I had a dollar for every smile, I'd be a millionaire," he said when I (and my awestruck wife and kids) interviewed him a couple of weeks back.
But, he smiled and said, "I just do it for the enjoyment."
Decades back, Schaefer – who learned about automotives as well as welding and fabricating from his father – began working at his brother's local junkyard, and that's where the ideas for his creatures were planted. Looking around at the medleys of metal parts, he found his first inklings of inspiration.
"I would see things," he said: a face here, a body there, a bug, a rocket ship. And before long, he was bringing these things to big, bold life.
First came the spider that sits high in the middle of the yard. Made out of 2,500 pounds of heavy metal – thick steel bars and a VW Beetle frame – it was born and brought out for all to see just in time for Halloween some 25 years ago. "We were up all night the night before to make sure it was up," said Schaefer.
From there, the ideas (not limited to what's listed here) just kept coming: A big – really big – black-and-yellow bee; the iconic, tall rocket ship; a Maybury-style cop car; a satellite in a tree; a double front-ended Lincoln Town Coupe (which, at one point, was actually driveable); a one-of-a-kind Air Mail plane; and a whole lot more, including "Auto Man," who's the first to greet visitors as they enter the property and who seems to have a special place in Schaefer's heart.
"He's been there a long time," Schaefer said. "He's my buddy." And Auto Man has taken on several different roles – fisherman, firefighter, and others – over the years.
At the end of the day, Schaefer reiterated, "I do it for the smiles."
And he's seen a lot of them.
"First, you see them parking. And by the time they get over there," he said, motioning toward the front of the property, "they're smiling."
Believe it or not, for him, that's some good pay right there.
To find out more about Schaefer's Auto Art – and to submit suggestions for possible future pieces – visit schaefersautoart.com.
Ryan Smith can be reached at rsmith@eriereader.com, and you can follow him on Twitter @ryanmsmithplens.