Mod Apothecary Opens in Colony Plaza
Yogi Stacey Orr introduces Erie to the business of a new aromatherapy and natural beauty store.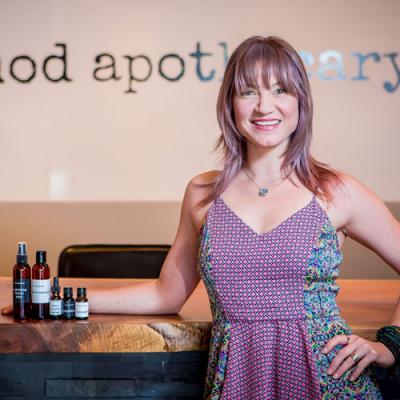 If you want to find Stacey Orr's new business in Erie's Shops at Colony Plaza, just follow your nose.
Stepping out of your car at 2564 W. Eighth St., you're immediately greeted by a wave of aroma – warm and musky, sweet and deep. You've reached Mod Apothecary, a brand new aromatherapy and natural beauty store, which held its grand opening last week.
The sense of smell, Orr says, "is one of our most powerful. You can be blind, deaf, but the sense of smell can influence your mood, your mental health, your state of being."
It's a small store, but filled top to bottom with shelves of essential oils; handcrafted, artisan body care products like bath bombs, facial tonics, and serums; and all-natural cleaning products for the home. It's all locally sourced and handmade in small batches by Orr, and when customers walk into her store, she wants them to feel welcome.
"It's meant to be highly experiential and friendly," she explains. "It's not some frou-frou, high-end, intimidating place. Come in, look around, and smell."
Tucked in the back corner is an aromatherapy room, quiet and dimly lit with a different blend of essential oils in a diffuser. The day of the opening, the room was filled with lavender, sweet orange, and rosemary – designed to calm, uplift, and clarify. There's salt crystal lamps, and a window that looks out to the rest of the store, but it's less a window to the outside world than a screen from it. This is a store that wants its patrons to sit, breathe, and be.
The inspiration for Mod Apothecary came from a few places, Orr says. She's always been inspired by the "age of the apothecary," when a person could walk up to a botanical bar and have a formula crafted on the spot for them. With perfume, she said she likes to consider it to be "your own personal potion."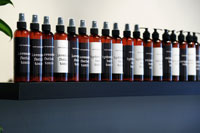 "What are you trying to attract? What are you trying to invoke, and what does it say about you, how you want to feel?" Orr questions. "That's the whole idea. I like the experience and education that comes from creating your own blend."
A registered yoga teacher, Orr has been exploring perfumery and aromatherapy for several years on her own, building an e-commerce business called Stinky Yogi, a business born from Orr's love of yoga and essential oils that allows those exiting a power yoga class to smell a bit, well, less stinky and a bit more refreshed. The inspiration for a brick-and-mortar store, Orr adds, grew over the years. The location next to yogaErie has been vacant for some time, and when she stepped foot into the storefront, "this vision suddenly came to fruition," she explains. "I jumped in and said, 'This is it. This is good.'"
As she prepared to cut the ribbon on Mod Apothecary Thursday, June 4, Orr says the business was "a dream come true," and cited one last inspiration for not just her store, but the way she lives her life.
"I have to credit my father-in-law, who passed from brain cancer," she told the gathered crowd. "Having conversations with someone who is dying, transitioning, it was a positive experience. It inspired (my husband and I) to make a great change in our life, our willingness to take great risks, and go for it."
She and her husband Zack, a local musician, moved to Erie from the west coast and here, she says, they found their home.
"Not being from Erie, I'm thrilled to be opening a business here," Orr says. "I really am. The community here is just incredible."
The grand opening was indeed a community affair, as customers and vendors from all over Colony Plaza were on hand, offering well-wishes and house-warming presents. Orr does see the plaza as her second home; she's been teaching next door at yogaErie for five years, and many of her students were at the opening as well.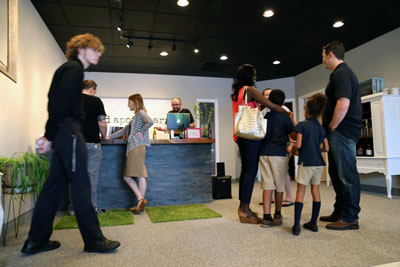 One, Jen Esper, was the very first person to create her own scent at the perfume bar (her 8-year-old son, James, came away with his own concoction as well).
"I'm such a perfume junkie," confesses Esper, who usually wears the high-end Jo Malone line, layering scents like wood, sage, and sea salt to get what she wants. "When Stacey said she was doing this, I said 'sign me up.' Stacey, as my yogi, pretty much changed my life and outlook on everything. She has helped me on my journey, and to see (this store opening), I think things are coming full circle for her. I'm so happy for her."
Esper's custom-blended perfume includes base notes of vetiver and fir balsam, middle notes of ylang ylang and neruli, and top notes of bergamot, and lavender. She says she hopes it "invokes some happiness and some zen" for her.
At the perfume bar, arguably the center of the store, "the customers blend; I guide," Orr explains. She's studied under mentors in Providence and Dallas, and together with her customers, Orr helps create a scent that's all their own from pure, natural oils, and absolutes (less than 5 percent of ingredients in typical perfumes are natural, Orr said – it's mostly synthetic.)
"The philosophy we're invoking is the more ancient practice of perfumery, when all they used were naturals. Synthetics can be overpowering, and your nose has to acquire the sense of the pure, natural aroma."
"We follow a tried-and-true formula," Orr says. "Honestly, there are no rules. Like attracts like, but I tell people to follow their nose… The philosophy we're invoking is the more ancient practice of perfumery, when all they used were naturals. Synthetics can be overpowering, and your nose has to acquire the sense of the pure, natural aroma."
In the fall, Orr will debut two ready-to-buy perfumes at Mod Apothecary: Boho Gypsy and Amour in Provence – scents she describes as bohemian meets gypsy meets romantic. As her store grows, she says she hopes to work with regional farmers to source her botanicals, and place equal focus on the medicinal side of essential oils, placing a traditional apothecary bar in her store to supply therapeutic products like tinctures.
Orr admits she didn't always know what her passion was, but now that she's found it, she's ready to share it with everyone who walks into her store.
"Finding this passion and this deep sense of purpose, once you find that, you can't ignore it," she says. "You can try to turn it down, but you have to listen to it. It awakens something special within you."
Sara Toth can be contacted at sToth@ErieReader.com, and you can follow her on Twitter @SaraAToth.