More About Montana's Challenge to Citizens United
A closer look at Citizens United and Montana's decision to protect its campaign finance reform law from the Supreme Court.
January 6, 2012 at 9:39 PM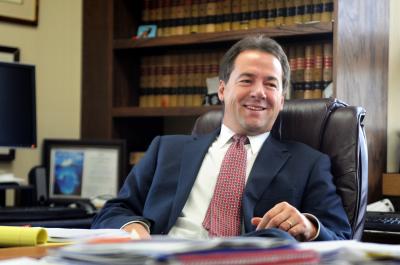 There's been some great commentary written about the Montana Supreme Court's challenge to Citizens United, which lifted restraints on corporate spending in elections. Dahlia Lithwick's is probably the best:
The Montana court more or less announced it would uphold that state's corporate spending ban because they know a lot more about political corruption than Anthony Kennedy does. The Montana law was enacted in 1912 and provides that "a corporation may not make a contribution or an expenditure in connection with a candidate or a political committee that supports or opposes a candidate or a political party." After the Supreme Court handed down the Citizens United decision in 2010, many similar state laws were struck down by the courts or repealed, and a lower court in Montana agreed that the Montana ban was unconstitutional as well, finding that "Citizens United is unequivocal: the government may not prohibit independent and indirect corporate expenditures on political speech."

But by a 5-2 margin, Montana's high court determined that the state law survived "strict scrutiny" because Montana's unique context and history justified the ban in ways not contemplated by Citizens United.
Lithwick brings up some great points about Citizens United and the recent Montana decision.
First, Montana's decision came just days after $14 million was spent by corporate PACs on the Iowa caucus, an unheard-of amount of money, most of which supported Mitt Romney.
Second, that the spending in Iowa illustrated the naive pronouncements on corporate power made by SCOTUS justices in Citizens United, including this one from Anthony Kennedy, usually the swing vote in any close SCOTUS vote: "independent expenditures, including those made by corporations, do not give rise to corruption or the appearance of corruption."
Lithwick also brings up the context of the Montana court decision, including the state's sordid political past in which copper money corrupted government. (At one point, Pennsylvania-born William Clark bribed the state legislature to elect him Senator. They did, and the US Senate refused to seat him. Clark's fradulent "election" led to the 17th Amendment. Remember that the next time some wide-eyed conservative "originalist" rails against that particular constitutional amendment.)
Another factor is that the Montana Supreme Court itself is elected into office. But what Dahlia didn't note is that court members tend to be left-of-center (it's a nonpartisan office) in some part because trial lawyers -- traditionally progressive -- tend to throw lots of money into the race. In fact, the Montana Supreme Court election has been a target for public financing of elections because voting reformers feel they'd have support from conservatives on the issue.
Dahlia suspected that the justices sought to deny Citizens United power over state law because an election was approaching -- but there's also the fact that those same justices are very aware of the role that money plays in elections.
Meanwhile, state AG Steve Bullock and Democratic candidate for governor this year is getting a lot of press for bringing the case to the court.
If you follow the link, you'll see Bullock's explanation in layman's terms what legal basis he thought Montana had in letting the state campaign finance law stand.