More Stops than Ever for Latest Gallery Night
Art in abundance for local enthusiasts
September 13, 2017 at 3:15 PM
Friday, Sept. 22
With 20 participating locations, this month's Gallery Night has set a record for itself. Helmed by the Erie Art Museum, the evening offers guests a chance to check out a huge variety of exhibits, all for free. Whilst scoping out countless works of art, intrepid gallery crawlers will be treated to food and drink at many of the stops along the way.
Allen Stoneware — ceramics artist Caelin McDaniel.
Artlore Studio — music from Eric Brewer, and the "Analog 3-D" art of Jason Amatangelo.
Bargains by the Bay — photography from photographers R.J. Bednez and Laura Gooley, along with painter Brian Payne.
The Bayfront Gallery — Wilda Sundberg's "Wilda II" along with other local artists' works.
Black Eagle Goods — Lion's Tooth: The Art of Andrew Sonthiemer, with screenprints of the talented local tattoo artist's work.
The Crime Victim Center's gallery — works created during Mid-Day Dance Break boasting many popular local names.
Dafmark Dance Theater — Art in Motion!, visual art with dance, music, and loom demonstrations.
D'Hopkins Denniston Gallery Fine Art — Local jewelry and photography.
Erie ClaySpace Studio — artists show off their craft (ceramics and pottery) and offer live wheel-throwing demos.
eyewash projects — FOTO BOOTH, variations on the theme of "selfies" with altered portraiture.
Glass Growers Gallery — the organic landscapes of Geoff Dunn and Barbara Yerace.
West Erie Plaza — works from the Northwestern Pennsylvania Artists Association.
Pointe Foure Vintage Boutique — street couture designed by Jon Box.
Presque Isle Gallery & Gifts — paintings by Narayan Plasha.
The Schuster Gallery at Gannon University — The Lake Erie Fiber Arts Guild's Cut from the Same Cloth.
SOVEREIGN Ballet — A Tribute to the Greats will employ dancers displaying poses used by key choreographers.
Traditions Unlimited — The Art of Aging, work from twelve artists over 55.
U Frame It & The Poster Annex —  The Year in A Life: What I Saw and What I Thought by Matt Lebowitz (with after-party).
V Gallery at the Village West Plaza — local photographers with Remix of LOCAL Image Makers.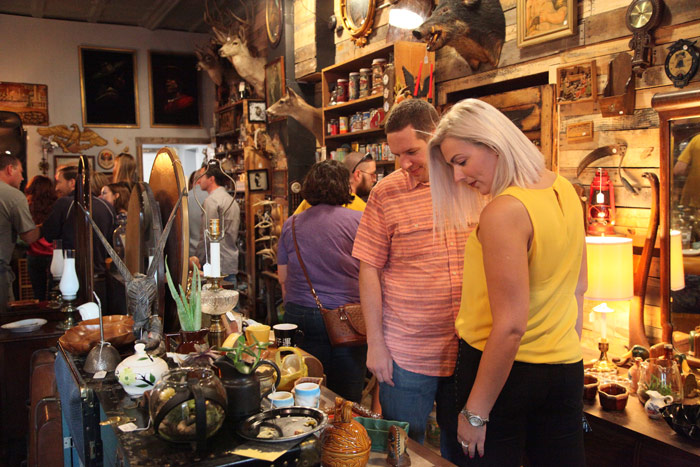 While many nationally-recognized artists will be on display, local creators will also be quite well-represented, many of them in attendance. Opportunities to socialize will abound, with chances to ask the artists any well-thought-out questions you might have. The more introverted crowd, though, will find it just as easy to quietly take in any of the works they so desire, methodically tracing the walls to find their favorite pieces. Whatever your style is, there's probably something for you out in one of the 20 locations around town. — Nick Warren
7 to 10 p.m. // various locations // Free // 459.5477 // erieartmuseum.org/events-gallery-night/