New Year's Eve Roundup
From live music to dancing to theater, many Erie venues are open for business the big night the ball drops.
December 23, 2014 at 9:15 AM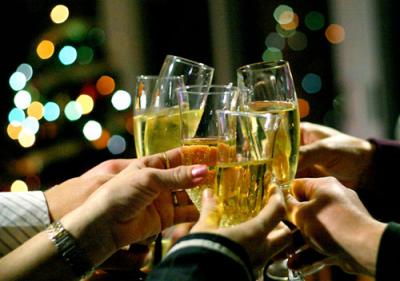 It won't be long before 2014 is over, but you still have one big night to commemorate the memories made in the past year and welcome the new possibilities of 2015. New Year's Eve is a special occasion all across the nation, and Erie has several celebrations planned for Dec. 31. To help make your choice of evening activities a little easier, we've come up with a list of some of the best New Year's Eve parties to be found in The Gem City. 
Boogie on the Bay at the Bayfront Sheraton Hotel
Planning on a long night this New Year's Eve? It sure would be convenient to be able to head straight to bed after a night of adult beverages, tasty treats, and live music from The Chosen Few Band. That's exactly what the Bayfront Sheraton Hotel offers with Boogie on the Bay, allowing you to celebrate responsibly and with class with a room package that includes three drink tickets, hors d'oeuvres, and a champagne toast.
9 p.m. to 1 a.m. // 1 Sassafras Pier // erieevents.com // $45 per person or $199 for a hotel room package
Brew Year's Eve at the Brewerie
Craft beer fans should consider heading to the Brewerie Dec. 31 for Brew Year's Eve. Celebrate the end of 2014 with live music in the concourse with Jackson Station and a dance party in the rotunda with DJ John, as well as an open bar and hors d'oeuvres.
9 p.m. to 1 a.m. // 123 W. 14th St. // brewerie.com // $45 per person
The Gatsby Gala
The Masonic Temple on West Eight Street will play host to an exclusive Roaring '20s-themed shindig New Year's Eve. Make sure to wear your best flapper or dapper don attire to this event, as the United Service Corps fundraiser will provide an open bar and hors d'oeuvres all night long, as a live big band, casino-style gambling, and a Chinese raffle.
8 p.m. to 1 a.m. // 32 W. Eighth St. // unitedservicecorps.com/gala // $100 per ticket, $150 for VIP
The King's Rook New Year's Eve Party
What better way to end 2014 than with a rockin' show? The King's Rook will host Eric Brewer and Friends with openers Dag Nabit to provide some sonic bliss at the venue's New Year's Eve party. Even better, there's no cover!
8 p.m. // 1921 Peach St. // facebook.com/kingsrookclub // Free!
New Year's Eve Gala – Nine in Concert
Those looking for a little more drama with their New Year's Eve festivities will love this option. The Erie Playhouse is putting on a one-night-only run of Nine in Concert, with The Rev. Shawn Clerkin charming the audience in the role of Guido, an Italian film director struggling to start a new project, letting you see a fabulous show and still be home – or elsewhere – by the time the ball drops.
7:30 p.m. // 13 W. 10th St. // erieplayhouse.org // $30
New Year's Eve Party at the Ambassador
The Ambassador's New Year's Eve Party is almost like two separate events in one, with DJ Matt Barnes working his magic in the Crystal Ballroom and American Ride Band rocking out in the Garden Atrium. Overnight packages are available and there will be an open bar until midnight for partygoers.
9 p.m. to 1 a.m. // 7794 Peach St. // ambassadorerie.com/newyear // $56 per person or $239 overnight package
New Year's Eve Show at Sherlock's
Transport yourself back to '80s and '90s at Sherlock's this New Year's Eve. The rock 'n' roll-loving venue is hosting '80s glam-metal crew French Kiss and '90s cover artists The I-90s on the final day of 2014.
9 p.m. to 2 a.m. // 508 State St. // facebook.com/sherlocksparkplace // Cover
Noon Year's Eve at ExpERIEnce Children's Museum
Those looking for a more kid-friendly affair on Dec. 31 should check out Noon Year's Eve. This family affair runs from 10 a.m. to 4 p.m. and features a DJ dance party, a special balloon drop and countdown, bubble stomping, and an apple juice toast.
10 a.m. to 4 p.m. // 420 French St. // eriechildrensmuseum.org // $6 admission or free with membership
PACA's New Year's Eve Masquerade Ball
If you like options for your year-end celebrations, PACA has the event for you. The New Year's Eve Masquerade Ball provides live music with hip-hop-rock group The Lower Eastside Connection, poetry readings, a cash bar, raffles, movies, hors d'oeuvres, and a 1 a.m. breakfast buffet. What's more is that the night acts as a fundraiser for PACA so that the venue can continue to provide plenty of great events for the community.
8 p.m. to 2 a.m. // 1505 State St. // paca1505.com // $15 advance, $20 at door, $30 for a couple