The Erie Reader's Official Response to Congressman Mike Kelly
Following his press conference on Friday, July 22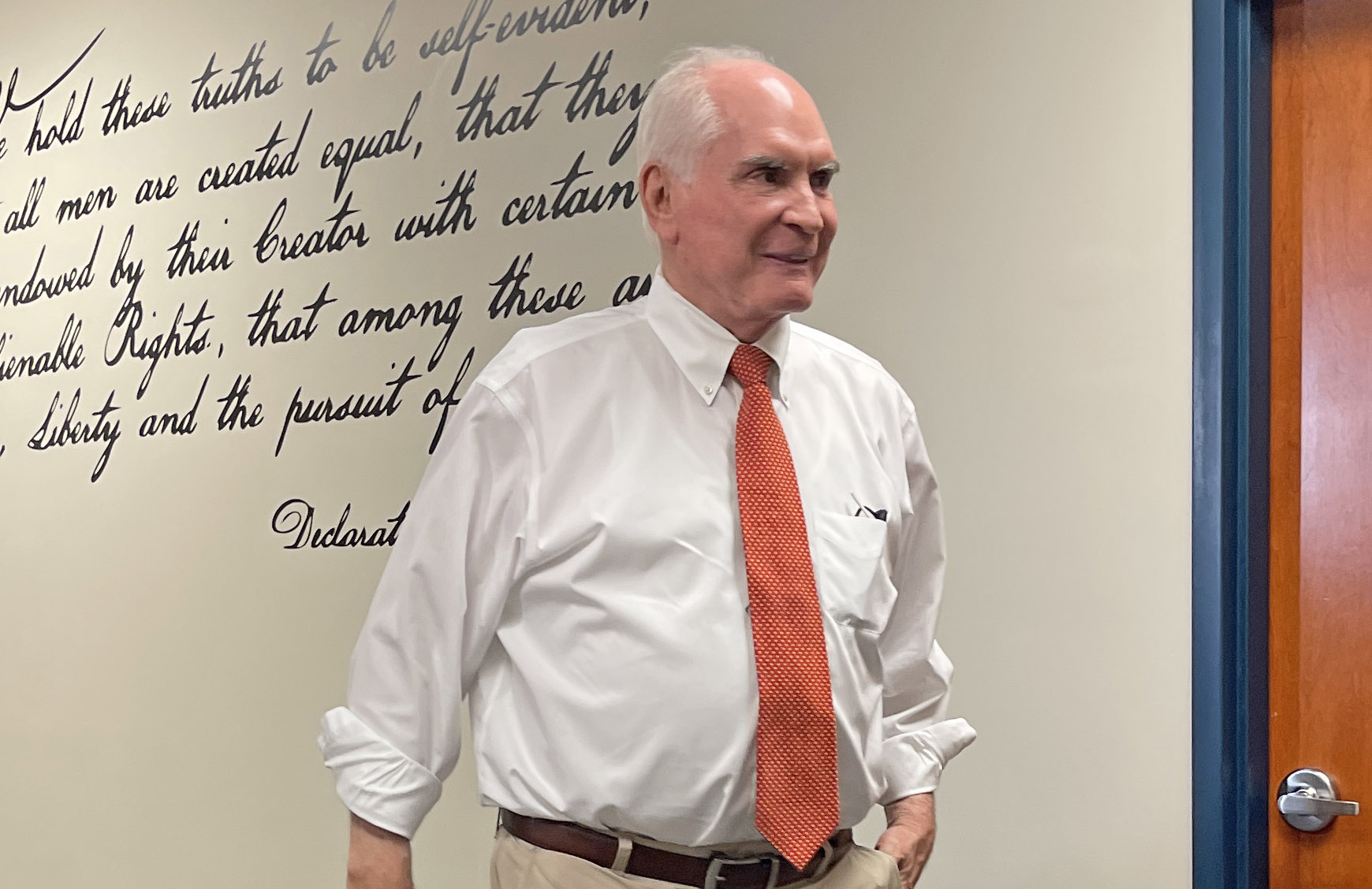 Photo by Jessica Hunter
July 25, 2022 
Melanie A. Brewer 
The Mike Kelly for Congress campaign 
[U.S. postal address not provided] 
Re: Your July 22, 2022 "Request to Remove" Email 
VIA EMAIL  
Dear Ms. Brewer: 
It is my understanding that on July 22, 2022 you sent an email to The Erie  Reader, an independent newspaper in Erie, Pennsylvania, regarding a July 14,  2022 op-ed headlined "Erie at Large: A Congressman and a State Senator  Walk Into a Bar" (hereinafter, the "Op-Ed"). I represent The Erie Reader in  connection with this matter, and I am writing in response to your demand that it remove the Op-Ed for "misinformation and falsities" and "publicly apologize to  the readers and to Congressman Mike Kelly."  
For the reasons outlined below, The Erie Reader has no intention of complying  with your baseless demand. 
As an initial matter—and presumably because there is no ground for you to  assert a valid claim of defamation arising from The Erie Reader's publication of  the Op-Ed—your July 22 email vaguely references purported "misinformation  and falsities" but fails to identify any specific fact stated in the Op-Ed that you  allege is false and should be corrected. If there is a specific factual statement in  the Op-Ed that the campaign asserts is false and that it seeks a correction of, please identify it immediately.  
As is evident from the piece itself, the Op-Ed to which the campaign objects is an opinion. It is clearly labeled as such—with an "Opinion" tag in green font at  the top of the post—and the identity of the author and his political affiliation is  stated in the author note at the bottom of the post. Opinions, including  statements of political opinion, based on widely known or disclosed facts, or  that have no "provably false factual connotations[,]" are protected under the  First Amendment. In addition, courts generally find statements that are clearly  theoretical or speculative, such as openly "wondering" about another person's  motives, to be protected opinion. See, e.g., Madison v. Frazier, 539 F.3d 646,  655 (7th Cir. 2008). Not only is the Op-Ed based on widely-known facts that  have been extensively reported on by other news outlets,1it is also expressly based on information in legal filings and from official government proceedings, which  allows The Erie Reader to invoke the fair report privilege. The fair report privilege  protects fair and accurate reporting of information disclosed in an official public  document, court proceeding, or public meeting, even if that information is false and  defamatory. Curran v. Philadelphia Newspapers, Inc., 497 Pa. 163, 439 A.2d 652  (1981) (citing Restatement Second, Torts § 611); DeMary v. Latrobe Printing and Pub.  Co., 2000 PA Super 339, 762 A.2d 758 (2000). The Op-Ed clearly and accurately  attributes factual information stated therein to the Select Committee to Investigate the  January 6 Attack on the United States Capitol and amicus filings, including the Brief  Amicus Curiae of U.S. Rep. Mike Johnson at x (list of amicus curiae), Texas v.  Pennsylvania, No. 20-155 (U.S. Dec. 10, 2020). 
In addition, the U.S. Supreme Court has held that public officials, like Rep. Kelly, and  other public figures, must meet an appropriately stringent standard under the First  Amendment to state a cognizable claim for defamation. See N.Y. Times Co. v. Sullivan,  376 U.S. 254 (1964) (public officials); Curtis Publ'g v. Butts, 388 U.S. 130 (1967)  (public figures). To ensure breathing room for vigorous public debate and criticism of  elected officials and other prominent figures, the First Amendment requires them to  prove that the publisher or broadcaster acted with "actual malice" in publishing  materially false, defamatory statements of fact. "Actual malice" in the libel context does  not mean ill will; it means that the publisher either knew the challenged statements were  false, or acted with reckless disregard for their truth or falsity. As discussed above, the  material in the Op-Ed is based on widely-reported factual information found in official proceedings and court documents. While Rep. Kelly may not care for the criticism in the  Op-Ed—which relates to a matter of utmost public interest and concern to  Pennsylvanians—the First Amendment clearly protects it.  
The First Amendment and the Pennsylvania Constitution provide robust protection for  individuals and entities to gather, report, publish, and comment on accurate information that is a matter of public concern or significance. Snyder v. Phelps, 131 S.Ct. 1207, 1215  (U.S., 2011) ("'Speech on matters of public concern is at the heart of the First  Amendment's protection'") (quoting Dun & Bradstreet, Inc. v. Greenmoss Builders, Inc.,  472 U.S. 749, 758–759 (1985); Connick v. Myers, 103 S.Ct. 1684, 1689 (U.S.,1983) (recognizing that speech becomes a matter of public concern when it relates to any matter of "political, social, or other concern to the community."). The Op-Ed falls squarely  within the scope of those important constitutional protections. 
Given the public interest in, and importance to the public, of the topics discussed in the  Op-Ed, as well as the accurate factual basis for the piece, The Erie Reader rejects your  July 22, 2022 demand that it remove the Op-Ed and "publicly apologize to the readers  and to Congressman Mike Kelly."  
Sincerely, 
/s/Paula Knudsen Burke 
Paula Knudsen Burke 
Local Legal Initiative Attorney 
Reporters Committee for Freedom of the Press 
PO Box 1328, Lancaster, PA 17608 
(717) 370-6884
---
1See, e.g., Hugo Lowell, January 6 hearings: if Republicans did nothing  wrong, why were pardons sought?, The Guardian (June 26, 2022) 
---