Ohio State Suspends Jim Tressel for Two Games
Ohio State's Jim Tressel suspended two games and fined $250,000.
March 8, 2011 at 11:40 PM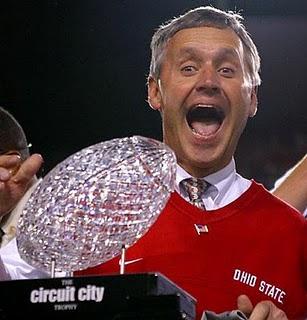 Another one bites the dust.
The Ohio State University has suspended head football coach Jim Tressel two games and fined him $250,000 for violating NCAA rules.
This comes after Yahoo! Sports reported on Monday that Tressel knew of the allegations of improper benefits to Terrelle Pryor and five other players.
The NCAA still has to complete its own investigation.
University of Southern California's Lane Kiffin all of a sudden looks like an angel.
Pete Carroll comes off as a saint.  
Rich Rodriguez's extra practice hours are nothing but a distant memory to Tressel's latest stint.
All these coaches have something in common: responsibility is lacking.
Tressel is the person in charge of a highly competitive, successful Division I football program. Coaching such an esteemed program comes with notoriety. And with that notoriety follows certain rules and regulations to adhere to. Tressel has failed on more than one occasion.
 The excuse of not being able to keep tabs on every player is inexcusable – especially when your team's star player,  Pryor,  is mentioned more than once. That, in itself, is a red flag. Former Buckeyes tailback Maurice Clarett and quarterback Troy Smith come to mind as notable examples in the Tressel era.
Tressel's credibility has also diminished. Whatever comes out of his mouth from here on out will be taken with a grain of salt. His words will be taken at face value and evaluated inside and out. Authenticity is about as useless as a baseball cap whose brim has been bent.
Nowadays, coaches would rather sacrifice their morals for a competitive edge at that given moment.  
What causes coaches to stoop to such desperate measures remains unknown. Could it be the pressures to keep up with their colleagues? The coaching hot seat? The ability to commit four-star recruits? Who knows.
 The magnifying glass needs to be repositioned to the adults. Instead of ants being tortured on a hot summer day by some bored 10-year old, let the coaches feel the heat. Harder, stiffer penalties need to be dealt.
Coaching isn't forever, but it's one's reputation that is the lasting memory when it's said and done. Unfortunately, for Tressel, his blemishes are greater than his achievements.
* Information from ESPN.com contributed to this report