'One Love': Pay tribute (for free) to Bob Marley at Schickalay's
Bob Marley? Live music outdoors? Free show? This is a Sunday fun-day.
August 20, 2014 at 10:00 AM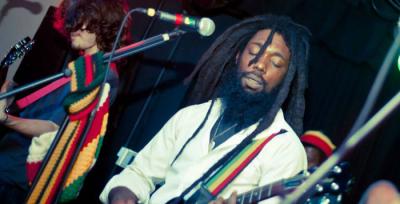 Had I known they'd be presenting a show in tribute to the Legend himself, I mighta waited to tip my pen to Bob Marley when I last wrote a bit about what's happening out at Schickalay's On the Bay.
Then again, probably not. It was a reggae vibe they were bringing on then, after all, and, with One Love: A Bob Marley Tribute on Sunday, Aug. 24, Schickalay's – which has become a prime go-to spot for shows with a laid-back, beach-type atmosphere – they're burning that fire even brighter.
Carrying the torch for 'One Love' are headliners The Ark Band with special guests Chaka, groups that, being legendary in their own rights both locally and beyond, are well-rounded, well-rooted, and, well, more than capable of making a crowd wanna move its dancin' feet while playing the kind of music that makes you think.
And, spreading the love even further, Schickalay's is presenting the show for free. It's all-ages, too (you gotta be 21 to drink, of course), and it's from 4 to 8 p.m., so there's plenty of time to take it all in with not having to interfere with all those buttoned-up obligations for the start of the work-week just ahead.
For Erie, it's "the biggest free reggae show of the summer thus far," Schickalay's posted on its Facebook feed earlier this month.
And, for fans of Marley, fans of The Ark Band, fans of Chaka, and fans of free live music, that's a good time, a Sunday fun-day, a win/win/win/win.
Sunday, Aug. 24, 4 to 8 p.m.  //  Schickalay's On the Bay, 2860 W. Sixth St. //  facebook.com/Schickalay's On the Bay or 833.0181.