O'Neil finds success on the field, and sidelines in lacrosse
Former standout defender for Mercyhurst College's women's lacrosse team, Beth O'Neil, is ready to make her mark and give back.
February 13, 2011 at 11:43 PM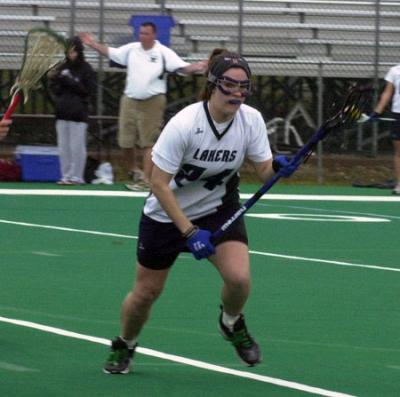 Walking down the corridors of Westhill High School in Syracuse, N.Y., past the cafeteria and nurses' office, Beth O'Neil was instantly inundated with flashbacks of what used to be the carefree days as a high school student-athlete.
"I loved high school, so going back brought back a lot of great memories," O'Neil said. "But sitting down with (athletic director) Mr. Whipple and talking to him about me being an employee of the school was different."
O'Neil, a former standout defender for Mercyhurst College's women's lacrosse team, was now appointed the newest addition of Westhill's coaching staff – women's junior varsity head lacrosse coach.
"It was kind of funny when I saw my old gym teacher and he asked what I was doing at the school and I said I was his new co-worker," O'Neil said.
The college years:
For Mercyhurst's sixth-year head coach Cecil Pilson, he saw something right away in O'Neil when he was recruiting her.
"I look for a player that has excellent stick skills, agile, excellent footwork, and is aggressive on the field," Pilson said. "She had those qualities, as well as a great personality and she came from a great family."
However, transitioning to the Division II collegiate level proved somewhat difficult for O'Neil and, at the time, 12 other incoming freshmen.
"It was pretty much a rebuilding year," O'Neil said. "My first year was (coach) Pilson's first recruiting year."
Before the 2005 class arrived on campus, the upperclassmen that were already there before them faced an abrupt exit from its then head coach at the time.
"(Coach Pilson) recruited all these girls that were All-Americans or had tremendous talent and some of the seniors ended up sitting. I think that when we first got in there it was almost like a hostile environment for the first month, but as soon as we got to know each other, we immediately became great friends. I still talk to some of the girls that were seniors when I was a freshman."
When it finally came time to taking over the reins, O'Neil was ready.
"(The seniors) taught us that they really wanted the program to succeed and make sure the program was developing."
Hard work was evident as its record went from being under .500 to getting an at-large bid to the NCAA Division II Tournament in O'Neil's senior season in 2009.
"We were more intense," O'Neil said. "We were there to do some serious work and  to make sure the program had a good reputation."
In a game of speed, finesse and where offense is king, O'Neil quietly made a name for herself on defense. Her resume included some notable accolades: Mercyhurst College's Defensive Most Valuable Player in 2007 and the Intercollegiate Women's Lacrosse Coaches Association (IWLCA) second team All-Region selection in 2008. She rounded out her senior year in 2009 as a second-team All Pennsylvania State Athletic Conference (PSAC) West selection.
Life in Washington, D.C.:
In July of 2009, O'Neil moved to Washington where she got a job as an intelligence analyst.
She made the trek to the Nation's Capitol with former Mercyhurst teammate, Breanna Haggerty and friend, Carolyn Davis.
Besides the normal, mundane work schedule, O'Neil and Haggerty both wanted to get aboard the lacrosse coaching circuit and once again be involved with the sport they so passionately loved.
"(Haggerty's) mom found something online about a travel team," O'Neil said. "We sent an e-mail to this woman with our credentials and she automatically hired us because she was a graduate of Mercyhurst."
They both coached together – O'Neil with the seventh grade team and Haggerty with the sixth grade team.
Because of the first opportunity that presented itself, O'Neil got word of another coaching job, inching her up the lacrosse ladder.
The woman that originally hired O'Neil and Haggerty the first time around sent out an e-mail to prospective people interested in the assistant varsity coaching position at T.C. Williams High School.
O'Neil worked alongside the head coach and together, found out they had something in common- defense.
"We got a long really well," O'Neil said. "She went to Columbia, we were the same age and she played defense."
O'Neil also found out that she could relate to the players in an area that was all too familiar her freshman year at Mercyhurst – rebuilding.
"It was a rebuilding year," O'Neil said. "They had some really good talent that graduated. It took them a little while to get use to the way we coached. We had a lot of fun."
Home sweet home:
The Syracuse, N.Y., native knew in advance that she would be heading back home to her roots. She immediately started to pursue coaching possibilities in the area.
After a few setbacks, including e-mail snafus and delayed responses, O'Neil interviewed for the Westhill junior varsity head coaching position and got it.
First line of business? Establish team defense.
"My goal is to try and teach them defense at a young age," O'Neil said. "It will make them more marketable when it comes to going to college and playing. It's really important."
Come March, O'Neil will start another lacrosse chapter of her own, this time as a head coach. With her collegiate playing days behind her, she is ready to make her mark and give back the knowledge she gained as a player to future student-athletes of the game.
"Going back to your alma mater is always more rewarding," O'Neil said. "I'm excited."