Original Members of Shotgun Jubilee Reunite For One Night at the King's Rook
Get ready to make it a throwback Black Friday, Erie.
November 26, 2014 at 7:00 AM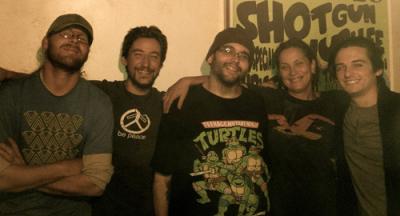 It's been nearly a year since Erie bid adieu to Shotgun Jubilee at their Farewell Show at the crooked i. The beloved State Street establishment may still be closed, but the bluegrass-loving jam band will be back in action – for at least one more night – when Shotgun Jubilee returns for a special reunion show Friday, Nov. 28 at the King's Rook Club.
"When [the band] got together for the farewell show, it was pretty final that we weren't going to do another show," Shotgun Jubilee bassist Ryan Bartosek said. "Then we had so much fun working on it that almost immediately after it happened we talked about doing it again."
What's more, the reunion show will feature all of Shotgun Jubilee's original members, assembling Ryan Bartosek, Tonya Camasi, Dominick DeCecco, Steve Powell, and Paul Schillinger back together once more. The Black Friday show will also feature an opening set by local artist Tyler Smilo, an extra bonus to a free show that will bring back some old chums to the same stage.
"It's definitely like a family reunion," Bartosek said. "We're all like brothers and sisters and we're just having a good time with it."
According to Bartosek, no plans are being made for another Shotgun Jubilee show soon, but the idea isn't out of the question. Either way, the Reunion Show is an opportunity to welcome back one of Erie's favorite jam bands in recent years for one more night. 
9 p.m. Friday, Nov. 28 // 1921 Peach St. // facebook.com/kingsrookclub