Outstanding & Repeat Winners of Best of Erie 2022
Among the awardees, these winners are a cut above
February 17, 2023 at 5:53 PM
The results of the Erie Reader's ninth annual Best of Erie Awards were recently published in January and while there were quite a few newcomers spanning the categories, there have been those consistent winners that seem to always sweep their respective niches over the years (there have even been a few to win in multiple categories, like Romolo Chocolates, featured within this issue). Repeat winners like Panache Salon & Spa who have taken home the top spot for Best Beauty Salon every single year and Bianchi Honda, who never seems to disappoint in the Best Car Dealership category are some great examples of consistency in customer satisfaction. Additionally, the following group of awardees are so well loved and respected in Erie, that their customers and fans can't help but drive them to the top year after year, and we are excited to give their businesses a moment in the spotlight.
Winner of 2022's Best Patio, Best New Restaurant, Best Waterfront Dining, Best Romantic Restaurant, and runner up for Best Place for a First Date, Oliver's Rooftop has effectively swept Best of Erie, carrying home an armload of awards proving just how much Erie loves the establishment.
Nick Scott, president of Scott Enterprises and owner of Oliver's Rooftop, feels proud to be a part of the burgeoning bayfront community, "People say it's the most exciting thing on the waterfront. You're looking at the bay and the tower and you're right in the heart of the Bayfront area, which has now taken on a life of its own and has become a real tourist attraction." Oliver's Rooftop was named in honor of Oliver Hazard Perry, an American naval commander most known for his heroic role in the Battle of Lake Erie during the War of 1812. Diners at Oliver's can actually see Perry's flagship, the U.S. Brig Niagara, docked in the waters directly adjacent to the restaurant. Oliver's represents the best of what is new about Erie's Bayfront while giving its customers a chance to reflect on the history of the area as well.
Since its opening in 2020, Oliver's has offered world-class, upscale fine dining with a view that is second to none in Erie. Catching the sunset over cocktails and gourmet appetizers, with the breeze through the windows and sailboats off in the distance — it's no wonder the people of Erie have voted Oliver's the Best Romantic Restaurant.
MacDonald, Illig, Jones, and Britton LLP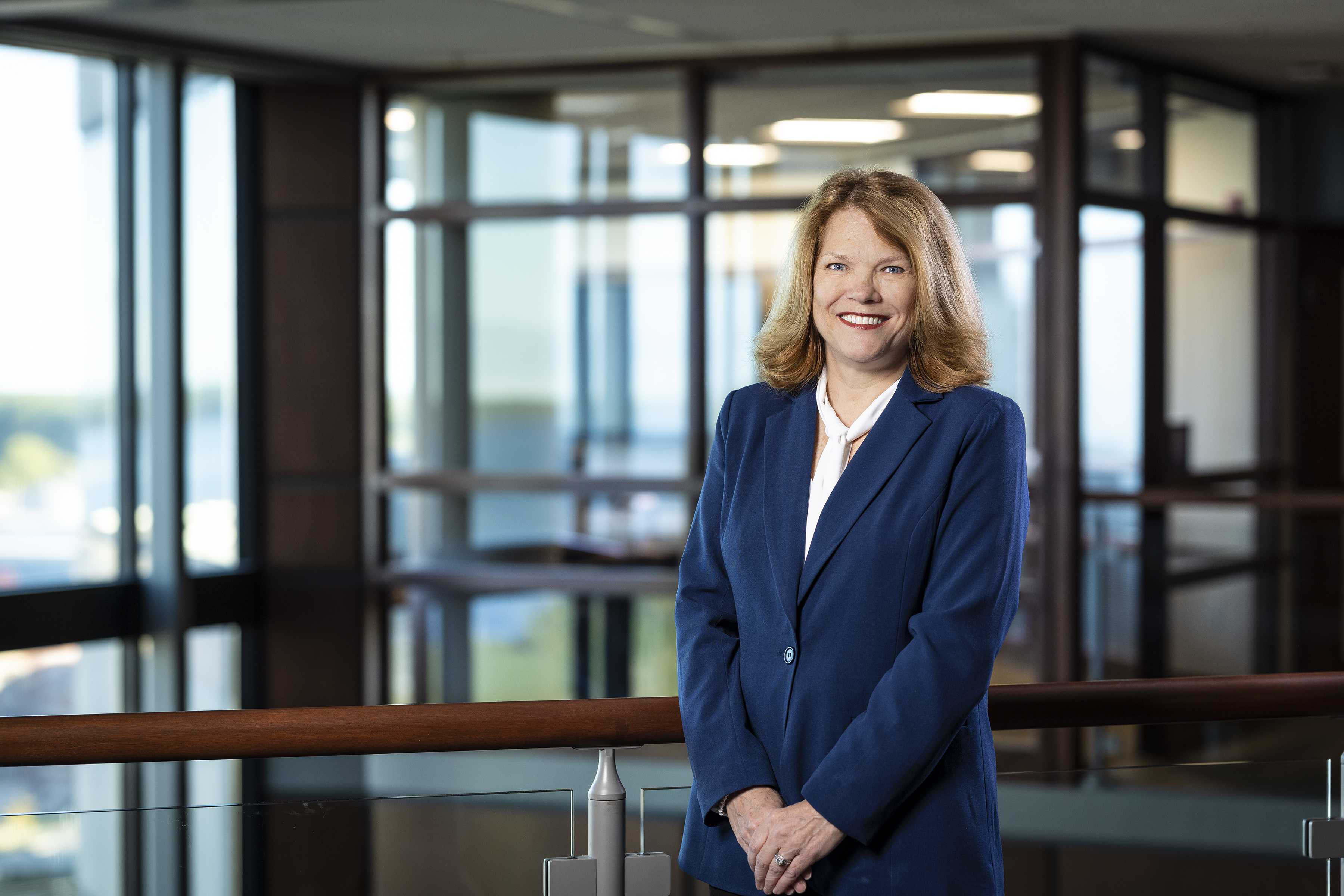 Voted Best of Erie in the category of Best Lawyer, Kimberly Oakes is a partner at MacDonald, Illig, Jones, and Britton LLP which was also voted Best Law Firm. A winning partnership, Oakes brings her expertise in Family Law to round out the unbeatable team at the favorite Erie firm (Credit: MIJB)
Winner of 2022's Best Law Firm and Best Lawyer (Kimberly Oakes), the long-standing, generational law firm in Erie has earned these titles through their hard work and pristine reputation. The firm, which is celebrating their 125th anniversary this year, offers legal services in a comprehensive number of areas including: banking and finance, business services, cannabis, non-profit organizations, construction, education, environmental law, family law, government services, health care, intellectual property, labor law, litigation, manufacturing, real estate, tax, transportation, estate planning and trusts, and workers compensation. Basically a one-stop legal shop, they have partners and counselors who can cover any potential need.
Kimberly Oakes is a partner at the firm, and performs her job so well she was voted Best Lawyer by the people of Erie in 2022. With her primary focus in family law, Oakes is highly experienced in effectively handling divorces, adoption, alimony and spousal support, child support, child custody and visitation, domestic violence, paternity, prenuptial agreements, and postnuptial agreements and is a trained mediator. In addition to her award from the Erie Reader, Oakes was recently selected as one of the Best Lawyers in America for 2023.
Pineapple Eddie Southern Bistro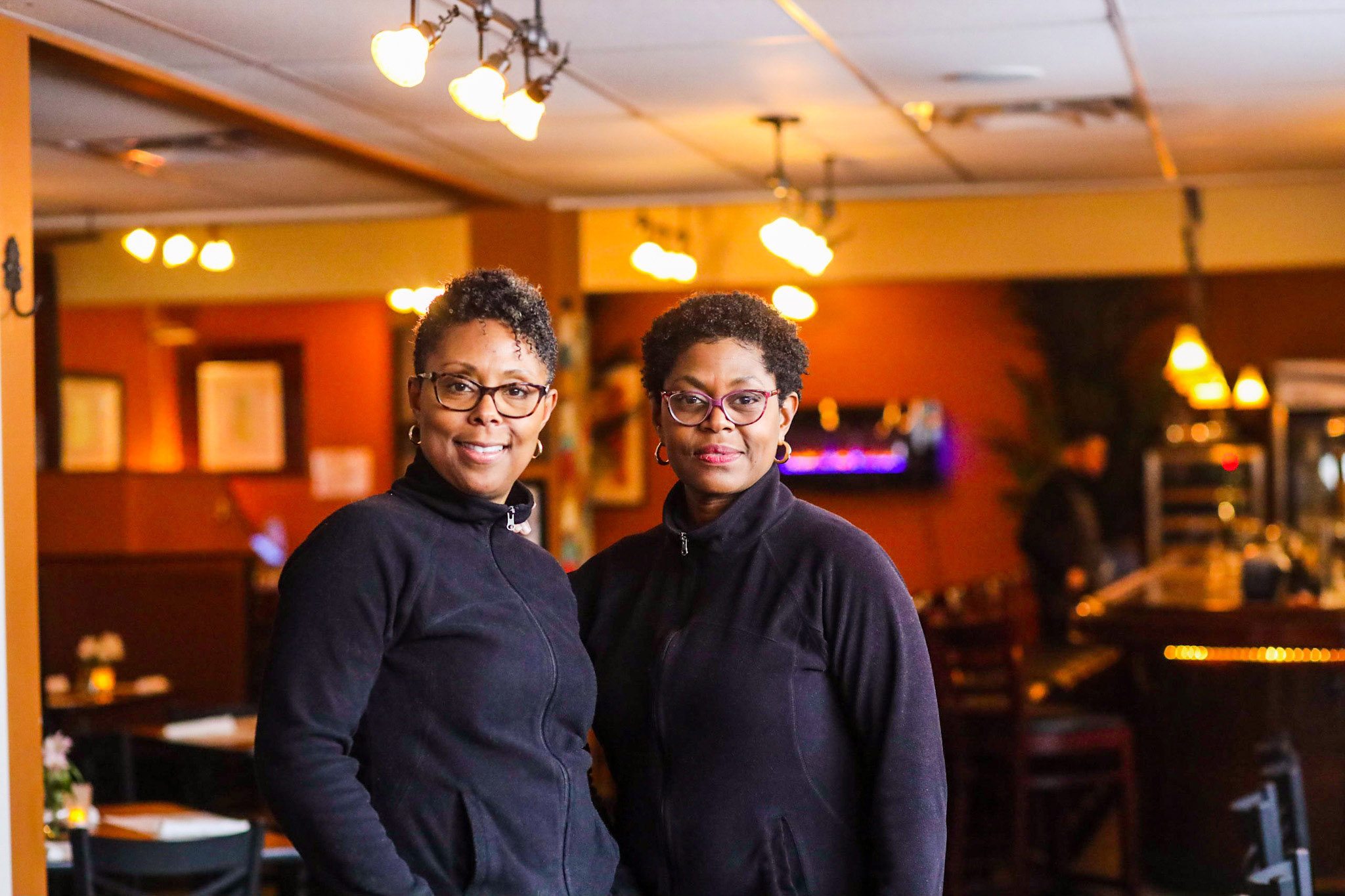 Co-owners Kim Thomas (left) and Adrienne Paul have followed through with a lifelong dream in Pineapple Eddie Southern Bistro and their work has not gone unnoticed. Voted Best of Erie 2022 for Best Restaurant, Best Chef, and Best Seafood Restaurant, the sisters, along with Chef Jean Paul, have much to be proud of. (Photo: Jessica Hunter)
Pineapple Eddie has taken home the gold in an impressive total of three categories this year including Best Restaurant, Best Chef, and Best Seafood Restaurant. To say that this business has a loyal clientele is a well-seasoned understatement.
Pineapple Eddie is owned and operated by sisters Karen Thomas and Adrienne Paul, who cut their teeth in hospitality through their parents' catering business. They would go on to continue the family legacy, both studying hospitality management and culinary arts before dedicating their early careers to the hospitality industry. Their ultimate dream came true in 2011 when they were finally able to open their own business in Pineapple Eddie Southern Bistro.
The other side of the winning coin is the food that keeps people coming back again and again for those craveable dishes like their Southern Fried Chicken, Griyo (flash fried pork), and Shrimp & Grits. This is all due to the talents of Chef Jean Paul who has been able to combine the traditional dishes of his home country of Haiti with those flavors of the American South. Overall, his passion for the culinary world was most heavily influenced by his mother (Marie Paul), who owned and operated her own restaurant in Haiti.
The people of Erie (and their taste buds) are certainly glad that Jean Paul, Adrienne Paul, and Karen Thomas decided to make their dreams come true in our city and look forward to supporting them for years to come.
Lilly Broadcasting, Happi 92.7, and Sammy Stone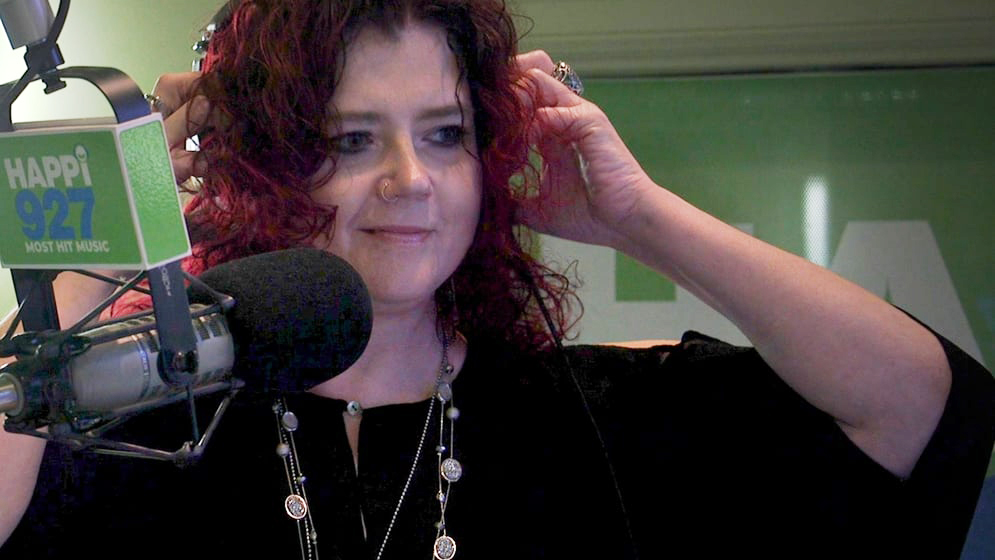 Voted Best Radio Personality, Sammy Stone and her award winning radio station Happi 92.7 – voted Best Radio Station seven years in a row – make Erieites happy on the daily. (Photo: Happi 92.7)
Happi 92.7 has taken home the win for Erie's Best Radio Station for seven years in a row, which means they've practically swept the category for as long as the category has existed. Radio host Sammy Stone, who hosts "Wake Up Happi" weekdays from 5:30 a.m. to 10 a.m., has become a household name, accompanying Erieites through their morning routines and solidifying herself as Best Radio Personality this year as well as last.
Sammy Stone has been "running on caffeine and concealer" with her radio personality professionally since 1994, but her passion for radio started at a young age. According to her bio: "Radio has always been Sammy's passion. As far back as the age of five, she was playing her mom's Kenny Rogers records on the living room stereo and talking into a makeshift microphone. She knew it was radio or bust." And her passion shines through the airwaves, as the voters of Erie clearly agree that she is doing her job well.
WICU and Lilly Broadcasting's Happi 92.7 has an outstanding team of radio hosts and programs that keep people tuning in via a medium that keeps on keeping on despite competition from video and internet resources. Their features like "Wet Nose Wednesday" (where Sammy Stone herself partners with sponsor Bianchi Honda to introduce you to an adoptable pet from the Erie Humane Society) and 2K Tuesday (which features throwback hits from the early 2000s) continually draw listeners from all over Erie and Warren counties, earning them the distinction of Erie's Best Radio Station over and over again.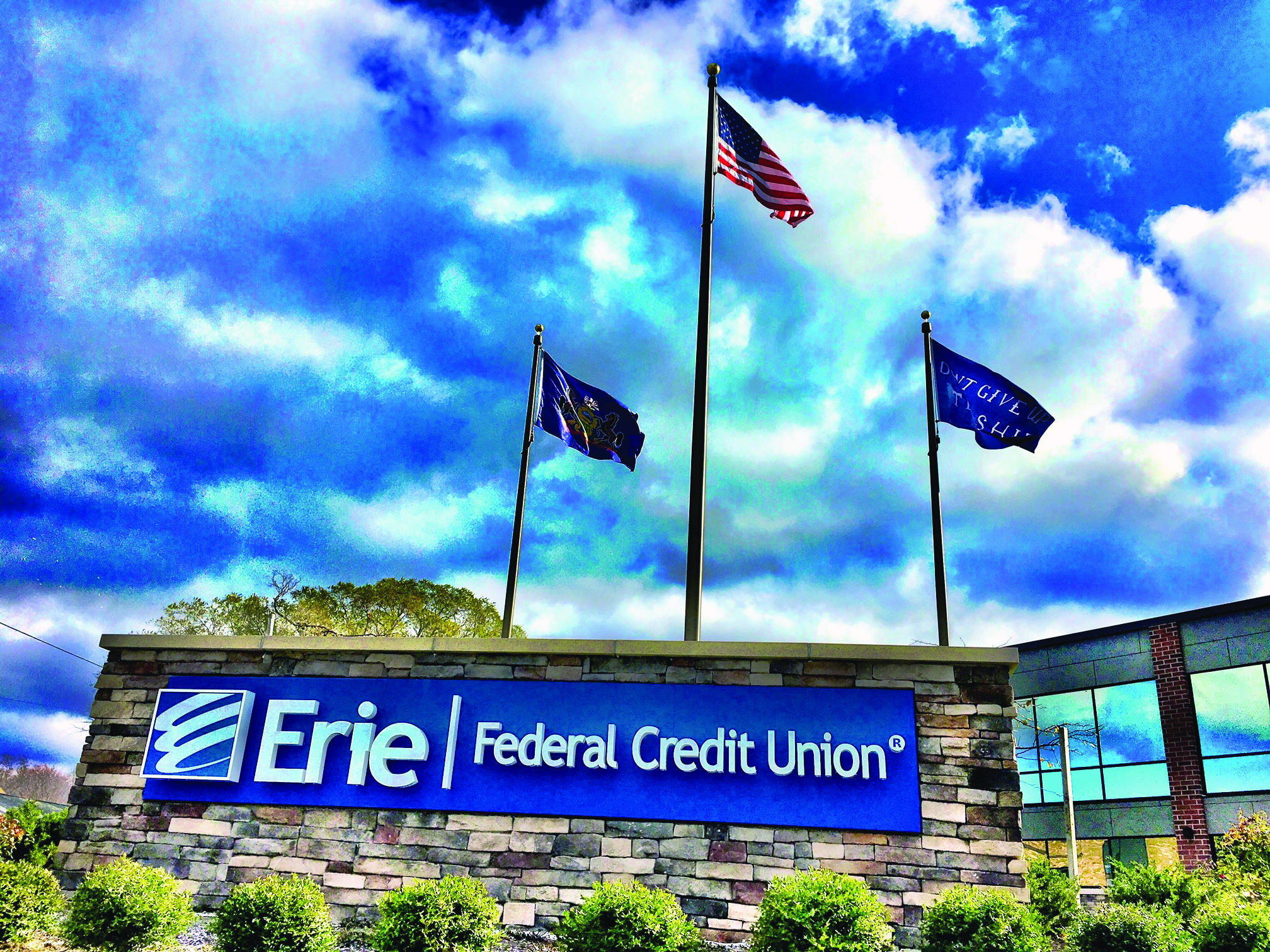 Winner in the "Best Bank" category for nine years running is Erie Federal Credit Union whose customers are clearly impressed with the service provided by the Credit Union over the years. (Photo: Erie FCU)
When it comes to voting for Best Bank, Erie agrees that they'd rather not pick a bank at all. With their resounding support for Erie Federal Credit Union, which has been voted Best Bank this year as well as LITERALLY EVERY OTHER YEAR that the awards have been in existence. Erie clearly feels strongly about this credit union and the folks at Erie Federal feel very grateful to have such a loyal member base.
Upon receiving their award back in 2017, CEO of Erie Federal Credit Union (FCU) Brian Waughaman commented, "Being fans of the Erie Reader, we are truly humbled and thrilled to be a part of the Best of Erie Awards. There are some excellent financial institutions serving this area, so winning Best Bank/Credit Union means a lot to us. We take our commitment to serving our members, the Erie community, and our employees with care and compassion very seriously. A sincere 'thank you' to all who voted Erie FCU for this recognition!"
Credit unions provide a service unlike traditional banks. According to an Erie FCU statement, "When you join Erie Federal Credit Union, you become a member not a customer. As a member owner, the focus is on serving you and your financial needs. Unlike banks, credit union profits are returned to you through better rates and lower fees. Erie FCU was formed to serve our members not to earn profits for shareholders." It's this dedication to member service that sets Erie FCU apart from the rest.
In addition to serving their members and employees, Erie FCU has made a point to give back to the community here in Erie with their #TeamAOK supporting activities and charitable donations like hosting food drives for the Second Harvest Food Bank, participating in the American Heart Association Heart Walk, donating to Hope on Horseback Therapeutic Riding Center, and local animal rescue Because You Care among many others. Erie Federal Credit Union has shown they care about the Erie community in both their business and leisure time, and the people of Erie have shown they loyally back their favorite credit union.