Packers Players Love Settlers of Catan
The Green Bay Packers are a win away from heading to the Super Bowl. So how do they relax? By playing a multiplayer tabletop game, of course.
January 17, 2015 at 2:05 PM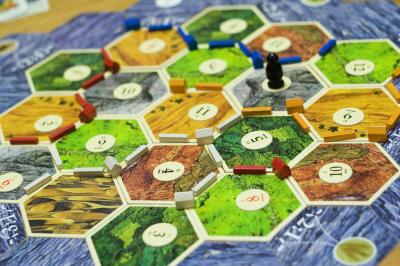 Jocks and nerds don't mix. At least, that's what general stereotypes in your typical Hollywood film would have us believe. In real life, however, sports and and nerdy activities aren't so far apart. Just ask anyone who has played fantasy football, an activity that combines knowledge of actual football with in-depth statistical analysis (or general guessing if you're not good at fantasy sports).
Then there are people like Chris Kluwe, a former NFL punter and avid online and tabletop gamer who has gone on the Nerdist Podcast to discuss his love of nerdy things, and the comic book-loving return specialist Josh Cribbs. Still, those are just a couple of individuals. It's not like there's a large group of players from an NFC Championship team who like to spend time together by obsessively playing a boardgame.
Oh wait, there is? Well, that's cool. 
The Wall Street Journal's Kevin Clark recently wrote a piece on how the tabletop game Settlers of Catan has become a popular pastime within some members of the Green Bay Packers, a development that surely pleased local game proponent and Mercyhurst University Associate Professor of Intelligence Studies Kris Wheaton. Clark's story is a pretty interesting read about how a group of NFL players bonded over a game, not surprising when you consider that what these men do for a living is also a game. Through a combination of competitiveness and bad weather (Green Bay is cold, it seems), Settlers of Catan has become a bonding experience for a group of people that get all-too-often typecast as simple jocks. 
For people who aren't too familiar with Settlers of Catan, I'll just leave this quick description from Erie Reader's resident lord of all things geek and nerd John Lindvay right here...
"It has everything you want from a solid board game: strategic depth, immense replay value, and a lot of player interaction as you barter and trade. I could write an entire article on what makes Settlers of Catan so great, but for now just know this: Settlers is the cornerstone of any board-game collection. By gifting this to any nerd, you are basically protecting their credibility as a nerd-baller."
Some high praise, right there. Unfortunately, no word on if Packers quarterback Aaron Rodgers is among the players, although he may be too busy giving out Discount Double Checks and hanging out with his girlfriend for some tabletop gaming.