Paterno: The Weekend > Child Rape
Paterno delayed reporting child rape to avoid spoiling anybody's weekend.
December 17, 2011 at 9:57 AM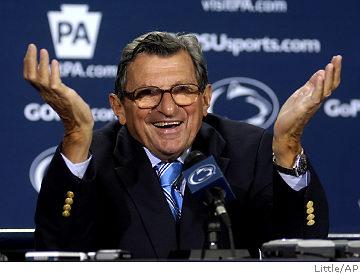 Joe Paterno's deposition was read to court in the preliminary hearing against former Penn State administrators, Tim Curley and Gary Schultz:
Former Penn State head football coach Joe Paterno was in no hurry to forward to authorities a witness' report of a sexual abuse of a young boy because he didn't want to "interfere with their weekends," according to a deposition read in court today....

Paterno, who is 84 and battling cancer, did not appear in court. His deposition was entered into the record.

"He (McQueary) had seen a person, an older person, fondling a young boy," Paterno testified. "I don't know what you would call it, but it was of a sexual nature. I didn't push Mike to describe it because he was already upset, but it was something inappropriate to a youngster."

"I didn't want to interfere with their weekends, (so) either Saturday or Monday, I talked to my boss, Tim Curley, by phone, saying, 'Hey we got a problem' and I explained the problem to him," Paterno said.
I'm curious to see how JoePa fans explain this away.
At the very least, we're talking about very skewed sense of right and wrong. 
At the worst, Paterno's seeming indifference to McQueary's report tells us Paterno might have known about Sandusky already. After all, there's only two reasons you don't freak out immediately when you're told your colleague was raping boys in your workplace shower room: either you don't believe the report, or you already know.
Also, Paterno's testimony should let McQueary off the hook somewhat. In it, Paterno admitted McQueary told him something sexual in nature had occurred between Sandusky and the boy. If Curley and Schultz were told otherwise, we now know who excised the ugly little detail that damns Sandusky.