Potwhole on the Road
Alex Bieler talks life on the road with Potwhole.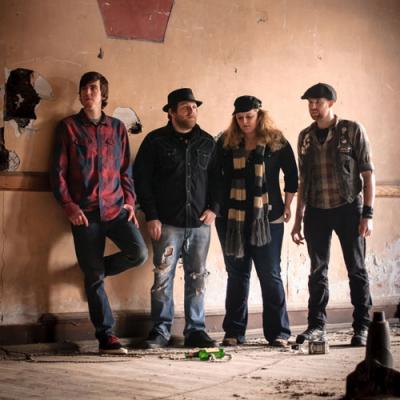 It's been historically cold this winter. Schools have closed for days at a time, pipes have burst, and large sections of the country have had to bear temperatures in the single digits, with lows often below zero. It's the type of weather that makes you want to bundle up and stay at home, drink some hot cocoa, and watch movies from under several blankets.
The members of Potwhole, the Blue Pike Award-winning gypsy 'tonk band from right out of Erie, haven't been among those warm and comfortable types the past few weeks. No, the crew of vocalist, bassist, and guitarist Matt "Broke" Boland, violist and vocalist Abby Barrett, vocalist, guitarist, and bassist Tyler Smilo, and drummer Todd Cline have been on the road as part of The Coney Island Rock n' Roll Roadshow to promote the band's new album Going Down, its first full-length release after forming less than two years ago while the various musicians were heavily involved at open mikes at the crooked i. Needless to say, the tour isn't quite as comfortable as a night of Netflix and electric blankets.
"We slept in the van when it was negative-six degrees one night," Boland says over the phone. "We learned our lesson. The van holds heat really well, but those hours between 5 and 7 really kicked our ass."
Potwhole is currently pulled over at a rest stop somewhere between Burlington, Vt. and Kingston, N.Y., four shows into the tour, passing the phone around while someone makes sure to occasionally turn the band's red 1998 Chevy Passenger Van – nicknamed "Pat Monavan" – on to keep its occupants warm.
By the time this story goes to print, Potwhole will be roughly halfway done with the Roadshow, including a small trip back to Erie for a show at The King's Rook, but the band will return to the road shortly after, albeit to likely warmer climates, finishing up in Philadelphia March 15. It's part of the not-quite-so-glamorous touring life that takes a physical toll from long hours on the road and on a stage.
"I can definitely tell that we're all sleeping less than we would like to, but when show time comes around, our adrenaline kicks in and keeps us going," Barrett says, the sound of Pat Monavan getting fired up again barely audible in the background. "It's the nights where you're not really sure if you're going to sleep in a parking lot; those are the ones that are tricky."
Fortunately, the band has been able to get some higher-quality rest at motels most nights, yet still, the occasional discomfort of touring is a reality that the fiery gypsy-folk foursome will gladly live with – otherwise they wouldn't be out on the road promoting a new album of fiery, string-based tunes – something the group has come to call "Tim Burton music" – and spreading their music to new fans during a month-long tour, something that not a lot of Erie bands – or simply bands in general – get the chance to do.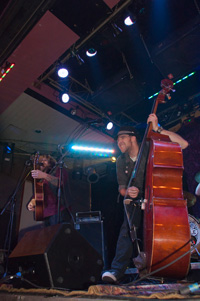 In fact, the whole trip wasn't planned too far in advance, with the opportunity arising roughly a month before Potwhole hit the road. Right around the time Going Down was being made, Boland was contacted by Eric Bruce, the man with the plan behind The Roadshow, a traveling entity featuring music, vaudeville, and variety that was started back in 2011. They had met before when Boland performed a couple times at The Coney Island Rockabilly Festival with The Dirty Pickles back in the mid- to late-2000s, and Bruce invited Potwhole to join the touring incarnation of the entertainment sideshow.
The tour certainly offers a carnival atmosphere, as Potwhole and rockabilly group The Jesse Ray Carter Trio are joined by The Cut Throat Freak Show and burlesque performer Scarlett Storm. Apart from the bitter cold and sometimes restless nights, the band is chalking the first part of the Roadshow adventure as a success, particularly a memorable night in Burlington when the owner of an establishment called PsycheDelicatessen allowed the various touring members to camp out at his business for the night and enjoy some delectable edibles following a raucous show. 
Despite the highs, the touring life is not an easy transition, particularly because, apart from Boland, Potwhole's members didn't know quite what to expect, from the hectic schedule to the distance from loved ones.
"You've got to put this in print: Me and Matt are missing our girlfriends," Smilo pleads over the phone. "We'll be in big trouble [if you don't], especially traveling around with a burlesque dancer."
The scruffy songwriter is partially joking, but there is a sense of uncertainty and homesickness in his voice, something he confirms not long after his semi-serious demand.
"It's a little nerve-wracking" Smilo admits."You don't know what's going to happen and you don't know the exact financial situation the whole time because some nights are up in the air. You're going to miss people at home, and, especially with my newborn son, it's been rough. But on the other hand, we know that not a lot of people get to hop in a van, take time away from their jobs and families and get to play music in different cities all up and down the east coast."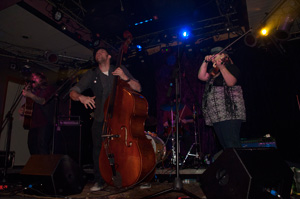 While Boland has had past experience with out-of-state touring, the rest of the band members acknowledge that they're pretty lucky to enjoy this experience, particularly for a troupe that has been around less than two years. Now they have a new album sponsored by Presque Isle Printing and recorded by Trevor Huster – a Denver-based producer originally from Erie – that the group worked hard on ("I liked it the first time I heard it, but now I'm about sick of it," quips Boland), and most people will never enjoy the experience of making music for people during an actual, bonafide multi-state tour. Sure, not every tour stop may be extremely lucrative – travel expenses are expensive, y'know – but the experience as a whole has been, as cliché as it sounds, a dream come true.
"This is what, deep down, we all want to do" Cline says, his voice ever so slightly cracking at the thought of it."It's a new adventure every day. You're going someplace new, you're meeting all sorts of new people, you have new stories to tell… there's never a boring moment. It's not a case where I go to work, I go home, I watch TV, go to sleep, and go back to work. Every day is stimulating."
Eventually, the quartet will return, forcing Pat Monavan back to Erie after the conclusion of the Roadshow. From what the members have been saying, it'll be a joyous return to loved ones and comfier sleeping spaces. The quartet will also be a bit wiser upon return, with knowledge that must originally be discovered during showerless nights on the road and can then be dispensed to other local bands ready for the chance to take to the open road.
It may have been freezing cold when Potwhole first left for the Roadshow, but opportunities like a month-long tour that show  the gypsy-tonk band's future is just heating up this winter. And Boland, Barrett, Smilo, and Cline are enjoying the experience one gig at a time.
Alex Bieler can be contacted at aBieler@ErieReader.com, and you can follow him on Twitter @Catch20Q.
Photos by Liz Venuto