Presque Isle Poker Paddle Flush with Fun
Kayaks and more set to navigate through Presque Isle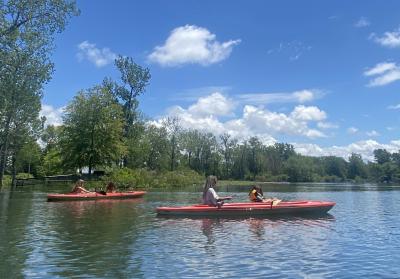 Saturday, Jun. 10
While the fate of some poker hands may change on The River, this is more of a lagoon scenario. The latest edition of the Presque Isle Poker Paddle is at hand, with rows of eager rowers in tow. A more alliterative version of a poker run, the Poker Paddle essentially functions the same, but on water. Participants go from checkpoint to checkpoint, and get a card at each stop, hoping to get the winning hand from amongst the other players.
This journey will be a five-and-a-half mile foray through the waterways of Presque Isle State Park. Going through Presque Isle Lagoons, Marina Lake, Presque Isle Bay, Horseshoe Pond, Misery Bay, and Graveyard Pond, intrepid paddlers will each get a chance to collect a card from each checkpoint.
Canoes, kayaks, and stand-up-paddleboards (SUPs) of all kinds are welcome, with the event kicking off at 9 a.m. Following that, every 15 minutes, another group of 20 boats will launch, with the last group shoving off at 12:30 p.m., allowing for 280 participants in total.
Not only do proceeds of this event go to the Presque Isle Partnership, paddlers will receive a t-shirt, a safety whistle, a door prize ticket, and a free meal and discounted drinks at the Oasis Pub & Tiki Bar at the event's afterparty. 
9 a.m. to 4 p.m. // Presque Isle Lagoons Boat Launch, Thompson Dr. // For more info: discoverpi.com/events