Promoting Public Participation
How to become a local government watchdog
September 7, 2023 at 7:00 AM
Sorting through newspaper clips, this headline, based on remarks by Tom Ridge, caught my eye: "Democracies Need Citizens' Involvement."
The headline could have accompanied one of Ridge's forceful op-eds criticizing Donald Trump's presidency, objecting to his bid for re-election or, later, urging a peaceful transfer of power after Joe Biden won. But the headline I found is from a June 9, 1995, story in the Morning News, reporting on Ridge's speech, in his first year as Pennsylvania governor, to Leadership Erie.
Much has changed since then. The Morning News and the Erie Daily Times joined in 2000 to become the Erie Times-News, remaining family-owned until the paper was sold to GateHouse in 2015 and later merged with Gannett. Ridge left his second term as governor to head the Department of Homeland Security after 9/11.
The Jefferson Civic Leadership Academy filled the gap after the Leadership Erie program ended. Yet Ridge's message resonates as much today as it did nearly three decades ago. "In a democracy, it's the citizen leaders who can affect real movement and real change," Ridge said then. "People are not powerless in a democracy unless by choice."
Recommitting to my journalism career after five years in elective office, I've been gauging the depth of civic involvement in Erie city and county government and contemplating how to encourage more of it. With meetings streamed on digital platforms, it's easy to follow Erie City Council and Erie County Council even if you can't attend meetings in person. The City of Erie also streams other meetings where decisions important to city life are made, from the Blighted Property Review Committee to the Zoning Hearing Board.
When big issues generate controversy, such as the removal of an LGBTQ+ display at the Erie County Library during Pride Month, people are fired up to speak out, as they did before both city and county councils in July. But staff cutbacks at the newspaper and Erie TV stations mean that discussion and votes by the two councils and policies proposed by Erie Mayor Joe Schember or Erie County Executive Brenton Davis sometimes aren't covered at all or that those actions only make news when it's too late to have a say.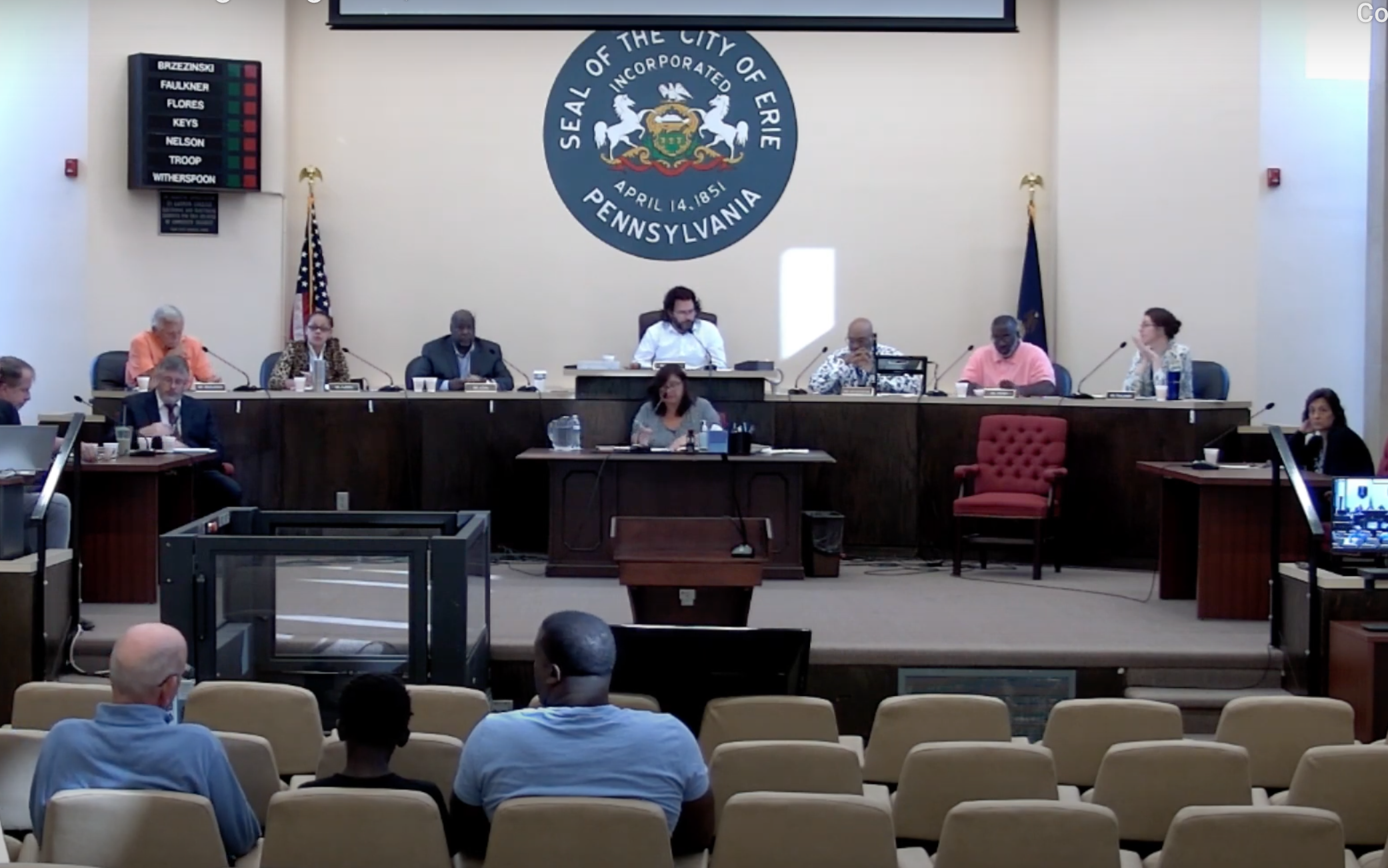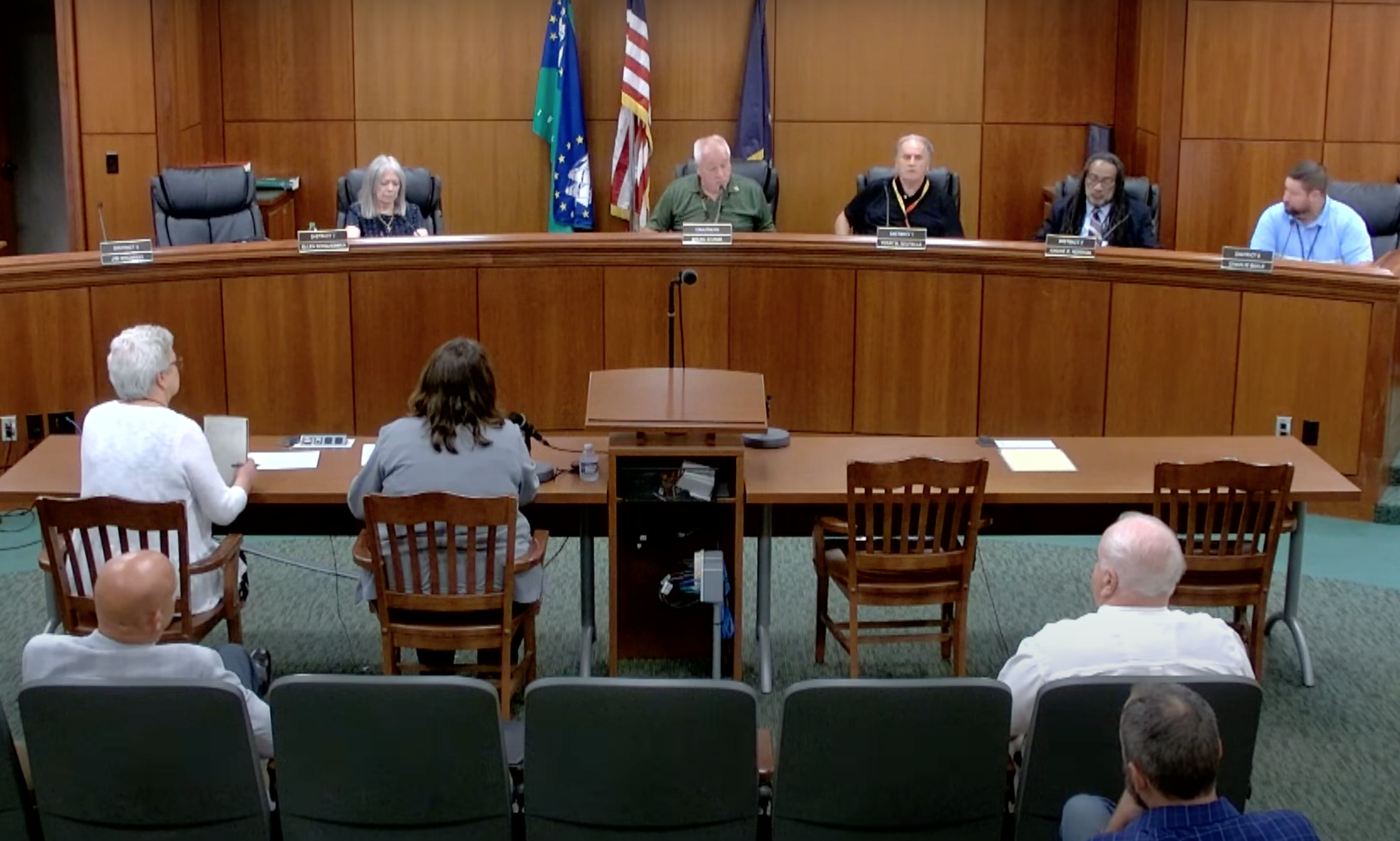 Both Erie City Council and Erie County Council post recordings of their public meetings on YouTube, so one can watch a live-streamed version or catch up with meetings after the fact by watching them online (screenshots of YouTube videos of recent council meetings)
There are also advantages to going to meetings in person when you can.
For example, when I walked into the Erie City Council caucus before its July 5 meeting, a council member asked: "Are you even allowed in here?" Yes, I replied, the caucus is subject to the state's Open Meetings law. If I hadn't been there, I would have missed an animated discussion about the city's new bike lanes, with council members disagreeing about whether parking would still be permitted around the clock on Greengarden Boulevard. "There is no way to sugarcoat it," Solicitor Ed Betza said. "You can't have a bike lane with unlimited parking."
When the county council went into executive session to discuss Councilman Terry Scutella's motion to appoint Gary Grack to the Erie Metropolitan Transit Authority, I questioned how appointing a non-county employee to a volunteer role qualified as a "personnel" issue to be decided behind closed doors.
For my persistence in invoking Pennsylvania's Sunshine Act, one of the toughest in the country, I was escorted out of the meeting by a deputy county sheriff. Back in regular session, Scutella withdrew the nomination.
Grack had served on the EMTA board until 2018, when Schember and then-Erie County Executive Kathy Dahlkemper revamped the board. Grack was removed from the board and disputed that he had resigned. I asked Scutella why he had nominated Grack to return to EMTA. "Mr. Grack is a friend of mine," he said, adding that it's difficult to find volunteers for unpaid board appointments. "People are too busy to commit," he said.
When I was an Erie Times-News Editorial Board member and later on Erie City Council, I advocated for transparency to attract skilled, diverse applicants for boards and authorities. I am happy that the "featured post" at the top of the City of Erie's Facebook page seeks "volunteers to serve on our Authorities, Boards and Commissions."
Yet when the mayor pushed for the new City Revitalization and Improvement Zone (CRIZ) Authority, he submitted names that he and State Sen. Dan Laughlin, R-49th, compiled without seeking public applications. City council amended that list with its own new names but did not solicit applicants before unanimously approving the revised CRIZ on Aug. 16.
Another economic development issue, to create a new business park in west county, propelled Fairview and Girard residents to loudly voice their objections, but only after Erie County Council voted 5-2 on July 11 to transfer ownership of the property from the county to the Erie County Redevelopment Authority.
Attorney Paul Susko, who owns property on Dobler Road, quizzed council about the proposal during the public comment period, saying he learned about it from a newspaper story. When he called Fairview Township to find out more, he was told that Fairview officials had only heard of the plan two weeks earlier. "I would like this process not to be so much under the radar," Susko said.
Councilman Andre Horton and Councilwoman Mary Rennie voted against the transfer. "I happen to think it's a worthwhile project," Rennie said. But she expressed concern that the proposal had been put on the agenda without advance public meetings. "It really puts us at loggerheads as to how things are done," she said, describing the action as part of the "ongoing" lack of transparency by the Davis administration.
Rennie later told the Erie Times-News that the land transfer was the "final straw" that led her to resign from council on July 24. Both Rennie, who ran for county council as a Democrat, and Rock Copeland, selected by the Erie County Democratic Party to replace Rennie on the general election ballot in November, have ideas on how to encourage and improve citizen engagement with local government.
Mark your calendars for committee meetings, caucuses, and regular meetings. County council prepares for its regular meetings at its twice-monthly finance and personnel committee meetings. Council members caucus an hour before the regular meeting, deciding without formal votes on such things as whether ordinances should immediately advance from first reading to the final vote at that meeting and, often, whether bid requirements should be waived.
As the former director of the Erie County Library, Rennie had managed budgets for the county. She pointed out that Erie County government is complex and expensive to run. Indeed the 2023 county budget is $570,594,024, according to the 621-page budget document.
"The services aren't something the average person can wrap their brain around as easily as they can with other municipal services," she said. "People understand the need for snow plowing, trash pickup, and police protection. Court services, public health, and human services, just to name a few, are a little more mysterious. It's difficult to keep people engaged with something that they can't consider in concrete terms."
Yet despite those challenges, it's vital for the public to be engaged, "in the interests of good government, but also to make sure the public's interests are protected," Rennie said. "Clearly, they weren't in the case of the Fairview Girard land transfer. All county residents should understand that next time, it could be them. Politics is infused in way too much local government business. All council legislation should be properly vetted by the people. No one should ever be satisfied by a one-time 'sales' presentation. Ask questions — lots of them."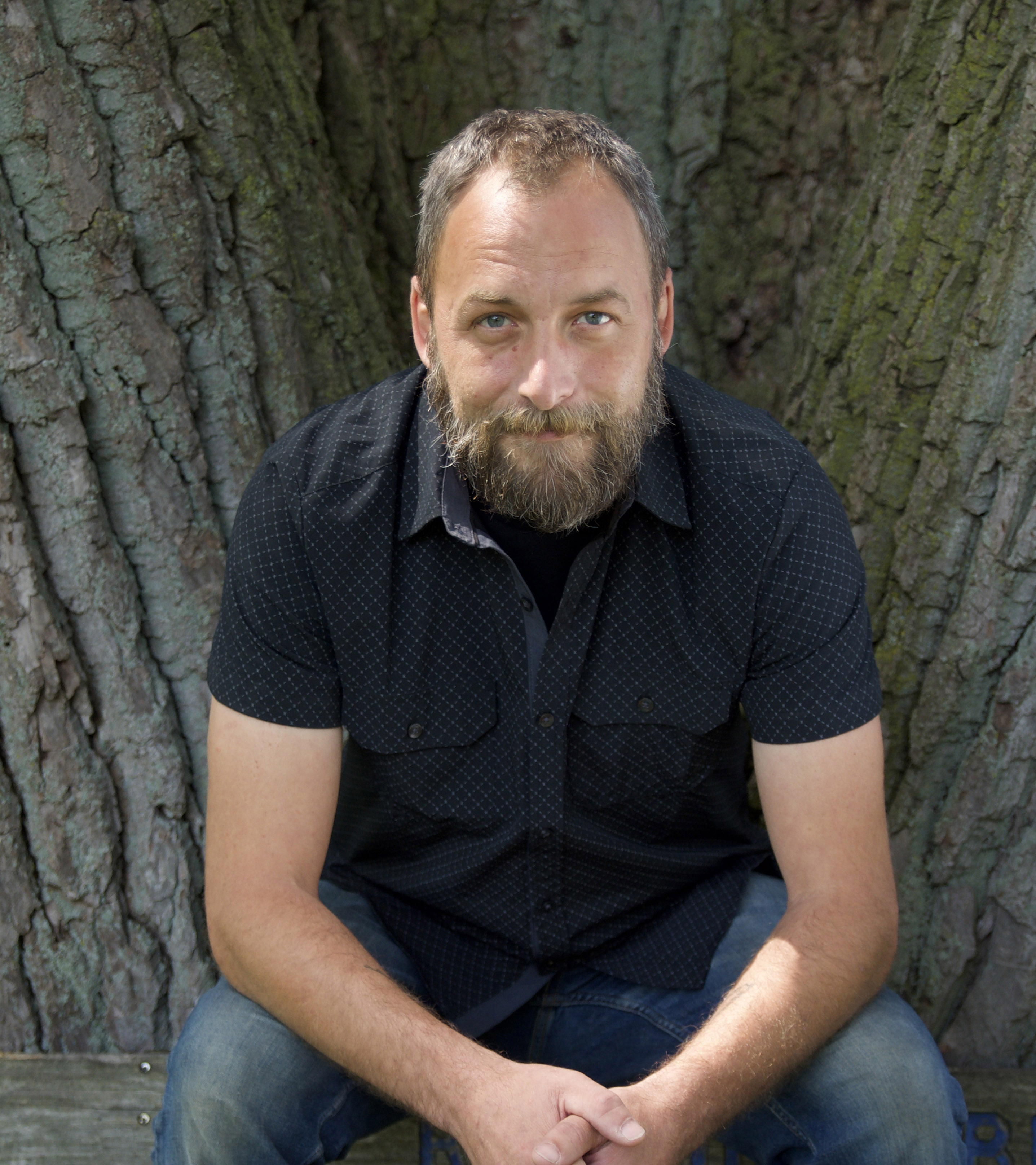 Rock Copeland was recently selected by the Erie Democratic Party to run for Erie County Council's third district seat left vacant through Mary Rennie's resignation. He finds the current online availability of city and county meeting content to be a major step forward in encouraging citizen involvement. (Contributed photo)
County council voted for Tom Spagel to fill Rennie's seat until year's end. As the Democratic nominee for the Erie County Council's Third District seat, Copeland will face Republican Kimberly Hunter. Although Copeland is running to serve on county council, he's familiar with the workings of Erie City Council, which he ran for in the May primary.
Copeland, who works in engineering/sales for Hite Co., said he is fascinated by politics and spent a lot of time tracking presidential, U.S. House, and Senate races. "I watched C-SPAN a lot. The process has always been interesting to me," he said. "You can really go down a rabbit hole at any level you want."
He campaigned for Bernie Sanders and for Kristy Gnibus when she ran against Mike Kelly for Congress but it's local government where you can make a difference, he said. "Joe Biden will never come and pave your roads."
He began to watch city council meetings several years ago, before moving back to the city from North East. He's also paid attention to county council meetings. "Social media really helps make government accessible," he said. "On a Friday night, (I might say), oh, shoot, I missed the city council meeting. I can go to the City of Erie Facebook page, scroll down and watch the meeting on my own time."
He also follows social media posts from elected officials, reads online comments to see which issues are percolating, and, if he attends a meeting in person, lingers afterward to talk to council members. "I had this realization that these are people just like me," he said. He also keeps up with other municipal meetings. "I have an alert set up on Facebook if there is a Blighted Review committee or Redevelopment or any of these that use a Facebook Live, I'll pop into these meetings and see what is being discussed."
To truly be prepared as an active participant, you have to do advance homework to understand agenda items, he said. "One thing the county does really well, and I have to give props to the administration, is that the agenda has much more detailed text about what each agenda item is," he said. "That's where the county shines. The readings aren't just the ordinance number and title. There's usually a little more body there."
On the other hand, the City of Erie has an excellent tool for research after the fact, eCode 360. "The search feature is really awesome," he said, especially if you want to read meeting minutes or research existing ordinances.
Like Rennie, Copeland said he is particularly keen to pay attention to budget proposals, whether at the city or county level. "You can talk the language all you want, but when you write a budget, that's when you decide where your priorities are."
Liz Allen can be reached at lizerie@aol.com
Learn more
Erie County Council's finance and personnel committees meet at 4 p.m. on Thursday the week before regular council meetings. These meetings are Zoomed and public comments can be made. County council's regular meetings are on Tuesdays, starting with the caucus at 5 p.m. and the regular meeting, which is live streamed on YouTube and available afterward, at 6 p.m. Check eriecountypa.gov for meeting dates, which can be once or twice a month.
Erie City Council meets at 9 a.m. on the first Wednesday of the month, with the caucus at 8:30 a.m., and at 7:30 p.m. on the third Wednesday, preceded by a finance committee meeting at 6 p.m., then the caucus.
The City of Erie tries to ensure that most city-run meetings that include public comment are available to view and comment on via Zoom, according to Chris Millette, communications director. The exception is city council but the city hopes to bring back Zoom for those meetings, he said.
Even without Zoom right now for council, Millette or other communications department representatives "monitor comments on the Facebook livestream and introduce those comments into the public record, as necessary," he said. Community Access Media livestreams most city meetings on CAM's video platform, the city's Facebook page, and its YouTube channel. Those meetings exist on CAM's video-on-demand streaming player for one year and indefinitely on the city's Facebook and YouTube pages, he said. The city's webpage, cityof.erie.pa.us, is being revamped, said Millette.