Q&A with Alt-J's Joe Newman
The British Indie Buzz Band Takes a Break from Touring to Answer a Few Important Questions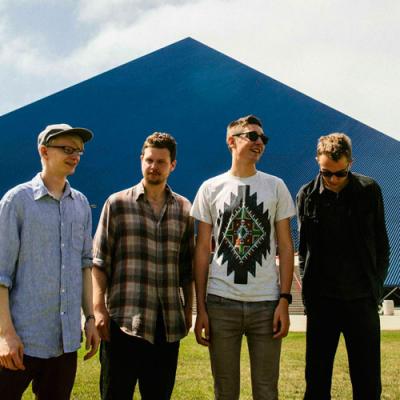 It's not uncommon to dream about success. Some people have visions of hitting the game-winning homerun in the bottom of the ninth inning of Game 7 in the World Series; others see themselves thanking all the beautiful people for their shiny new Academy Award.
Then you have those bands that become critical darlings over the span of a year for a project that started in college.
Alt-J is one of those bands.
2012 was a good year for Alt-J. The British quartet wowed numerous critics with their debut "An Awesome Wave," taking home the Mercury Prize and having the release named "best of the year" by NPR's Bob Boilen. Now working on a U.S. tour, Alt-J guitarist and vocalist Joe Newman answered a few questions about the band's success, comparisons to Radiohead, and what he's currently reading.
Alex Bieler: For a band that pretty much started by creating music that its band members wanted to hear, does all the success feel sort of like a dream and you're just hoping nobody wakes you up?
Joe Newman: If I wake up to find this to be a dream, I'm not quite sure how I'd react. There would be a lot of crying and screaming and swearing. We have been flabbergasted by the response to our debut album.
AB: I've been impressed with how much you guys pop up. I was watching "Silver Linings Playbook" the other day and heard you guys in the movie. Even 90.5 WERG, one of Erie's local college radio stations, has "Breezeblocks" in fairly heavy rotation. I'm going to guess that your whole plan all along was to take the state of Pennsylvania by storm.
JN: Yes, our main focus was to dominate Pennsylvania straight from the get go.
AB: Speaking of "Breezeblocks," I'd be willing to say that you and Frightened Rabbit [in their song "State Hospital"] have led plenty of Americans to find of what an actual breezeblock is. Ever get any feedback from the masonry industry?
JN: Not yet. The construction business has called us on occasions.
AB: Now, as a big Radiohead fan, I'm always intrigued when a band starts getting compared to them. What is it like to get that kind of feedback?
JN: Flattering but maybe premature. Radiohead's great success has come from their consistency, and as of yet we've only pushed out one album. But it's fantastic that people find resemblances in our music.
AB: Given references to "Where the Wild Things Are" and "Leon: The Professional" in your songs, it wouldn't surprise me if you guys were big culture buffs. Are you reading or watching anything interesting at the moment?
JN: I'm about to read "Iris: A Memoir of Iris Murdoch," and today I was handed our fellow labelmates album – "Fields of Reeds" by These New Puritans – which I'm excited about. I don't know that we are culture vultures; we only care to sing about what we find interesting, and much of what we find interesting is others' work, often in the form of books and cinema.
AB: When you come to America, is there anything you look forward to doing in your spare time? Also, I saw that Gus was wearing a Minnesota Vikings shirt when you guys were on Triple J in Australia, so I've always wondered if any of you had a special connection to the States, be it Minnesota or not.
JN: We have no real connection other than that jumper Gus wears and the fact that we all look forward to returning to Minnesota. We like the accents.
AB: You're already 1-for-1 on Mercury Prizes. Do you have anything in mind for your next album to try and make it 2-for-2?
JN: Reggae breakdowns, and we've been working on Thom's voice – he can do an impressively low Lamb of God-like metal voice so maybe that plus Gus MC'ing? Could work?
Alex Bieler can be contacted at aBieler@ErieReader.com, and you can follow him on Twitter @Catch20Q.