Q&A with Diana Abu-Jaber
Novelist and memoirist Diana Abu-Jaber will be reading at Penn State Erie, The Behrend College, Thursday, April 26, as part of the Creative Writers Reading Series. Here's a Q&A with the award-winning author.
April 23, 2013 at 12:22 PM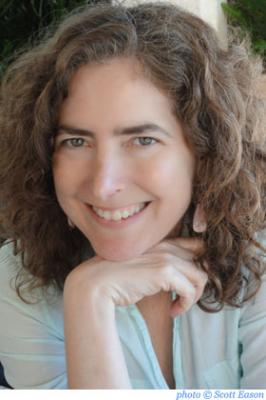 Novelist and memoirist Diana Abu-Jaber will be reading at Penn State Erie, The Behrend College, Thursday, April 26, as part of the Creative Writers Reading Series. Abu-Jaber is the author of the novel Birds of Paradise, an Indie Books Pick, as well as Origin, Crescent, which was awarded the 2004 PEN Center USA Award for Literary Fiction and the American Book Award. Her recipe-filled memoir, The Language of Baklava, was praised by Entertainment Weekly: "In a culinary memoir that's as delectable for its stories as for its accompanying recipes, Diana Abu-Jaber concocts a feast of words and images from her Arab-American experience."
Krista Banks: Your father is from Jordan and your mother is American.  How has that blend of identity influenced both your personal life and professional life as a writer?
Diana Abu-Jaber: I'm interested in the mixing of different cultures and the experience of different sensibilities. The Middle Eastern part of my background especially has given me some unique subject matter, but more and more I think that all Americans experience much the same general sense of displacement and shifting as immigrants do. We're all relative newcomers to this modern country, we can all relate – to varying degrees – to the sense of uncertainty and possibility that comes with this mindset.
KB: In the introduction to The Language of Baklava, you write, "The truth of stories lies not in their factual precision but in their emotional core. Most of the events in this book are honed and altered in some fashion, to give them the curve of stories." Both the essay and the memoir are members of the genre of creative non-fiction, and it can and has been said that these sub-genres have a looser obligation to fact than, say, journalism. Nevertheless, non-fiction is the genre defined by what it is not—fiction.  The only rule, regulation,guideline, whatever you want to call it, is you have to tell the "truth." Now, you have addressed your belief that there is a difference in the above quote.  Could you go into a little more detail as to what you consider fact and what you consider truth?  In what ways do you find it acceptable to "alter" events?  Where does the line between non-fiction and fiction fall?  Why did you choose to write a memoir, rather than a novel that was "based on true events?"
DA: "Truth" is such a subjective experience – we each have our own ways of seeing and feeling things: even the most "objective" of reporters interprets the story from a private perspective. My disclaimer was not intended to suggest that the book is fiction, but that it's a series of personal recollections that might or might not match up with the recollections of others. I was telling a number of sensitive stories with a lot of emotional resonance and was particularly concerned about certain of family members' reactions. In certain cases, I changed identities, names, and any details like job titles that might have made it too obvious who various people were, but the stories themselves were told as faithfully to my own memories – and to those of the people I interviewed – as possible. I decided to write a memoir because I wanted to preserve these particular memories and to share them with others.
KB: You have five books: one memoir and four novels.  Do you feel more at home in a particular genre?  Have you written smaller works? Any poetry?
DA: I love memory work and food writing, but I think I feel closest to writing novels. I've published a bit of poetry earlier in my career, and have written lots and lots of journalism, especially book, film, and restaurant reviews, as well as some political op-ed pieces and essays.
KB: What other writers have inspired your work?
DA: These lists change all the time and it's by no means inclusive, but some of the many writers that I love and admire include: Virginia Woolf; Michael Ondaatje; Michael Cunningham; Anton Chekhov; Elizabeth Strout; Jennifer Egan; Toni Morrison; Louise Erdrich; Richard Ford; Arundhati Roy.
KB: What advice do you have for writers who aspire to turn their (childhood) memories into memoir? For writers in general?
DA: For people interested in writing memoirs, what possibly helped me most was working with a reference point – something that limited the scope of the book by making it more specific, and brought memories back more vividly and in greater detail. In my case, thinking about food gave me a focus that I wouldn't have had if I just tried to conjure up my entire childhood.
For all writers, I think it's important to stay inspired, to find ways to make the story fresh and interesting, so you can keep coming back to it. Switching genres helps me to do that—I have a love story, a mystery, a family story, etc.—so each book is its own experiment, its own unique journey.
KB: What is your favorite recipe from your memoir?
DA: The baklava is our great family classic, but the muhammara is a really special one. If you make it for a party, guests might be a little unfamiliar with it, but they invariably end up falling in love with it.
Diana Abu-Jaber will be at Penn State Behrend's Smith Chapel on Thursday, April 25. At 5:30 p.m. there will be a meet and greet with Abu-Jaber; the reading, free and open to the public, will start at 6 p.m.