Q&A with Heaven Adores You Director Nickolas Rossi
Arts & Culture Editor Alex Bieler talks to the director about his soon-to-be-released documentary about singer-songwriter Elliott Smith.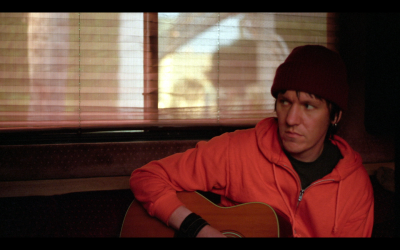 It's been over 10 years since Elliott Smith died, leaving the world without one of the finest songwriters to come out of the '90s. Fans who discovered the gifted musician either after his Oscar-nominated song "Miss Misery" or after his untimely death in 2003 were left with a number of records of impeccably-crafted songs about love, heartbreak, and despair, but without ever getting to know more about the man behind the music. To paraphrase Smith's "Waltz #2 (XO)," they'll never get to know him know, but they're going to love him anyhow.
Thanks to filmmaker Nickolas Rossi's new documentary Heaven Adores You, fans of Smith will have a new look into the songwriter's life. While Smith was pegged by the media as a sad man playing sad songs, Rossi's directorial debut presents the real Smith, a man who plenty of friends and good times and happened to make some bad choices toward the end of his life. I had a chance to talk to Rossi about Smith and Heaven Adores You, which opens nationally May 7 and includes screenings at The Hollywood Theater in Pittsburgh on May 15, 16, 18, 19, and 20.
Alex Bieler: Heaven Adores You marks your directorial debut, correct?
Nickolas Rossi: Yeah, I just happened to be the director of it. I don't know if it was a planned directorial debut, but it ended up being my directorial debut after years and years of being a cinematographer.
AB: Was there a different director originally or were you not expecting to do this project?
NR: Some people have this path where they're like "I'm going to be a director" and then they go do that. For me, it was more of organic process of being a cinematographer to being director of photography to coming into a project that warranted me wanting to actually direct that as well as shoot it and edit it. It wasn't a planned departure from being a cinematographer; it was just part of the process of being a filmmaker. It's a debut, but I've been working in film for so long that it just seemed like another amazing project that I got to hold the reigns for.
AB: I noticed in the credits that you shot the New York City concert during the Elliott Smith tributes in 2013. Is that where the project started?
NR: No, that was actually the last stuff we shot, or very close to the last. I had a pretty rough cut assembled and we had known for a few months that there were going to be these benefit shows and we wanted to put them at the end to show what Elliott's influence was even 10 years after his death. I was in New York and [Producer] Jeremiah Gurzi was in L.A. and we hired some people to shoot some of the concerts in Portland and Austin for us and we got all of the footage and I put it together.
AB: What does Elliott Smith and his music mean to you?
NR: He's a great musician. His music had a great impact on me at a time where I was living in Portland and watching him perform live and then leaving Portland and having that experience of being in the same place as when Elliott was coming of age. I have a deep appreciation for his music.
AB: Did you ever get to meet him?
NR: Yeah, I met Elliott once sort of accidentally outside of a venue in London, of all places. He just happened to be touring and I happened to be on holiday and I saw that Elliott Smith – that guy from Portland – was going to be in London and I ran into outside of the venue and said "I'm from Portland, too; I really admire your music." It's really weird to think now that you have that brush with somebody and 17 years later, you're making a film about their life.
AB: I really liked Heaven Adores You, because it's about his life. There are a lot of people who discovered him either right before his death or sometime after and have this mythic idea of Elliott Smith, and the documentary shows the audience the actual person behind the music.
NR: I think so. The media was very quick to sum him up at the end of his life as someone who just the sum of the last couple years of his life, and I thought that was unfair. There's a whole other side of his life. It just seemed like the mythology that was being perpetuated was [that he was] a sad guy who made sad music and that was a very small part of the entire story of Elliott Smith. I went to talk to his friends and the people who knew him the best to get a different view on what it was like to actually know him as opposed to just assume that – because he made this music that touched on  lot of universal themes of love and sadness and heartbreak and struggle – it was all he would be known for. The music was so much more complex and so much more interesting than just summing him up by some bad choices he made at the end of his life.
AB: Throughout the project, what was the most surprising thing you came across about Elliott Smith and his life?
NR: You said earlier that people tended to have discovered him a few years before he died or after he died, and my first experience was of him being a guy who played in a band in Portland – the band Heatmiser. The stuff that I didn't know was how far back his musical prowess really started. When we started to uncover this stuff and some music he recorded when he was 13 or 14, that was that moment that I realized that he was really proficient at songwriting and music at a really early age. Even five to 10 years before he was playing in bands in Portland, he was recording music. It's really astounding and speaks to him that he was able put together some pretty impressive compositions at that early of an age.
AB: I found it very interesting about how he relocated very quickly from Dallas to Portland and from Portland to New York City. There was even someone in the documentary who mentioned about how she was surprised that someone could just move across the country with just a bag.
NR: That was Dorien [Garry]. She had made a comment that she was surprised that someone could move across the country with just a guitar and a duffle bag. I think at that age in your 20s when you're not tied down to a lot of stuff and you haven't had a lot of time to acquire a lot, I've done it and it's pretty easy. It's just a nice way to illustrate this journey for Elliott, where he just takes essentials like his clothes and his guitar and go off to New York City.
AB: Was it difficult getting access to family and friends or was it pretty easy to talk to them?
NR: Once we approached people that we had wanted to talk to and made our intentions clear that we wanted to make this celebratory film about Elliott and his music, it wasn't difficult. I don't know how to quantify it as being difficult or easy, it was just a matter of being really clear and honest and transparent with what kind of film we wanted to make. There was enough time that had gone on where a lot of friends and people close to him had started healing from the loss as much as they can in 10 years. I'm surprised and just really grateful that people took the time to sit down and talk to me. I really had an amazing experience connecting to his music and I got to talk to the people who were there when he was making it. Everybody that we interviewed – all 35-plus people – were all amazing and so generous with their stories and photographs of Elliott. It was truly a beautiful experience to just meet with them and talk with them and put this together for them and Elliott's fans.
AB: Now that you've done Heaven Adores You, do you see Elliott in a different light or a different way you perceive his music?
NR: Yeah. My introduction to Elliott's solo stuff was just listening to it in a time where I felt like he could say those things that I couldn't come up with, those universal things of love and sadness and loneliness and despair and heartbreak. I felt like when I listened to his music in my early 20s, it was heavy, emotional, and loaded with drama. As I worked on the project and I grew up, I really listened to his lyrics and I see them less autobiographical and more complex. I realized through the interviews that he wasn't writing [songs] necessarily about his life or heartbreak or struggles; he was really amazing at observing people and situations and being the fly on the wall and writing about that. Things that may or may not have affected him, but were archetypes and storytelling and made me realize that he was a much better singer-songwriter than I ever thought he was.
When I first listened to him, I had a very emotional connection to his music and now I see him as an amazing wordsmith and a poet more than anything. I have a very different appreciation for his music now because I don't see it as being so visceral and I enjoy and find a lot of humor in his lyrics now that I didn't when I first started listening to him.
AB: Is directing something you're going to focus on moreafter your experience with Heaven Adores You?
NR: I don't know. I'm amazed that this project had the lift that it has and I'm going to make sure that it gets out to as many fans of Elliott's music as possible. We'll see what happens. I would certainly do this again. I really enjoyed the experience of directing a music documentary, but I also really enjoy shooting other people's documentaries and working in narrative, so we'll see. I don't know what the future holds, but I'm sure it will be awesome.