Radiohead, Steve Martin, and Sesame Street Added to National Recording Registry
Big Bird and Thom Yorke are among the 2015 entries into the Library of Congress' collection of important recordings.
March 27, 2015 at 1:05 PM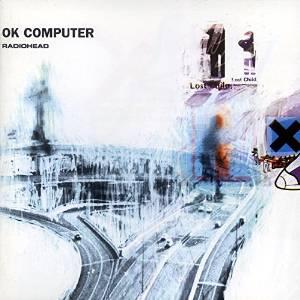 The Library of Congress' National Recording Registry named the the latest batch of entries into its hallowed vaults, and this year's group of 25 recordings feature a very interesting range of items, with everything from old wax cylinders to Radiohead's landmark album OK Computer.
That's what happens when you get a collection of recordings deemed  "culturally, historically, or aesthetically significant" enough for the Library of Congress to preserve. In addition to Radiohead and wax, The Doors, Joan Baez, the miseducated Lauryn Hill, Steve Martin, President Franklin Delano Roosevelt's funeral, and Sesame Street all made the cut. Big Bird rocks!
Personally, I'm pumped that Radiohead made it, given that the band played a huge factor in my transistion from large, quiet child, into a large, music-loving man. It's a pretty long list, so feel free to check it out below or at the National Recording Registry's site. As for me, I'll be enjoying some nostalgia.
The Vernacular Wax Cylinder Recordings at University of California, Santa Barbara Library (c. 1890-1910)
The Benjamin Ives Gilman Collection, recorded at the 1893 World's Columbian Exposition at Chicago (1893)
"The Boys of the Lough"/"The Humours of Ennistymon" (single)—Michael Coleman (1922)
"Black Snake Moan" / "Match Box Blues" (single)—Blind Lemon Jefferson (1927)
"Sorry, Wrong Number" (episode of "Suspense" radio series, May 25, 1943)
"Ac-Cent-Tchu-Ate the Positive" (single)—Johnny Mercer (1944)
Radio Coverage of President Franklin D. Roosevelt's Funeral—Arthur Godfrey, et al. (April 14, 1945)
"Kiss Me, Kate" (original cast album) (1949)
"John Brown's Body" (album)—Tyrone Power, Judith Anderson, and Raymond Massey; directed by Charles Laughton (1953)
"My Funny Valentine" (single)—The Gerry Mulligan Quartet featuring Chet Baker (1953)
"Sixteen Tons" (single)—Tennessee Ernie Ford (1955)
"Mary Don't You Weep" (single)—The Swan Silvertones (1959)
"Joan Baez" (album)—Joan Baez (1960)
"Stand by Me" (single)—Ben E. King (1961)
"New Orleans' Sweet Emma Barrett and her Preservation Hall Jazz Band" (album)—Sweet Emma and her Preservation Hall Jazz Band (1964)
"You've Lost That Lovin' Feelin'" (single)—The Righteous Brothers (1964)
"The Doors" (album)—The Doors (1967)
"Stand!" (album)—Sly and the Family Stone (1969)
"Lincoln Mayorga and Distinguished Colleagues" (album)—Lincoln Mayorga (1968)
"A Wild and Crazy Guy" (album)—Steve Martin (1978)
"Sesame Street: All-Time Platinum Favorites" (album)—Various (1995)
"OK Computer" (album)—Radiohead (1997)
"Old Regular Baptists: Lined-Out Hymnody from Southeastern Kentucky" (album)—Indian Bottom Association (1997)
"The Miseducation of Lauryn Hill" (album)—Lauryn Hill (1998)
"Fanfares for the Uncommon Woman" (album)—Colorado Symphony Orchestra, Marin Alsop, conductor; Joan Tower, composer (1999)