Rehrig Pacific
Innovation in and outside of the plastics industry makes Rehrig Pacific a business to be trusted in the Erie area.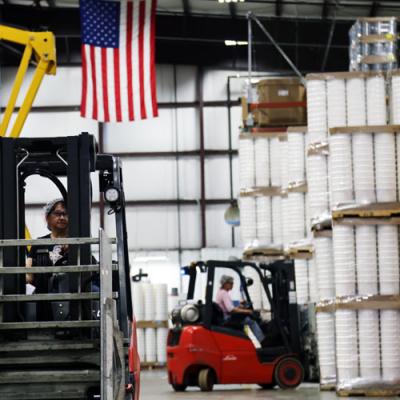 Back in the early 1900s, when the Rehrig Pacific company's wooden crates first began making the business of moving milk a whole lot easier, plastic was, for most purposes, still just the stuff of science fiction, of some far-off future.
Fast-forward some decades to the early 1970s (when the Los Angeles-based company first expanded and established its operations here in the Gem City), however, and plastic – in all its forms and applications – had certainly become the stuff of the present.
In the years since, that hasn't changed, and Rehrig Pacific has maintained its foothold in the industry, creating, by modern injection-molding processes, everything from plastic milk crates and bakery trays to plastic pallets and municipal garbage and recycling bins. That goes for myriad such plastics  use in and around Erie today, as well as around the country and even further abroad.
Rehrig Pacific's operations and product lines have "definitely grown a lot in these past few decades," company spokesperson Sam Bernal said in a recent interview with the Reader. And "the products we produce here in Erie," he said, are pretty ubiquitous, the kinds of things "a lot of people would say 'Oh, that's where that'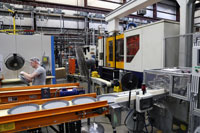 s made.'"
Locally, the company's manufacturing operation employs between 150 and 180 people, acco
rding to Bernal. And in the years since it established its Erie plant, he said, the company has continued expanding, establishing other manufacturing plants in Lawrenceville, Ga.; Dallas, Texas; De Soto, Kansas; Pleasant Prairie, Wisc.; Orlando, Fla.; and Queretaro, Mexico.
In total, Bernal said, Rehrig Pacific – still headquartered in L.A., and with sales offices also in Hong Kong, Brazil and the United Kingdom – employs upwards of 1,500 people.
"We have entry-level [manufacturing] positions open to everyone from a recent high school graduate to someone close to retirement," Bernal said, adding a Rehrig Pacific employee "can be anyone who really wants to start a career with the company, and end a career with the company."
All told between all of its plants, the company produces a staggering amount of material – upwards of 70 million parts each year, he said.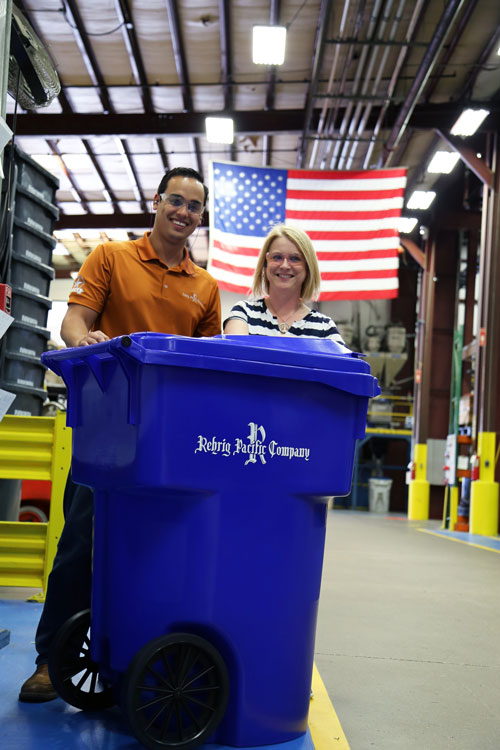 But Rehrig Pacific's not just about producing plastic stuff, either, according to Bernal – it's also about the logistics behind helping companies and organizations, from big beverage corporations to dairy producers to city waste departments, move whatever 
it is they have to move – from Point A to Point B, and then back again (and, often, back again).
That means keeping a tight focus on sustainability, Bernal said, pointing out that the company uses 100 percent recyclable materials throughout its reusable product lines and employs strict efficiency practices throughout its production cycles.
Rehrig Pacific must be doing a lot of things well and right, because it continues to gain major customers across a spectrum of fields. Most recently, Bernal said, the company was awarded a multi-year contract to provide roughly 500,000 – that's right, a half-million – residential organic waste bins to the city of Toronto, Canada, which boasts the largest organics collection program in all of North America.
But, again, it's not just about making plastic. The company got that job, Bernal said, because of its ability to be a leader in the logistics behind that stuff. In the case of Toronto, Rehrig Pacific came up with a new product specifically designed to help the city collection program with one of the biggest and most persistent problems it faces: Raccoons and other pests.
"We're not only making [plastics]," Bernal said. "We're providing technology and services that maximize the value [behind those materials] for our customers."
That's good work – and, for Erie and places the company operates, it looks to be the kind of job that's not going away anytime soon.
Ryan Smith can be contacted at rSmith@ErieReader.com, and you can follow him on Twitter @RyanSmithPlens.