Resolution Check
With one quarter of the year gone, Kristen Rajczak checks in on our fitness promises.
March 31, 2011 at 8:50 PM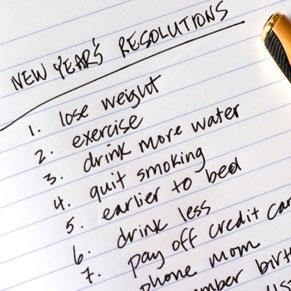 Wes Cole, general manager and head trainer at Family First Athletic Club, has a positive message for those who have already given up their New Year's resolutions to get fit: There is always another day.
"If you start exercising and you give up for a little while, that's fine as long as you keep going," Cole says.
Cole and other health professionals in the Erie area recognize how many people make losing weight and eating healthier part of their New Year's resolutions—and how many give them up. It's not uncommon for gyms and health clubs to have an influx of new members join at the beginning of the year, only to disappear after a month or two.
Cole has been in his position at Family First for seven months, and while he did not see a significant New Year's membership bump there, he has seen the effects at gyms he worked out at in the past. "People come in, pumped up but without prior exercise experience. They stick with it for a month or two and then you see them fade away," says Cole, a certified personal trainer.
Laura Casella, the group fitness director at Best Fitness, says the West 12th Street location usually has an increase in memberships for about three or four weeks at the end of January into February. As both a group instructor and a personal trainer who has been working in the industry since the late '80s, Casella says new exercisers leave for many reasons.
 "Sometimes they are embarrassed or they feel self-conscious," Casella says. "Even though the good intentions were there, they feel out of place."
However, Casella observes that the problems people have getting fit are more socially pervasive than just feeling awkward in a new pair of running sneakers.
"As Americans, we like the quick fix," she says. "After four weeks, if clients don't see anything, they want to quit. They want to eat what they eat, and no one's going to tell them any different. It's like smoking. They know they are hurting their lungs every time they take a puff, but they're going to smoke."
Kelly Gheres, the health and wellness program director at the county branch of the YMCA in Edinboro, confirms that new health seekers are frustrated easily.
 "They say to members of the staff, 'I'm coming in every day or five days a week, and I'm not losing weight,'" says Gheres, who has worked in the Y's wellness center for 12 years.
Gheres says that in years past, the YMCA has had a huge increase in memberships at the county branch around the new year, but this year it did not. The county Y did see, however, many current members returning more frequently during the early part of 2011. As a whole, the YMCA of Greater Erie added 560 new membership households during January and February this year, according to Tammy Roche, executive vice president of marketing and membership.
Ron Dombkowski, an employee in member services at Planet Fitness on Rotunda Drive, noticed both an increase in new memberships and an increase in existing members coming to the gym. He attributed some of the increase to a $99, prepaid year-long contract offered at the beginning of the year, an example of the discounts many gyms offer to entice new members around the new year.
Keeping those new members is the challenge. Dombkowski says he sees the loss of these short-term exercisers in a bigger context.
"If they feel like they are investing a lot of themselves and getting nothing in return, of course they are going to stop doing it," he says. "People are very results-minded. Whether they are at their job or at the gym, everyone has a bottom line." 
Since 2011 began...
---

Grab a FREE copy at one of our distribution points to read the rest of the article.