Roar on the Shore Rolls Back into Town
Roar on the Shore rolls back into Erie from Wednesday, July 15 through Saturday, July 18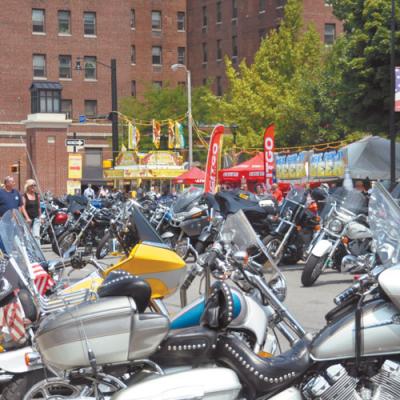 The crowds are monstrously huge, the rock is high-haired hard, and the roar gets rumbling-loud.
And – love it (like many do), or hate it (like many do, too) – Roar on the Shore rolls back into Erie from Wednesday, July 15 through Saturday, July 18, bringing with it a thousands-strong throng of bikers, thousands of spectators, and a select grouping of '80s/'90s hair-metal mavens providing the soundtrack for the Gem City's annual mini-Sturgis event.
Organizers (the local Manufacturing and Business Association heads up the event) have said for the Roar-loving crowd, this year's lineup and festivities – now in their 10th incarnation – may just be the best yet.
Hair-and-chainsaw-rock monsters Jackyl, who did their thing in, uh, memorable fashion at the 2013 Roar on the Shore, are back again this year, with frontman/biking poster-boy Jesse James Dupree even serving as the Roar's massive motorcycle rally's grand marshal. As part of his given duties (the ones that don't involve live chainsaw solos, that is), Dupree's set to lead an anticipated 5,000-plus bikers to the Hub at Perry Square before taking the stage with Jackyl around 9 p.m. Thursday, July 16.
Beyond that, this year's other hair-heavy headliners will fill the four-day rally with even more high-octane tunes: L.A. Guns kicks things off with a performance at 8:30 p.m. Wednesday, July 15; April Wine's onstage on Friday, July 17; and Dokken wraps up the Roar on Saturday, July 18.
Love it or hate it, it's revving up to be another ROTS to remember. – Ryan Smith
Wednesday, July 15 through Saturday, July 18 // The Hub at Perry Square // roarontheshore.com