Run the Jewels to Potentially Release Album Made with Cat Noises
Meow the Jewels may become a reality after a fan made a Kickstarter for one of the Run the Jewels' goofy deluxe packages.
September 18, 2014 at 2:40 PM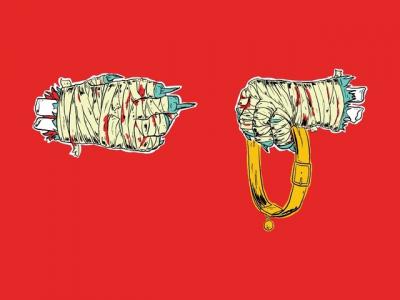 Run the Jewels, the stellar duo of El-P and Killer Mike, are set to release their sophomore album Run the Jewels 2 next month. In addition to RTJ2, the group may put out another version of their highly-anticipated new album depending on the success of a new Kickstarter campaign. This won't be your usual re-recording, however, as the campaign calls for the duo to scratch out Meow the Jewels, a version of RTJ2 "using nothing but cat sounds for music."
Yeah, you read that right; RTJ2 with cats. It all started earlier this week when the duo sent out an email to everyone who had downloaded their first album for free last year. In it, they thanked everybody and announced the preorder packages for RTJ2 that you could get in addition to free download. There were your usual offerings, such as a t-shirt/CD combo and a collector's edition of goodies, but there were also some more unique options listed below the standard fare. These included the "Show and Tell Package," where El-P and Killer Mike will go to your child's school and answer questions and provide 24 hours of bully protection, the "We Are Gordon Ramsay Package," where the duo will verbally abuse and attempt to force change upon the restaurant of your choice, and of course, Meow the Jewels.

Fans of Run the Jewels took to Twitter about these amusingly ridiculous packages, with Meow the Jewels being a focal point. Despite a stipulation that Run the Jewels doesn't actually have to honor it's obligations for any package over $35,000 (MTJ clocks in at $40,000), El-P showed support for people wanting to finance the feline-aided full-length album. That led music blogger Sly Jones to create the aformentioned MTJ Kickstarter, which El-P soon discovered and endorsed on Twitter.
someone made a kickstarter to fund the "MEOW THE JEWELS PACKAGE". if this gets funded i will make this album.https://t.co/6tvzp2Z3rF

— el-p (@therealelp) September 17, 2014
The Kickstarter campaign has already raised nearly $8,000 in a day and El-P tweeted that all of the money he receives to a charity directly benefitting the families of Eric Garner and Mike Brown, a pair of black men killed by police. 
If you count yourself as someone who'd like to hear some of the best rappers alive spit fire over a choir of cats - and you should - then head to the MTJ Kickstarter campaign and donate. If cats aren't your thing, well, there's always the $10 million dollar retirement package.