Saturday Spotlight: Corey Harris
Corey vs. Cory - Harris tells Vaillancourt he likes "Corey" better than "Harold."
August 2, 2013 at 2:12 PM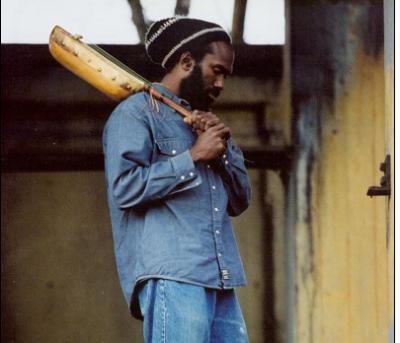 One never knows what Grammy nominee and multi-instrumentalist singer/songwriter/guitarist Corey Harris has up his sleeve – one minute, he evokes the ghosts of Charlie Patton and Sleepy John Estes, and the next, Ali Farka Toure and Fela Kuti. He's a cultural chameleon who walks in many worlds, from the delta to the Dakar, and accordingly, he'll bring his Rasta Blues Experience to Frontier Park on Saturday. I caught up with him recently to discuss the roots of black music, the future of the blues, and being a member of the "Cory" club.
Cory Vaillancourt: My name is Cory too, which you don't see a lot of; and when you're a little kid, all you want to do is blend in sometimes. Did you ever wish your name was something like Mike, John, Andy, or Harold?
Corey Harris: Not really. I like the name. I find there are more Coreys in the south than the north, but I always kinda liked it.
CV: Speaking of blending in, your various styles – from acoustic and electric blues to reggae and African folk – really stand out despite being closely related.
CH: Yes, well, they're all on the tree of black music, and the root of that is in Africa. The blues is a foundation or the trunk, and all the branches – like reggae and R & B and soul and hip-hop and funk and zydeco, all those come from the same tree. They're not so much different styles, but a family that is related.
CV: Who are you listening to right now?
We're gonna give them a lot of blues, and some different flavors wrapped up inside it.
CH: Lately I've been listening to this singer from Jamaica named Jah 9. She's a young woman; you should look her up online.   
CV: I will, thanks. Reggae aside, who do you think represents the next generation of great blues players?
CH: Marquise Knox. Definitely Marquise Knox. Jerron Paxton is a great acoustic player too. Between the two of them, that's the future, in my opinion.
CV: I know you've been to Erie before, but a lot of people here are unfamiliar with your work. What can they expect from your performance here?
CH: We're gonna give them a lot of blues, and some different flavors wrapped up inside it. We're going to do some electric and some acoustic, too.
Corey Harris performs at the Erie Art Museum Blues and Jazz Festival on Saturday, August 3 at 6 p.m.