Saturday Spotlight: Heritage Blues Quartet
Reader Writer Ryan Smith talked to your 6 p.m. Blues & Jazz festival headliner - the Heritage Blues Quartet. See what they have to say about their upcoming performance!
August 2, 2014 at 5:30 PM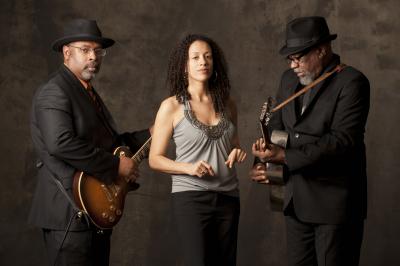 Well, it's just about that time again, hip cats (and people): The 22nd annual Erie Art Museum Blues and Jazz Festival – a highly-celebrated, much-anticipated apogee of every Gem City summer – kicks off Saturday, and continues all day Sunday, at beautiful Frontier Park.
Now, and as always, we at the Reader have already primed your ears with some ample recent preview coverage of all things Blues and Jazz. But, and as always, we still wanna give you more – you deserve it, and the festival does, too.
So, in the last few days leading up to the event, we've caught up with various Blues and Jazz headliners, throwing a few quick questions their way to see what they'd have to say – about Erie, about blues, about jazz, the topic of mighty coolness, and more.
Over the next coupla days, in a jazzy, free-form kinda way, we'll present those interviews, exclusively at eriereader.com.
Kicking it off, here's Bill Sims Jr. of the Heritage Blues Quartet, who take the stage at 6 p.m. Saturday:
Ryan Smith: Hi there, Bill! I'm starting off by asking some of this year's headliners to describe their band's sound. And, to the lay listener, how would you describe the forms that sound's born out of, it traditions, and its heritage?
Bill Sims Jr.: I would describe our sound as a time-travel trip through the African American experience in America. You can hear pieces of music from every decade of the 20th century in our show, from the fields to the street corner, from the plantation to the city. We're on a mission to preserve and define what is blues, and jazz, and R & B, and rock 'n roll in America, and what part the African American plays in them.
RS: So, next, what's some of your favorite listening at the moment?
BS: [That] changes all the time. There's always Big Bill Broonzy, Reverend Gary Davis, the Temptations, Monk, Trane, and Miles, also Inez Andrews and Lee Williams. New people come slowly to me. I listen to The Carolina Chocolate Drops, Liz Wright, anything that Adam Levy does.
It's different all the time.
RS: Lastly, then, can you share any secrets of how you and the Quartet manage to keep it so silky-smooth, and deeply cool? I could use a lesson, or three.
BS: We do what's playing on the radio, [what's playing] in our heads – at least I do – and we do what we like. I truly like all the songs we do, and enjoy playing them every night. And, you have to like the people you make music with.
RS: Thanks, Bill.
For a full lineup, and more, about this year's Erie Art Museum Blues and Jazz Festival, check this out. And keep checking back in here at eriereader.com for more Q-and-As with some of this year's illustrious Blues and Jazz performers.