Shake your Winter Blues off
30th annual FREE bluegrass festival heating Meadville up this weekend ... for a good cause, too!
January 16, 2015 at 2:41 PM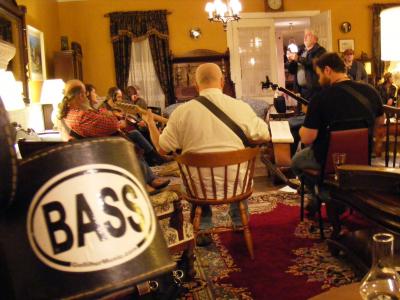 The Winter Blues Bluegrass Festival has always come on quiet -- with little to no advertising, virtually no online presence, and, most years, barely more than a few fliers to spread the word.
But, for 30 years, that's never seemed to stop it from getting out to a couple thousand or so people that, for some good, belly-warmin' shots of well-seasoned bluegrass, Meadville's the place to be for one long, laid-back weekend every January.
And that weekend is this one -- starting tonight and continuing through Sunday -- with 20-plus bands set to play at Days Inn, Meadville.
They include Wildwood Express, Tiger Maple String Band, Backwoods Bluegrass, Hidden Drive, Hershel Blevins and South 79, and a slew of other performers, many of whom, like the festival itself, get around mostly through low-key word-of-mouth, and have become staples on the region's more traditional-leaning bluegrass scene.
Talk to some folks in the know, though, and they'll tell you all the good stuff onstage is just the tip of the Winter Blues' iceberg. Warmed up after (and before, and even during) those acts, a whole lotta musicians -- in bands or not, on the festival's bill or not -- spend all night joining in sweet, long jam sessions that can be heard and seen anywhere and everywhere throughout the hotel.
It's all a really relaxed, feel-good, truly family-friendly affair. And it's free, too, which is awesome.
But organizers have always been there to make money -- for Hospice of Crawford County, the Meadville-based nonprofit agency that provides care and quality of life for patients at the final stage of a terminal illness, and by various extentions, to their families as well.
The money raised at Winter Blues -- totaling over $40,000 in 30 years, according to organizers -- is put into the agency's benevolent fund, which covers everything from travel expenses to utilities to all kinds of other stuff not covered by insurance companies for families of hospice patients.
It's all about "singing, playing, and having a great time jamming together -- for a great cause," Barb Mulligan of Hospice told me during a quick phone interview while she and other volunteers were busy setting up earlier today.
Need a little more info on the Winter Blues Bluegrass Festival before heading south to Meadville? Try calling the Days Inn at 337-4264.
Writer/photographer Ryan Smith can be reached at rsmith@eriereader.com, and you can follow him on Twitter @RyanSmithPlens.