Still Standing: Protester Hannah Silbaugh
After a video showing her being kicked to the ground by police went viral, this 21-year-old talks about what happened and what it means
Of all the moments following the May 30 protests in Erie, one has been repeated countless times. It's a three-second video of a young woman getting kicked to the ground by a police officer. Along State Street, between North Park Row and 5th Street, the State Street Jimmy John's sign is clearly visible. Posted on Facebook by Aaron Scott, it has over 100,000 views and more than 10,000 shares. It was posted to twitters and retweeted by PA Lt. Governor John Fetterman, and Ilhan Omar, the congressional representative for George Floyd's home of Minneapolis, MN.
The young woman who was kicked is named Hannah Silbaugh. She graduated in 2017 from McDowell and is 21-years-old. 
Hannah is a Good Kid. Literally. She was featured by JET-TV in one of their regular "Good Kid" awards segments in 2016 after she started up a drive for school supplies.
This was her first protest. The entire time, she remained non-violent, not throwing anything, simply chanting, and remaining in place. 
She, like hundreds of others, were at Perry Square to protest the death of George Floyd. She was there, like so many others, to say that Black Lives Matter, and to stand against injustice and police brutality.
Nick Warren: Can you kind of walk me through the timeline of your experience with the protest in general and then your experience with the moment that everyone was talking about?
Hannah Silbaugh: So I got there a little late, around 8:30. So the crowd was peaceful. It was rowdy, like there were fireworks going off, but it didn't feel threatening.
NW: Nothing directed toward anybody?
HS: No, there weren't any cops on the scene at that point, either, that I had noticed. When I was driving by, I did notice a lot of them congregating near the police department. But I didn't think there was anything crazy going on. And then when I got into it, and they started throwing the tear gas canisters off the roof, I'm like, 'Oh, wow. what the heck's going on? And then they started rolling in with the armored car and the full riot gear, it really felt like the tone had completely changed.
 So I don't know why they originally wanted us to leave. I don't know if it was the fireworks, or if there was some sort of aggression elsewhere. But from where I was, people were just exercising their first amendment right. And they told us that we needed to leave, and none of us did. Because the point is to protest the police. We're not going to do exactly what they want us to do. So they tried to push us back, and I got maced the first time. And it wasn't bad because I was standing. I ran off, got some water, and was ready to go. And then, things started getting crazier from there, people were throwing fireworks at the police, the police were throwing tear gas canisters back. And then at one point, they decided they wanted us to push back again. And at this point, me and a couple of others had some kind of a front line between the bulk of the protesters and the police. We were completely peaceful. Most of us had our hands up and sometimes we were holding hands.
And they were like, 'you need to disperse,' and we didn't, and they started coming towards us, and they started gassing. A lot of people just bolted. I was sitting on the ground at this point, I had been sitting on the ground for maybe 15 minutes. I moved slightly up at one point. But just [had my] hands up [mimes putting hands to her face]. At that point, I don't think I was chanting anymore.
And then they started rolling in with the armored car and the full riot gear, it really felt like the tone had completely changed.
NW: Were other people around doing the same thing? 
HS: Yeah. And so they started coming towards us. A bunch of people dispersed. It was me and one other girl. And I think she said that they hit her with a can, and she left, and they started spraying. So it was just me. I think there were five officers – I couldn't even tell – just spraying me, multiple people spraying me. Even if I wanted to get up and move I couldn't have, because I just couldn't see.  
NW: Incapacitated.
HS: Yeah, I don't know what they wanted me to do.
NW: Did this happen to several people around you as well? 
HS: At that point, I think everyone else had gone back. The one girl got sprayed a little bit, but she got out of there. I wanted to hold my ground. But then also at some point I just couldn't
NW: Yeah, there's only so much you can do.
HS: And so I couldn't see, [my hands were in] front of my eyes, trying to block the mace from getting in there, but they were definitely trying to angle it to get under my sunglasses and into my mouth. And then I just felt this [pauses] ... something hit me. And I fell toward the ground. I didn't know what it was, because I couldn't see. 
NW: Because of both the mace and your hands covering your face?
HS: Yeah, but because I was catching myself on the ground, my hands were no longer in front of my eyes and they used that as an opportunity just to go straight into the face.  And I got myself back up into a sitting position facing away trying to not get fully maced in the face. And they said, you know, you need to go or we're gonna tase you. And I'm freaking out, because finally they stopped spraying for like half a second, and I ran off, because I don't want to get tased. And then what's next after tasing? So I ran off into like a side street found a really nice person that gave me a bottle of water. Yeah, you know, at least try to flush my eyes out a little bit. And then by that point, there was a fire that had started I was definitely hearing gunshots. But then I decided that it just wasn't worth the violence. I didn't think it was cohesive anymore to stay. So I went home. And I also was wiped out [laughs]. 
NW: Of course, that's completely understandable. 
HS: Couldn't breathe, couldn't see. 
So at no point in the entire protest at all, had I thrown anything. I hadn't heckled the police. I was chanting. I was sitting. And I was trying to dodge the fireworks. That was really important to me, not complying with what they wanted me to do, but not being violent.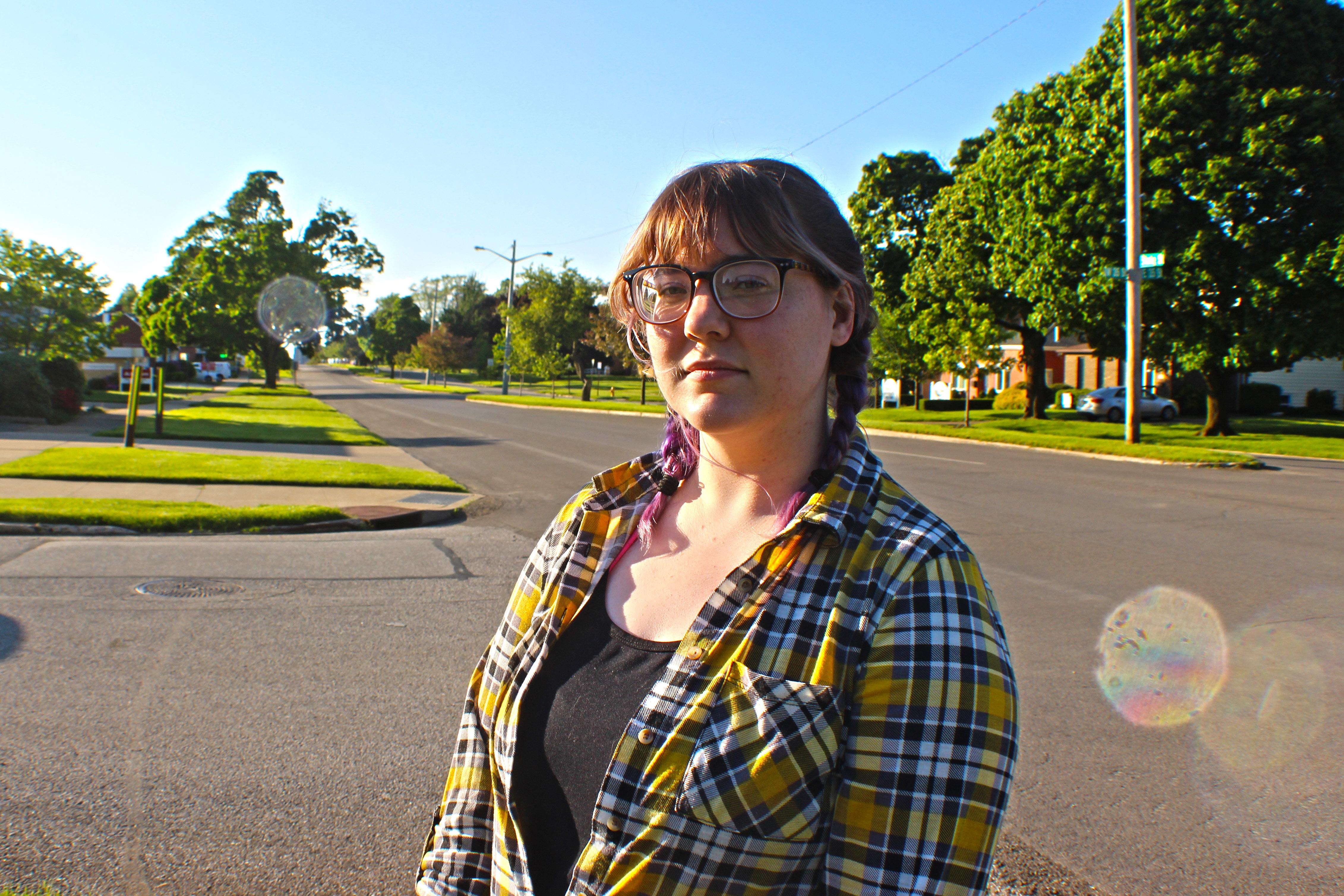 Photo by Nick Warren
NW: Do you know which officer hit you?
HS: I have no idea. I really do think that every officer in that configuration is just as responsible because they stood by and they let it happen. They use that as an opportunity to incapacitate me more, when I wasn't even a threat to begin with, I was sitting peacefully.
NW: Do you think that they were acting out of line?
HS: I think that it was a bit much. I was one 21-year-old girl sitting in the street. There was no reason that they needed to incapacitate me at all. They could have gone around me. They ultimately were trying to get to the protesters behind me. Yes, I wasn't complying with them telling me to leave, but I don't deserve to be assaulted.
NW: No, no one does. 
HS: Yeah. even if I was being violent.
NW: Truly. In my opinion, there should be every attempt to deescalate a situation. And, again, the whole thing kind of hinges on that.
HS: There were two sides to that. And I wasn't the one escalating.
NW: Yeah, exactly. Thank you. So, are you happy that you went to the protest? 
HS: Yes, I would do 100% again. I wouldn't change a thing I did.
NW: Perfect. Thank you. What do you hope people's takeaway to be if they see you? What do you want them to get from that?
HS: I think that Erie County didn't think that police brutality was a thing that could happen here like this, because you see it in the news and in big cities and faraway places. And I think it really showed that anybody at any time, anywhere, could be attacked unfairly.
NW: As your role in this, as a white female versus a black male, can you speak to not adding to erasure?
HS: I think it's really important that I use my platform as an ally, and not as the center of attention as a white female because this truly is about Black Lives Matter. And I want accountability. And I hope that it happens for my case, and every case no matter what color the person is.
NW: Absolutely.
This interview was edited for clarity and length. 
Nick Warren can be reached at nick@eriereader.com.
Edited June 15 to clarify the transcription in one instance from "fire" to "fireworks," (hear the audio). The Reader acknowledges and sincerely regrets this error.