Street Fashionista: Heather Riehl
Leslie McAllister tells us about art imitating life. 
March 20, 2013 at 6:35 PM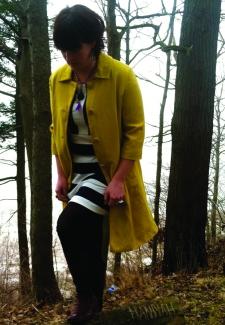 This topic may have popped up over one of the many Erie Reader issues I have under my Gucci belt, but I feel like a revisit is in order. After all, I suppose it is how I tend to look at style and fashion.
When flipping through magazines my eye goes to editorial that is vibrant, full of patterns and colors, and filled with bold, sparkling jewelry. I like to play "I Spy" with my periodicals. Thus, I love when outfits are put together from the soul, not by what's on trend.
Just a couple name drops of style leaders that exemplify my approach: Kate Moss, Olivia Palermo, Nicole Richie, MKA (also known as that which is the Olsen twins), SJP (if you have to ask stop reading – SJP is the new LBD), Anna Della Russo, and a real zinger, Zandra Rhodes (no relation to Nick Rhodes – though as a gent, he could be listed here as well).
These gems stay true to their style. Their art is dictated by how they dress. Style is more interesting when it makes sense but doesn't match. Here, we are wearing multiple patterns, like stripes and florals, rich colors, bold makeup, or layering in the most skilled way – enter MKA and Miss Palermo.
When layering, you have long flowing, draping garments: wide-legged jeans, a baggy T-shirt, a wrap cardigan, and a scarf. Or slim-cut pants with a blouse, a blazer, a floppy hat, just dripping in gold and silver jewelry. It's a bohemian approach to dressing – the idea that adding the unexpected brings da funk and da cool.
Guys check out these greats: Cameron Silver, Marc Jacobs, Johnny Depp (though he gets a little crazy), and my very personal favorite, Andre 3000. For the fellas, it's all about layering and mixing prints. A winning smile helps too. Wink.
Who? Heather Riehl
Where? Lakeside at the foot of Blackstone & Beachgrove
Why Heather? Heather has an artist's aesthetic to dressing. She works with the unexpected and pulls together looks that are interesting and attractive. She probably colored outside the lines when she was a kid!
Here, Heather pairs a navy blue and white striped dress from Anthropologie with a perfect sunny car coat. I love her ox-blood boots and fresh jewelry. "The earrings are from Glass Growers and the necklace was made by my friend Mara," she tells me. Perfection!
What We Want to Know
Describe your style. My style is very eclectic. My theory is that if a piece is either classic or very unusual you can wear it forever. A friend once told me there is always something a little off about my outfits, which I guess sums it up. If I am wearing a nice dress, I might match it with a pair of fringed boots or a rubber handbag or some wild jewelry that doesn't necessarily match. I don't do it on purpose; it is just that those odd pieces are what I am most attracted to.
Who is your favorite fashion innovator? If I had to pick a celebrity, I would say Michelle Williams. She always looks feminine and classy with a flair. She doesn't follow trends, and that is why she always looks amazing.
Favorite go to outfit for summer concerts: Because I like a variety of styles, my goal in choosing an outfit for a concert is to NOT dress for the style of music. It bothers me when people dress like hippies only on a day they are going to see Phish or whatnot. So when I go to a concert, I still dress like me. Jeans and a fun top with a jacket and some funky jewelry.
Your Top 3 favorite retail websites? Sundancecatalog.com, anthropologie.com and Patagonia.com
Your three favorite artists? Amedeo Modigliani, Maxfield Parish, and Alphonse Mucha.
Tell me about the art classes you are doing with the kids. I returned to school to get my certification in art education, which I finished last fall. Right now, I am substitute teaching, which doesn't give me a lot of input in lessons, but I am filled with ideas!
What are your favorite art lessons to teach? My favorite lessons to do with kids are ones that allow them to express themselves. Putting too many restrictions on a lesson can restrict creativity. I bring other subject matter into my lesson plans, as well because integrating other subjects helps students realize the importance of art education.
What do you love most about Erie? I am one of the few people who actually likes snow. Presque Isle State Park and Asbury Woods are treasures to have in my hometown. I love having four seasons. I have traveled to many places and every time I catch a sunset on Lake Erie, I think, this is one of the most beautiful places I have ever been.
Favorite local businesses? We have a lot of amazing local restaurants in Erie. Some of my favorites are: Avanti's, 1201 Kitchen, and Petra. As far as retail stores, my mom owns Rustic and Refined in the Colony Plaza, and she always has fun items. I also like to visit Campbell Pottery and Glass Grower's Gallery for fun gifts and accessories.
Check out these blogs for inspiration: www.thenativefox.blogspot.com, www.noirohiovintage.com, www.streetpeeper.com.
Find me out on the town and challenge yourself to get noticed by the Erie Reader!