Street Fashionista: Jessica Hunter
Jessica is the quintessential beautiful, active, creative, smart, silly, imaginative mama bird.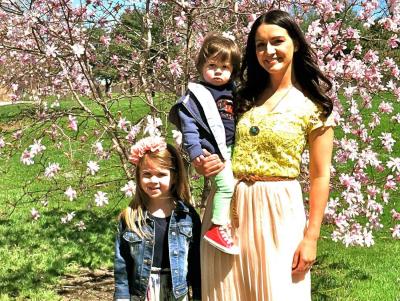 A gentle smile, a warm, knowing touch, the right words, the perfectly made sandwich. I always tease my mom that, sure, I could make a turkey sandwich, but it just tastes better when she makes it; totally true – you know what I'm talking about.
Being raised in the home of an active and creative mama shapes your awareness of things – you just see stuff differently. My mom never bought me the Barbie townhouse; I had to make my own out of cardboard and book shelves. And I'm better for it. I rarely got to sit around the house watching TV; I had to make my own adventure. So my old pal Emily and I would go "exploring;" Frontier Park, the "castles" – otherwise known as the old Strong estates down by Erie Day School – and South Shore were our adventuring spots.
Such imagination. Nothing my mother ever did or does was half-arsed. To this day, she still threatens that she's going to stencil the driveway. I'm sure she will, and it will probably be checkerboard.
These active and creative moms also tend to be very fashionable and dress their children with pizzazz – mixing patterns, big rain boots, adorable straw fedoras, and silly, whimsical, and fantastical costumes to dream the day away.
These ladies are lovely and inspiring – active moms love function, so anything worn will be for class and comfort. Running after mischievous loved ones proves quite trying on the tootsies, so comfy, cute flats put the cushion in rushing around. Flowy tops and skinny jeans keep a busy mom looking crisp, on trend, and smart. Hair pulled into a ponytail keeps it all in its place allowing these maternal mavens to shine.
Let's face it – mom looks good no matter what she does because she's our mom!
Guys, just keep the loving coming – oh yeah, and the foot rubs!
Here are a few mama blogs that are packed full of great ideas and visual goodies: www.ohmystars.me, www.paintthemoon.net, www.thepioneerwoman.com, and www.meaningfulmama.com.
Who? Jessica Hunter with babes Audrey and Leo
Where? Frontier Park
Why Jessica? Well. You tell me. She's perfect, isn't she? Jessica is the quintessential beautiful, active, creative, smart, silly, imaginative mama bird – as she calls herself – wandering around in wonderment with her lovely bitties!
Just check out her Instagram (@ohjessicah); you will see what I mean. She's a visionary, and it's trickling down to her little ones.
Now this is a mama who needs her own blog. Though she makes it look easy, every thing Jessica does has thought and purpose. Birthday parties, Sunday morning's breakfast, crafting and play time all have serious fun, cerebral pertinence, and imagination. Love her, love her, and love her.
What We Want to Know:
Describe your style. I feel like I am sort of a chameleon. Always a classic black dress kind of gal, but I still like to be comfortable, casual, and playful with everyday looks.
Describe your children's style. Well, Audrey is a girl after my own heart. Her look usually requires a dress or a skirt. Leo has no choice in the matter; I like to put him in bright colors and patterns as long as he seems comfortable and can wiggle.
Your inspiration, be it design, style aesthetic, architecture, or a certain celebrity. I get inspiration from multiple sources; I think that experimentation is the key. Sometimes a color invigorates me; other times, I see exemplary style – I observe and replicate.
Favorite grey-day project, and with that, favorite sunny-day project. I'm usually crafting. Anything that looks interesting can probably have some new life with updated colors, paints, and patterns. Either that or you will find me baking with the kiddos during Erie's famous long winters. If it's sunny and warm, you're almost guaranteed to find us outside enjoying the sunshine and fresh air.
Least expected place in Erie to have fun with your babies. Gosh, this is a tough one! For "least" expected: Target, maybe?! [she says, laughing] For the more "typical," I definitely have to say the Peninsula. We try to have fun everywhere we go.
Your Instragram visuals are excellent. Tell us your tips on taking an interesting photo. I am a big fan of natural light, different angles, and using filters to change the mood of a photo. Whether it be snapshot of my babes or beautiful Lake Erie, if it makes me feel something I like to share.
How has social networking changed for mothers? Is there more of a sense of community now? I've connected with a pretty awesome community of people online. I love being able to share a small glimpse of my life by following and connecting with other moms. Social media also inspires me to slow down and take the time to snap a photo, to capture even the littlest moments in life. Don't get me wrong; I am certainly not the type that has to capture every single moment, either. You've got to find a nice balance. Nothing worse than the "iPad Videographer" who is missing out on life right in front of them because they were too busy trying to socially share.
What is the coolest thing out there for kids right now? Audrey has a pretty cool dancing robot pet named Fijit.
I always hear people say, "Erie is the best place to raise children." What are your thoughts on this? We truly love Erie. Erie's a place where you feel like you know everyone, but you can still meet new people every day. There is always something for us to do. I've always said Erie has at least one of everything, which is unlike a lot of other places in America.
If you could add anything to Erie's community to better the growth and education of our youth what would it be? Maybe a museum of natural history – wouldn't that be nice? I've always thought it might be cool to have more community pools, kids can learn a lot about life out there. That's a tough question without getting political - but I know that I love learning, and I want our children to grow up with a love of learning that never stops.
Best birthday theme to date (you have some cute ones!). Leo's lumberjack party at the Log Cabin on Presque Isle was pretty fun. Even the adults had a good time!
Fill in the blank: I love the smell of _____ lilacs___ in the springtime.
Finish this sentence: When I have a minute to myself, I indulge in _____my sewing machine!___
Jessica is an Erie native who still jumps a pretty mean Double Dutch. She is currently helping to plan the Erie Art Museums pARTy on the Patio – one of Erie's best summer events. Check out her Instagram @ohjessicah.
Find me out on the town and challenge yourself to get noticed by the Erie Reader!