Street Fashionista?Stephanie Potous-Eaker
The Bold and the Beautiful: Stephanie Potous-Eaker
November 16, 2011 at 4:00 PM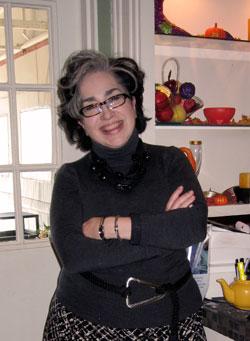 As we bundle our way into the winter, some of the best fashionable companions are bold accessories that make a statement.  Instead of a plain old wool scarf, step it up with a colorful, zigzag Missoni-inspired one.  Not another knit cap—try a felted fedora with a vintage brooch to jazz it up. Simple crocheted gloves are replaced by leather ones with alpaca or goat fur, and keep yourself warm this season when you cozy up to the glow of a glittery, shiny, sparkly cocktail ring .
Statement pieces are multi-functional they start a great conversation and you look unforgettable.  It's best to pair them with basic looks—jeans and a cashmere sweater with killer boots, a big snake ring, and a vintage necklace—as a great way to start. Keep things simple but up the ante with really fun add ons.  Take a plunging v-neck maxi dress, add a vintage silver belt and some insane chandelier earrings, and you have instant chic. 
Some of the most iconic women in fashion are more concerned with the new Mulberry bag rather than the newest hemline coming down the catwalk.  And just for a moment, let's consider the shoe fetish…
Marilyn said it best, "Diamonds are a girl's best friend…" Well, so are handbags, stilettos, silk scarves, and hats!  Here's the point: accessories always fit, they are reliable, and they never let us down.  Even when we can't fit into the body-hugging cocktail dress we so loved, we can always slip on the 6-inch heels.
Who? Stephanie Potous-Eaker: the only woman who can make an apron look good!
Where? Summerhouse Caf?, Erie
Why Stephanie?   She is an Erie icon in her own right.  Everyone knows Stephanie by her bold, beautiful style—oh, yes, and her fabulous hair!  Stephanie has a knack for choosing great accessories to accompany her garment choices.  I have always seen her use silk scarves, bold necklaces, and eye-catching rings.  When she's not running around the restaurant she keeps a to-die-for pair of pumps to complete her look.  A true lady, Stephanie always has the perfect shade of lipstick and her Hermes perfume!
Style Icon?  Donna Karan, "For her love of continuously coming up with layers using blacks and greys, it's always fresh, stylish and smart."  Vintage anything!  Especially from the '40's, '50s, and '60s.  "Fortunately since I had a mother (very stylish too!!) who never threw anything away, I still get to have my own private stash of fun!"
Style Motto?  "In all that you do, make it fabulous!"
What current pastries are exciting you this season? "I am enthralled with French Macaroons and seeing what fabulous flavors we can bring to our guest table." 
PS: If you have never tried one of Stephanie's famous coconut macaroons, run to the Summerhouse Caf?—you will thank me later!
Find me out on the town and challenge yourself to get noticed by the Erie Reader.