Streets Fashionista: The Leszeks
Fashion... It's a family affair.
January 22, 2014 at 9:00 AM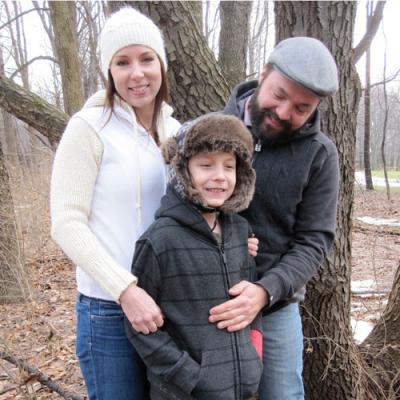 Forward motion into 2014, our bodies are moving and our spirits are lifted. The thing about Erie is there are so many great places, in every season, to accomplish a great workout. Even better, share that runner's high with a partner!
I am a sucker for winter hiking. Something about getting all bundled up with my big boots on and walking. I love the duality of the brisk air on my face and the warmth beneath my layers of clothing. The skies are inspirational and the naked trees are like bodies of art. Crocheted hats, knitted scarves, furry boots, and bulky jackets, coupled with woolen socks and mittens – sigh.
I have always been a fall and winter dresser. I love the multitudes of options, from sweaters to boots to tights and leggings. Guys can nail this look too. A cute skullcap, a thick sweater and some jeans – not to mention a man and a scarf; brilliant!
Who? The Leszeks: Cris, Shannon, and Tanek
Where? Scott Park
Why these guys? I can't think of a more active and outdoorsy family. From hiking, running, and biking to snowboarding, this family is constantly in motion – and with great style and big hearts!
Shannon:
Your Instagram (@LongLiveTheBunny) photos are amazing; you clearly spend a lot of time outdoors, connecting with nature. When are your favorite moments?
My favorite moments in nature are when something catches my eye and I stop to capture it so I can share with the world what I see. I don't think there's an end to the beauty around us.
 What are some of your favorite trails in Erie for a hike or a run – or just to take in the beauty?
My favorite trails are in Asbury Woods. I run there, hike the creek with Tanek in the summer, and when I need to unwind, I just stroll through the woods. I'm also fond of the trails at Wintergreen Gorge and run at Scott Park. If I want a challenge, I run on the sand at Presque Isle, which has a beauty all of its own. It's truly a treasure of Erie.
When you aren't running, jumping, and climbing, what is your go-to outfit?
My go to outfit is jeans that fit just right and vintage T-shirts. It's what I'm most comfortable in. I do like to get decked out in a dress and heels – who doesn't want to be gorgeous every now and then? – but by the end of the night, I'm dreaming about getting into one of those vintage T-shirts!
Cris:
It has been said that a family that plays together stays together. What are your favorite ways to stay active?
Cycling, snowboarding, and hiking seem to be our best binders.
Describe your favorite season and how you choose to enjoy it? My favorite season is winter.
Lake-effect powder days at the Peek and the perpetual rhythm of men's league hockey. I also love frozen bay hikes and the mood of the winter sky.
What's the best place in Erie for a brewski or to catch up with friends?
A great place to have a post winter-workout-beer is by the hearth at the Wilderness Lodge in Wattsburg.
Tanek:
What are some of your favorite things to do with your Mom and Dad?
Snowboarding.
Tell me what is your favorite season?
Summer
One last question for you all: If you could have a super power, which would you chose?
Shannon: I would like to be able to fly, and when I say fly, I mean superman fast, not Canadian goose fast.
Cris: I would probably go with being able to manipulate time and space – Dr. Who kind of stuff. Of course, Vulcan mind meld would be cool, too.
Tanek: Telepathic mind control
Find me out on the town and challenge yourself to get noticed by the Erie Reader! Leslie McAllister can be contacted at LMcAllister@ErieReader.com, and you can follow her on Twitter @ShopJuJu.