Streets Fashionista: Joey Mancuso
Erie, get to know your first blow-dry bar.
February 19, 2014 at 6:52 AM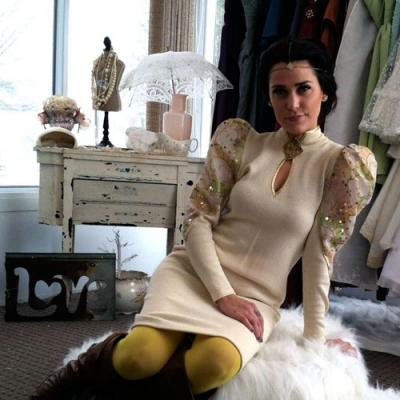 Fashion is a fantasy world – I don't care how you spin it. We wake up every day and we become someone different. That someone is however we interpret what we are feeling at that moment. The shy sovereign, the empowering empress, the chic Sheik – whichever hat we choose to put on, that is who we become.
Isn't that what makes dressing up so fun? The challenge is to not take it too seriously yet truly embrace it.
For the ladies: try that boho-goddess headpiece with the amulet that hangs at your third eye. Girls, there is no reason to be afraid of sequins. Get sparkling; they can be for day or night. Those fairytale dresses aren't just for seven-year olds anymore; are you really going to let that three-foot, five-year old out-dress you? Adorn yourself in flowing chiffon frocks of pale orchids, petals and mint. Join the princess party; embrace your inner Jasmine, Ariel, and Cinderella. Besides, they are all very fantastic women with very special stories that make them unforgettable.
Oh, and gents? Just provide the velvet pillow with the crystal shoes, the horse drawn carriage and the palace far, far away.
Where? The future site of Blow, Erie's first blow-dry bar. For those unfamiliar with a blow-dry bar, this is a salon that shampoos and styles hair – no cuts or colors, just blow-drying and styling. Maybe the client is looking for a blow-out with a round brush or an updo for a classy event. Joey  Mancuso will also be doing makeup and eyelash extensions – fake lashes added to yours for a longer and fuller lash look. In short, Blow will be helping you to look your best for your next formal event.
Who? Joey Mancuso
Why Joey? She is the consummate princess, like Snow White incarnate. Not to mention this kid is the full package – beauty, brains, talent, style, and personality. She is one to watch…Erie's it girl.
What We Want to Know:
Describe your style. Unique, edgy, and honest; I wear my emotions. People say "you always look so different," and that is true in part due to the fact that my outfits for the day are generally based on exactly how I am feeling.
Craziest item in your closet? If it looks like something your grandmother might own or something Edward Scissorhands might wear, then it's probably in my closet.
Earliest memory of dressing up and putting on makeup? My mom has owned her own salon for 27 years, so throughout my entire life, the shop was my second home. I remember watching my mom do her makeup every morning as a little girl and begging her to let me play with it. My dad was always shocked at how well I could do my own makeup, even as a little child.
Who is your style guru? Lady Gaga inspires me so much. I think she is completely ahead of her time, and I love her fearlessness. If ever I have a big project approaching, I will watch a couple of her music videos and gain this extra boost of creative energy. I also pull a lot of makeup ideas from Tim Burton movies, starting with Pee Wee's Big Adventure all the way to Nightmare Before Christmas; there are so many wonderful things happening that get my brain ready to compose.
Favorite decade? '70s. Anyone who knows me knows that I love my hippie headbands. I just love the whole '70s flower child vibe and the flowy, carefree approach to that style.
Most awkward fashion moment in your life? There was definitely a time when my eyeliner and lip liner were the same thing and my silver lipstick matched my mouth full of braces. I also had a brief encounter with painting my eyelids with nail polish! It would burn so bad but ended up looking really cool that I would just remind myself 'beauty is pain.' Luckily I grew out of that!
Tell us about your journey into styling. I feel like I was born with it. I remember in fourth grade, I cut my best friend's hair from the middle of her back up to her chin with construction paper scissors and her mom didn't get mad because it looked so cute! I went to school for as long as I could, I took every course available, and I still attend classes to this day. In this business, if you're not constantly learning what's new, you will fail. I work really hard, but I live for this stuff and I love making people look and feel beautiful.
If you could be one beauty product, which would you chose? Mascara, because who doesn't love mascara?!
Blow is your new endeavor, and Erie's anticipated blow-dry bar. What are your plans? Blow-dry bars are huge in big cities, and I want to bring that big-city feeling to Erie. I want to offer a place where my clients can come and feel like celebrities. My friends and I always say, "I wish there was a place we could go and just have someone get us ready," and that's exactly what I'm doing. I feel as though teaming up with Pointe Foure, Erie's newest vintage clothing boutique, is essentially what this town needs. We are definitely raising the bar for Erie and I couldn't be more excited to show everyone what we have in store for the future.
Follow Joey and her style diary on Instagram @jmancuso22.Blow is on target to open in March, sharing space with Pointe Foure Vintage Boutique 1804 W. Eighth St.
Find me out on the town and challenge yourself to get noticed by the Erie Reader! Leslie McAllister can be contacted at LMcAllister@ErieReader.com, and you can follow her on Twitter @ShopJuJu.