Strong Vincent Generational Awards Ceremony this Friday
Students and alumni to honor grads.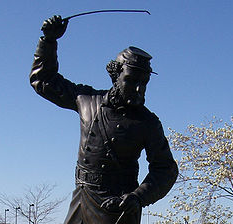 The Strong Vincent Alumni Committee will host their inaugural "The Strong Vincent Generational Awards Ceremony" beginning at 5 p.m. on Friday, May 11 in the cafeteria of Strong Vincent High School. The event will honor Strong Vincent alumni who have made a positive contribution to the Erie  region; it is free and open to the public.
"We want our current students to be proud of their school and its contributions to the Erie community and beyond," said event organizer Marcus Atkinson, who is also a 1988 graduate of Strong Vincent. "Bringing attention to the accomplishments of people that have walked the very same halls as them is a great way to drive that point home."
More importantly than recognizing the contributions of alumni, Friday's event is meant to call attention to the need for ongoing alumni and community support. "Our children deserve a facility that's visually stimulating with updated equipment and technology, a state-of-the-art athletic field that could be used to generate income for the school," said Atkinson. "It's time we expand our goals for Strong Vincent as boosters and alums are doing for their Alma Maters, particularly in the private school sector."
Music and light refreshments will be offered, as will a chance to view yearbooks and photos from years past. At 7 p.m., the event will move to the school's gymnasium, where an awards ceremony will take place to confer recognition on the following impressive lineup of distinguished Strong Vincent Alumni:
Mr. Nick Scott (class of 1959), owner of Scott Enterprises
Ms. Joyce Savocchio (class of 1961), first female mayor of Erie, and former assistant principal at SV
Mr. Barry Grossman (1964), Erie County Executive
Mr. Gary Horton (1970), former school board member, CEO of the Urban Erie Community Development Corporation/Reverend E.F. Smith Quality of Life Learning Center
Ms. Erin Connelly (1995), Assistant District Attorney
Ms. Danielle Johnson, MD (1993), Psychiatrist and Assistant Professor at the University of Cincinnati
Mr. Michael Blanks (1989), actor and fitness guru
Mr. Anthony Quinn (1988), recipient of Military Service Award for 22 years of high-ranking and honorable service in the US Army
Mr. Ron Steele (1972), CEO, GECAC
Mr. Pat Cappabianca (1950), former city councilman
Dr. Anthony Snow, MD (1970), lead physician at Community HealthNet
Atkinson elaborated on the importance of the event. "Contrary to popular opinion, many of Erie's best, brightest and most productive citizens are Strong Vincent graduates. When we say  'We are SV!' it's more than just a generic statement. It represents a level of excellence and dependability that our current students and the community as a whole need to be reminded of. Be it with a blue or white collar, we have been significant contributors to the very history and viability of the city of Erie."
Although the event is free, reservations are requested. For more information on the event, contact Marcus Atkinson at SV_Generations_United@alumni.com. To RSVP, contact Kim Brace at 814.572.2660.