Summer Music Festival Road Trip
Music festivals are the musical Mecca for concertgoers. People travel far and wide to attend any of the hundreds of music festivals in the world for a chance to see a collection of bands play in a single locale. From Glastonbury, which draws 175,000 people a day, to Water Hill, where anyone can play on a nearby porch, music festivals are as diverse as they are abundant.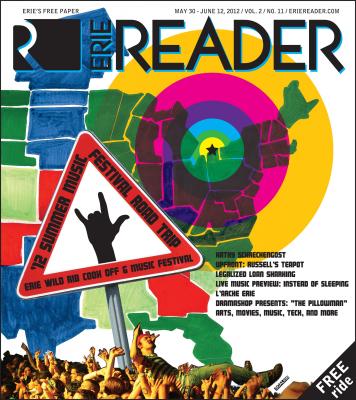 Life is full of firsts. Many of these first times will compose some of the best moments of your life. From a first kiss to the first time away from home, these events can shape the way you see life, helping to mold you into who you are and what you want to do.
For music fans, that first concert can be heaven.
I'll always remember when my dad took me to see Barenaked Ladies and Alanis Morissette at Blossom Music Center. The air seemed so alive in Cuyahoga Falls, Ohio, with the amphitheatre buzzing with excited Ohioans, as well as a smattering of dedicated Canadians.
After that show, I was hooked. I began reading up on the latest releases, scouring "best of" lists, and devoting my ears to the bands I'd never heard of before. I had just started getting into music not long before then, but now that I was exposed to this experience, I needed more – more new music, more live shows, more of what I had felt at Blossom. From searching the web for the latest obscure cover to hosting my own radio show just because I love sharing the music I immerse myself into, my life is one big Pandora station. That show was the beginning of a musical addiction that I gladly bear today.
If a single concert can have such an impact on a person, imagine what a weekend full of them can do.
Music festivals are the musical Mecca for concertgoers. People travel far and wide to attend any of the hundreds of music festivals in the world for a chance to see a collection of bands play in a single locale. From Glastonbury, which draws 175,000 people a day, to Water Hill, where anyone can play on a nearby porch, music festivals are as diverse as they are abundant.
Despite all the choices, sometimes people never realize what events they are missing. Add in that whole "having to work" issue and it can be downright frustrating to make time for that musical vacation that everyone should treat themselves to. Even with all the inconveniences standing in the way between you and fun, John Mathews, the afternoon drive host on Z102.3 and experienced festival fan, thinks you should make time.
"It's something someone should do at least once in their life to know what that experience is like," Mathews said. "I love music festivals, because there are bands that I want to see, and then there's bands that I would see in that situation because I'm a music fan and I enjoy it. I'm not someone that's going to walk away from music I don't know. If I hear it, I'm open-minded to hear what it sounds like."
Sadly, everyday life can get in the way of this experience. Luckily for you, the Erie Reader is here to help.
It's time for a road trip.
Here's my plan. We're all going to quit our jobs and go on a three-month adventure, driving from music festival to music festival to seek out some of the best shows in the world. Shows will be as far as Manchester, Tenn. to as close as downtown Erie. We will not tire, we will not give up, and we will have the time of our lives.
…or you can just pick out the festivals that interest you and go to them. That's cool, too.
So how shall our trip begin? Well, I say let's start with a bang. It's Bonnaroo time.
The Bonnaroo Music and Arts Festival is the farthest drive from Erie on our list, clocking in at 11 hours. While the distance may concern some, attending the four-day outdoor fest can be a near religious experience for music buffs. Starting on Thursday, June 7, Bonnaroo hosts dozens of bands ranging from indie to hip hop, electronic, bluegrass, and more. With headlining acts such as Radiohead and The Beach Boys, the 100-degree heat and lack of showering is a small price to pay for a plethora of sonic pleasure.
I understand if you're not sold on the idea just yet. A music festival can be an intimidating thing, especially one that corrals 40,000 people on a 700-acre piece of farmland in Tennessee. The hot, sweaty days of camping may seem discouraging. Even Gabe Simon, guitarist and vocalist for the Kopecky Family Band, a six-piece indie rock band that's played everywhere from Bonnaroo to South by Southwest, had his reservations at first.
"I made a pact that I wouldn't go to festivals unless I was playing in them because I didn't like being dirty, and I didn't want to be out in the sun all day long," Simon said. "Now, I'm going all the time. I love them. It's one of those things where you have to figure out if you're okay with them. I'm so excited to go to Bonnaroo and just enjoy music, and that sounds so awesome to me, because you're just running around doing this and that, you don't even get a chance to breathe, but this is going to be a really nice weekend to go see bands I want to see."
While not playing at Bonnaroo this year (Simon will be gleefully attending anyway), the Nashville, Tenn. sextet will be playing several festivals this year, winning over fans with their infectious ear candy, combining catchy melodies and harmonies in a lushly orchestrated indie rock package that's caught the eye of NPR and other alternative music boosters.
"It's one of those things where you walk out on stage and you're playing for 1,500 to 2,000 people at like 2 o'clock in the afternoon," Simon said. "I walked off the stage, and I just collapsed on the ground because I was so exhausted. I walked back in on the stage and everyone started cheering again. It was just one those things where you weren't sure what's going to happen and you walk away and we would step outside and the people were behind the tent and they were patting us on the back. It's one of those things where you try to remember everything that happened, but I could only remember certain details just because I was so overwhelmed."
With so much happening in one place, it's easy to understand why a music festival can be a blur. Everything, from massive sing-alongs to raging dance parties and that one conversation with a topless girl with the Batman logo painted on her chest while waiting for Weezer's set to begin, can pass by in one remarkably fantastic experience. It's a series of several small moments amassed in one giant event that festival goers live for.
Now, if you're a little less Donny and a little more Marie, then your destination should be an hour northwest of Bonnaroo, where Nashville's CMA Music Festival runs on the same timeframe. 
The massive country festival boasts a lineup of the genre's biggest stars, drawing in Blake Shelton, Lady Antebellum, and more to the delight of tens of thousands. Also, since it's such a short drive from Bonnaroo, you can split time between the two festivals, because I know everyone is joining me on the road trip (I can fit 2 ½ people in my truck, Ol' Big Sexy, so call dibs if you need a ride).
With Bonnaroo and the CMA Music Festival under your sweat-stained belts, you tend to pick up some necessary tips to help make life on our road trip a little more enjoyable. Sometimes it takes an experience with dirt-covered hands and no silverware to realize the best way to go about your everyday festival routine.
"Favorite festival food? Anything on a stick," Mathews said. "Generally stay away some sweet things. I drank a lot of water. I learned really early that you got to drink a lot of water in places like that. That's always sensible advice to anyone. It's ridiculous how dehydrated you get there. I think it's important that your experience be as pleasant as it can be and you need to make sure that you're prepared enough." 
Now that we've started to perfect our festival techniques, we're taking our trip to Toronto, less than four hours away from Erie. Starting on June 17, North by Northeast hosts 650 acts over a full week, with bands like The Flaming Lips and Archers of Loaf leading the way. The festival is so huge, it's spread out across the city, so you can turn a corner and find something great. Hell, there's so many bands in in one place, you might even be able to find a post-punk group performing in your salad.
After hitting three huge festivals in a row, it's probably time to take it down a notch. Luckily for us, our next stop is at the Oil Region Indie Music Festival. A one-day event, 30 bands take over Oil City for an event that's a bit closer to home. Even better, this festival is free, meaning you can see local favorite Seth Brewster and plenty of other acts perform without whipping out your wallet.
While the Oil Region Indie Music Festival doesn't require payment, most do. Despite the unfortunate nature of having to hand over some of your hard-earned money, festivals really provide a huge return on your investment. With some concert tickets ranging in the hundreds of dollars, the price of a multi-day pass can be a way to see several acts for the same amount as a ticket for a single, in-demand show.
Another free festival is the Erie Summer Festival of the arts. Inhabiting Liberty Park from June 22 to 24, the event hosts acts like Sister Slege and Ron Yarosz and the Vehicle, as well as theater and dance shows.
After taking a little break back home in Erie, we're ready for the seven-plus hour drive to Rothbury, Mich. for the Electric Forest Festival. Starting June 28, the four-day celebration boasts a lineup of consisting of several jam bands and electronic groups, making this the perfect place for anyone that loves both The String Cheese Incident and Girl Talk.
On the way back from Electric Forest, we'll pass right by Erie, headed for Sherman, N.Y. Just 10 miles past the border of Pennsylvania, the Great Blue Heron Music Festival, running from July 6 to 8, is an event that makes for a vacation with a drive time of less than 40 minutes.
"[The Great Blue Heron] is the best kept secret that I can think of," said Ron Yarosz, front man for local blues band Ron Yarosz and the Vehicle. "It's carefree and fun and no stress. It's kind of like a mini vacation."
Including Yarosz, the Great Blue Heron features several bands that make the rounds through Erie, including Shotgun Jubilee and Big Leg Emma. While several of the groups have local connections, the festival draws in plenty of acts from across the continent, according to co-coordinator David Tidquist.
"Originally, it was made up of bands that toured through here and that people were familiar with, but as we expanded, we started introducing our fans to new bands," Tidquist said. "A good amount of our bands are national. We have bands coming from British Columbia, Florida, way over in the east, from Massachusetts and Connecticut. They're from all over."
The festival started off fairly small, hosting 800 attendees on a large plot of land. Since then, the Great Blue Heron has increased tenfold, with Tidquist's outlook on festivals changing along with it.
"It's become much more, even for myself," Tidquist said. "Before this, I was strictly involved in music, period. When you start getting into all the other aspects and seeing all of our volunteers, who, for whatever reason, really want to pitch in and help, it makes us really look at the other end of it. I used to just concentrate all about the music, and now it's as much about all the people that are there as much as the musicians themselves."
Yes, music festivals are based around the bands that are playing for your viewing pleasure. These events aren't completely about the music, however. It's about everything that goes on over the course of the event, from the shows to the small talk. 
"It's definitely a whole thing of its own," said Eric Brewer, guitarist for Eric Brewer and Friends as well as Ron Yarosz and the Vehicle. "If you've never been to one, you can't really imagine what it's like. It's a whole experience with all the people you're going to meet, you've got the vendors selling all kinds of stuff. It's an experience of a magnitude that you can't even imagine until you go."
Brewer, who's playing with both bands at the Great Blue Heron, attended several festivals growing up and relishes the chance to play at an event that's so enthralling.
"For me, it's probably my favorite gig to play out of anything," Brewer said. "I love club shows and stuff like that, but there's something about an outdoor festival. You get to meet all the different bands that are playing and everybody is really cool. The type of crowd that they draw, it's people that are really into the music."
The artists understand the allure of these festivals just as much as the fans travelling far and wide just to attend. Some groups, however, will do some of the travelling for you, which is good, because you people have no bladder control and I'm getting tired of pulling over for potty breaks.
Our next stop is for the Vans Warped Tour, which features plenty of hard rock and alternative groups. This time, though, we have options. The Tour travels across the country playing one-day events at a variety of venues, visiting Cuyahoga Falls, Burgettstown, Pa., Toronto, and Darien Lake, N.Y. throughout July. With bands like Taking Back Sunday and New Found Glory playing, the show should appeal to the youthful punk inside you.
Similarly, Mayhem Festival, a touring show for the metalheads out there, comes through Cuyahoga Falls and Burgettstown later in July. Assembled by Vans Warped Tour founder Kevin Lyman, Mayhem features bands like Slipknot and As I Lay Dying in a lineup that will get you headbanging in no time.
While we decide which of the touring stops to go see on our trip, we'll start the six-hour drive up to Mariasville, N.Y. for Camp Bisco. The electronic festival features the likes of The Disco Biscuits and the dubstep king, Skrillex, all on display starting July 12 to 14. Six hours in the other direction, Bunbury Music Festival starts July 13 in Cincinnati, Ohio, with Death Cab for Cutie and Weezer headlining the three-day celebration, effectively splitting our road trip up. On top of all of this, the Pitchfork Music Festival begins July 13. Based in Chicago, the festival is run by Pitchfork, one of the most well-known alternative music websites around. Stretching over three days, the city will host critically acclaimed bands like Vampire Weekend and Cloud Nothings, giving our group three different festivals to see in a short period of time.
Luckily, everyone can get back together for our next stop, meeting in Erie for Roar on the Shore July 19 to 21. While not a true music festival, the bike rally does feature bands like Kix and Great White, as well as Grand Marshall Vanilla Ice, over the course of three days, giving us a good chance to visit home and enjoy our city.
We'll have to get back on the road soon if we want to catch a pair of festivals in Ohio, the land of my birth, and, more importantly for this trip, cheaper gas. Both held from July 19 to 22, All Good Music Festival and Jamboree in the Hills call Thornville and Morristown, respectively, home. 
After spending several years in Masontown, W.Va., All Good is in its first year at its new location, boasting a lineup consisting of The Allman Brothers Band, as well as The Flaming Lips and Michael Franti & Spearhead. Just an hour and a half east lies Jamboree in the Hills, a country festival that draws in fans from far and wide so that they can see acts like Rascall Flats and Little Big Town.
After those two festivals, we can head to the Pittsburgh Blues Festival. Running from July 20 to 22, the three-day event raises money for hunger each year, giving us a chance to not only check out some great blues bands, but also help out a good cause, as long as we don't lose the majority of our musical caravan in the city. Seriously, Pittsburgh's road map looks like it was drawn in an earthquake, but maybe that's just the Ohioan in me.
While the Pittsburgh Blues Festival has a reputation aiding others, sometimes these events catch flack for partying too hard.
"I think a lot of people think there might be a lot of partying and riffraff, and that's not the case," Yarosz said. "[The Festival arrangers] make it family friendly, and of course there is some partying, but for the most part, everybody is good natured, it's non-confrontational, you won't meet many trouble-makers, if any, and it's a good, relaxing vibe."
While some festival goers do get out of hand occasionally, Brewer says the number of troublemakers that do feed this wary view of these events is low.
"That negative connotation is a little unfair," Brewer said. "99 percent of the time it's about the music and having a good time. They have a reputation that you go there and everything's super messed up. For most of the people there, that's not what it's about. People are going to have a good time and do whatever they want and that's kind of the beauty of it. As long as you're not bothering other people, you can pretty much do whatever you want. It's when you cross the line and you're bothering other people and ruining their good time, that's when it gets a little hairy, but all the one's I've seen, it never became enough a problem."
If you're still in doubt, our next stop in Girard should help ease your worries.
The Gathering at Chaffee's is a two-day, two-night festival located on the Chaffee family farm starting July 27. While camping out, you can check out several stellar Erie favorites all in one place. From Aqueous to The Stagecoach Robbery, the event promises a good time for everyone who joins in on the fun.
"The Gathering at Chaffee's reminds me of a small city," Tracy Evans, general manager/promotions director at the crooked i. "Almost everyone there knows each other since they've all been going to Chaffee's for 20-plus years. It has a great community feel to it. It's a gathering of friends. If you need something, there are plenty of people around willing to help and that's comforting."
This year, Evans, along with crooked i Proprietor Marty Scwhab and Booking Agent Ryan Bartosek aided Doug Chaffee with the promotion and booking of the event. With the combination of talented performers and the enjoyable atmosphere, Schwab has experienced the charms of the Gathering firsthand.
"I am not a first timer when it comes to the festival circuit, and last year when we attended Chaffee, it felt like this amazing transformation of all the faces I see on State Street moving to the woods," Schwab said. "In the hustle and bustle of today's world, a festival is a great 'escape.' For a couple of days, you get to drop your guard and take in the great music and sense of community that comes with the festival circuit. At the very least, it is a grounding experience, to some a spiritual one."
After our time at the Chaffee family farm, our road trip hits its final month. By August, we've seen several festivals fly by, but there's still a good number left before the school kids have to report to class. In fact, one of the biggest blasts is just around the corner, starting August 3.
Lollapalooza used to be a touring festival, just like the Vans Warped Tour and Mayhem Festival. Now, the three-day party resides in Chicago. The festival grew to be so popular, that now offshoots of the event were hosted in Chile and Brazil. With The Black Keys, Jack White, and Black Sabbath headlining, the seven-plus-hour drive is well worth it, even with our caravan getting stuck behind a 18-wheeler right where construction forces I-90 to one lane.
After leaving The Windy City, we head back home to Erie for a final pair of parties. Overlapping with Lollapalooza, the Erie Art Museum's Blues and Jazz Festival kicks off August 4, showing everyone attending in Frontier Park how talented the local musicians are for the price of, well, nothing.
Appropriately, our adventure ends with Celebrate Erie. With the lineup still to be announced, we don't know yet what our finale on this three-month-long excursion holds for us. Still, after spending so much time away from Erie, it's nice to kick back, relax, and enjoy the benefits of the music scene in this town. After a lifetime's worth of experiences over the summer to be had, they don't mean much if you can't share it with them your friends and family.
Still, there's something to be said about that moment where the enormity of the festival around you finally hits home. While you're just one person in a sea of music lovers, that single connection binds you to the whole experience. Even after playing at all these huge festivals, Simon still gets that feeling in the pit of your stomach where you just can't believe how magical that moment is.
"It's a really weird feeling, but it's good," Simon said. "It's exiting and exhilarating, and it's kind of funny because every time we've done something like that, I can't stop laughing, because it's one of those things where it's like 'okay, how did I end up here' kind of thing."
Sometimes all you can do is just laugh and enjoy the moment. You can quit your job and embark on a three-month journey or pick out the festival that calls out to you. It's whatever you want to do—as long as you have fun and enjoy the ride. Really, that's what summer music festivals are all about. 
Alex Bieler can be reached at abieler@eriereader.com