Summer Music Festival Preview 2019
2019's sound check for the solstice
If you're looking for a weekend filled with great music and unforgettable times, there are plenty of music festivals to check out in our area. In mere minutes, you can escape to a place where the lineups are packed and the vibes are good. Some are more for the hippie-hearted, while others cater to a more lighthearted folkier crowd. Many include easy options for camping and all are less than an hour-and-a-half away from Erie, PA.
The best fests that hit close to home
Downtown Edinboro Music & Art Festival
May 16 - 19
Edinboro, PA (30 minutes away)
Headliners: Donna the Buffalo, Jim Lauderdale, Tiger Maple String Band
Right after graduation, the college town of Edinboro gets ready to host their ever-growing celebration of music and art. A great unofficial start to festival season, this weekend serves up performances spread out over four days and six stages throughout the borough, with folky sounds wafting all around for a family-friendly vibe.
Edinboroartandmusic.com // Various locations, downtown Edinboro, PA // Free (no camping) // edinboroartandmusic.com
Cambridge Springs Music Festival
June 6 - 8
Cambridge Springs, PA (42 minutes away)
Headliners: Erie All-Stars present Tom Petty, Chestnut Grove, Erin Harpe and the Delta Swingers
The sophomore effort brought to you by the Cambridge Springs Fire Department carries on the legacy of the long-running festival at the historic Riverside Inn, which was lost to a fire in 2017. Catch acts on multiple stages over three days, filled with some of the best regional talent around playing rock, blues, indie, folk, and more.
CambridgeSpringsMusicFestival.com // Various locations, Cambridge Springs, PA // Free (no camping option) // cambridgespringsmusicfestival.com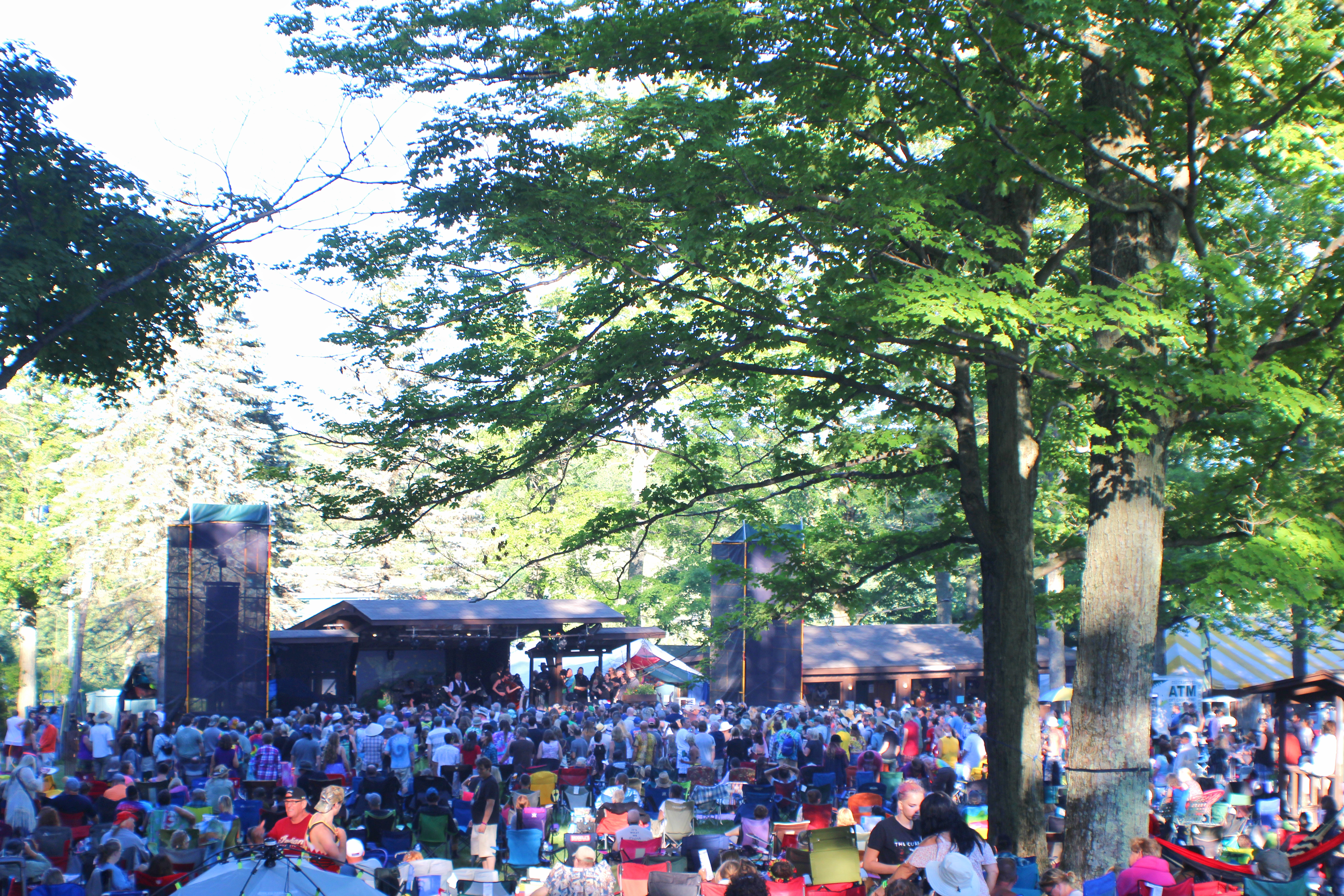 Crowds gather to watch Town Pants' performance at last year's Great Blue Heron Festival.
Great Blue Heron
July 5 - 7
Sherman, NY (42 minutes away)
Headliners: The Wailers, Donna the Buffalo, 10,000 Maniacs
Since 1992, the Great Blue Heron has grown to become a can't-miss weekend for thousands of new and dedicated fans each year. This gorgeous location (home to an organic farm) has evolved to be perfectly designed for the festival experience, with covered forests, scenic views, and well-kept stages and facilities. The Heron is unmatched, the #1 destination for folk, Americana, and roots music for a weekend camping experience. With its unique and unforgettable family-friendly atmosphere, it's easy to have a "happy heron" here.
2361 Wait Corners Rd, Sherman, NY // $130 gate, $100 early bird (plus camping fees) // Youth options available // Greatblueheron.com
Roar on the Shore
July 17 - 21
North East, PA
Headliners: Lita Ford, Night Ranger, Stryper
Voted Erie's Best Festival in the Erie Reader's Best of Erie awards in 2018, Roar on the Shore is an epic celebration of the motorcycle life. This year's grand marshal, Kim Coates of *Sons of Anarchy, will lead the parade on Thursday, with concerts going on all weekend on two stages, and special rides happening throughout Erie County. Much to the delight of most peace-loving festival goers, a recent change of plans has this year's festivities centered around the Lake Erie Speedway, and not downtown Erie, as it has been in past years. As the sound of revving engines and sight of leather and chrome will fill the race track and beyond, as thousands of riders visit the area for the festivities.
Roarontheshore.com // Lake Erie Speedway, 10700 Delmas Dr, North East, PA // concerts free, offering a premium viewing option (no camping), charges and registration apply for selected events // roarontheshore.com
Whirlybird Music Festival
July 18 - 20
Jamestown, NY (52 minutes away)
Headliners: Tropidelic, lespecial, After Funk
Now in its second year, Whirlybird has grown from one day to three. Located in the heart of downtown Jamestown, the festival helps to raise money for the Infinity & YMCA Camp Onyahsa music and scholarship programs. The lineup of high-energy, danceable bands is a well-curated assortment from Western New York and beyond. Spread out over different locations, more than half of the performances are free and family-friendly, though some are for guests 21 and over only.
Various locations, downtown Jamestown, NY // $45, single, single venue tickets available (no camping) // whirlybirdmusicfestival.com 
Discover Presque Isle
July 26 - 28
Erie, PA
Headliners: TBA
Presque Isle State Park – voted Best of Erie for "Best Tourist Attraction" and "Best Place for a First Date" in the Erie Reader – is an essential site to take in. During Discover Presque Isle, The Presque Isle Partnership makes sure that the weekend is packed with dozens of different vendors and activities dotting the gorgeous peninsula. With a can't-miss Arts and Crafts show and live music throughout the weekend, the natural beauty of the park will host a fun-filled event for all ages.
301 Peninsula Dr, Erie, PA // Free (no overnight camping) // discoverpi.com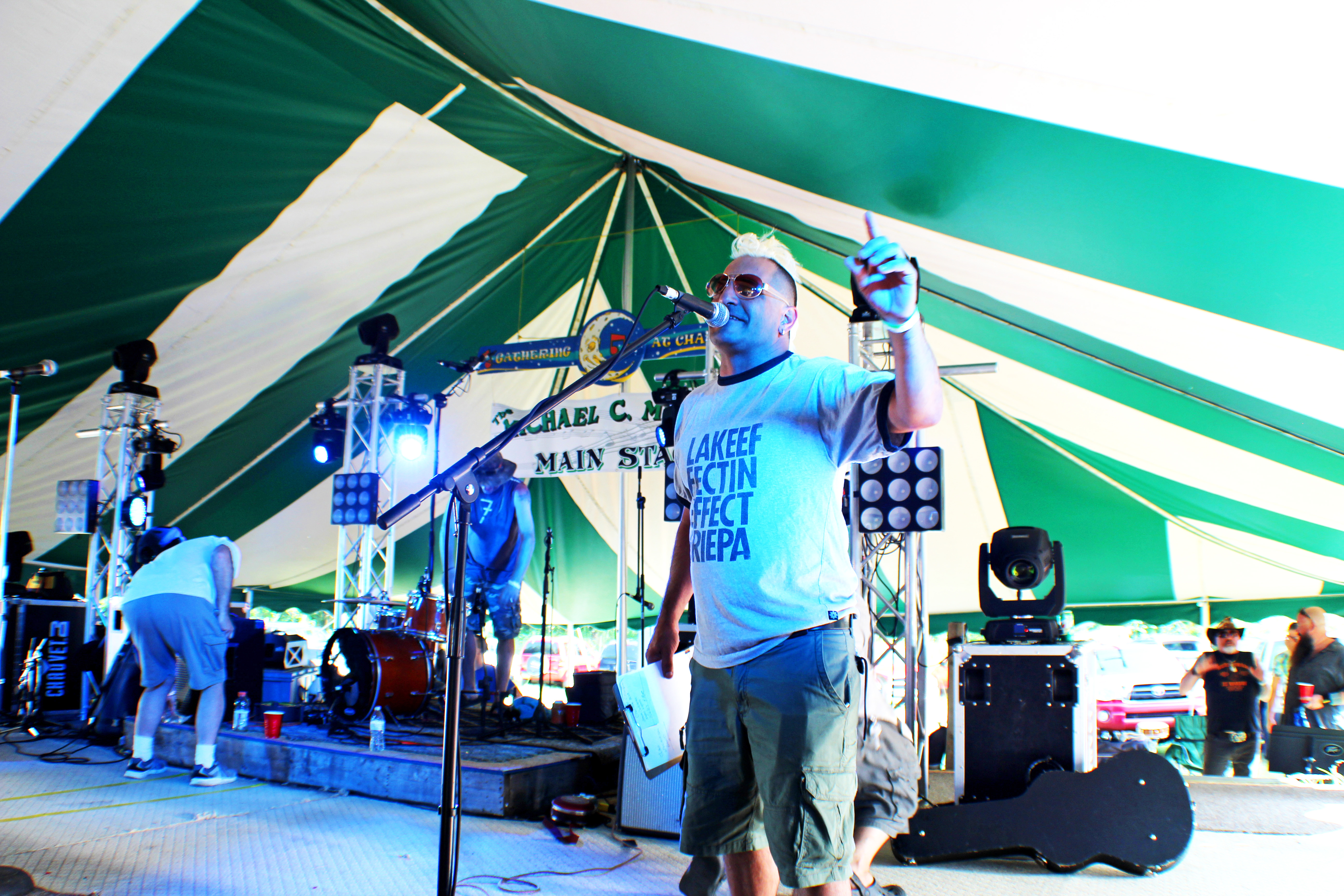 Perennial emcee Garrett Skindell announces the next band at the 2018 Gathering at Chaffee's
The Gathering at Chaffee's
July 26 - 27
Girard, PA (28 minutes away)
Headliners: Spiritual Rez, Magic Beans, Mungion
As one of the longest-running music festivals in the United States, the Gathering at Chaffee's is set for its 39th year. Few weekends bring together this many talented Erie musicians and have such a strong sense of family as Chaffee's. Serving up a free-spirited, welcoming, and colorful vibe, with acres of woods and three stages, this is the quintessential camping festival for the Erie community.
 8296 Mill St., Girard, PA // $100 gate, $80 advance until July 21 (camping included, RV options available, single day tickets available) // TheGatheringatChaffees.com
Erie's Blues & Jazz Festival
August 2 - 4
Erie, PA
Headliners: TBA
In its 28th year overall, Erie's Blues and Jazz Festival still continues to evolve. Long known as the Erie Art Museum Blues and Jazz Festival, this can't-miss weekend is now being spearheaded by Erie Arts and Culture for the second time around and has teamed up with Lake Erie Cyclefest. Continuing the tradition of excellence, all of Erie is welcome at the free Frontier Park event for a memorable, and rightfully well-loved experience. Catch the blues on Saturday, jazz on Sunday, with special all-ages and performance arts events preceding the music on Friday.
 Frontier Park, 1501 W 6th St, Erie // Free (no overnight camping option) // eriebluesandjazz.com
Celebrate Erie
August 15 - 18
Erie, PA
Headliners: TBA
An Erie institution that began in the mid-'70s, Celebrate Erie is a free event located in the heart of downtown. Organized by the city government, it ties together local music, food, and culture for a truly local experience. The family-friendly environment has plenty of interactive activities stretching for blocks on northern State Street and Perry Square. Past lineups have boasted nationally known headlining acts like Sugar Ray, Kool & the Gang, and Three Doors Down, with the best local talent filling out the event's multiple stages.
 Various locations, downtown Erie // Free (no camping options) // Celebrateerie.com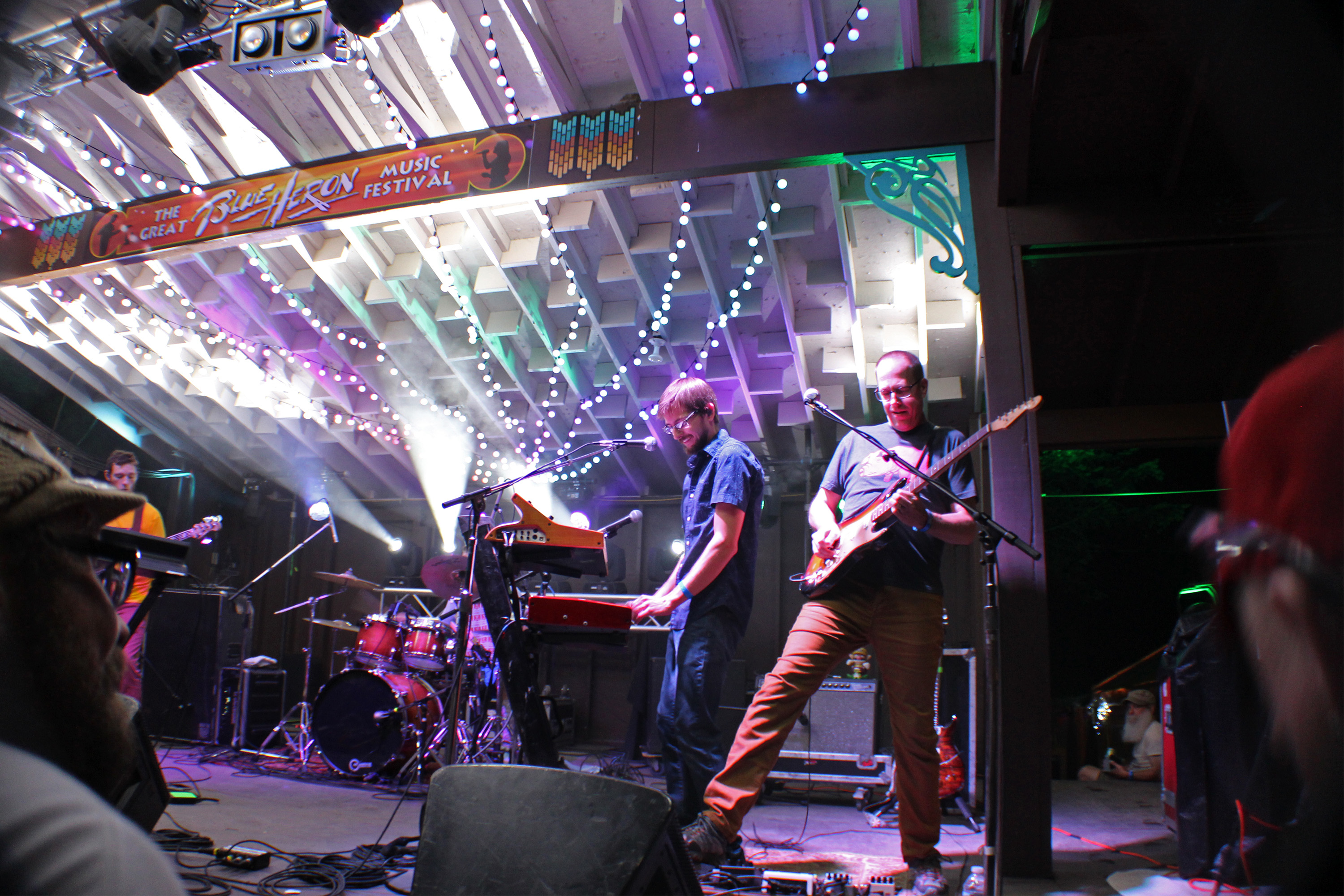 Night Lights, a groove-oriented late summer festival that takes place on the same site as the Heron, was headlined last year by jam bands such as Aqueous (joined here by guitarist Chuck Garvey of Moe.).
Night Lights
August 22 - 24
Sherman, NY (42 minutes away)
Headliners: TBA
Get one last weekend in at the picturesque Heron grounds for Night Lights, a festival that lives up to its name. With multiple colors illuminating the forest backdrop, set up camp, and party to your heart's content to groove-based jams that run late into the night. Past music alumni include Aqueous, Dopopod, and Lotus. It's a psychedelic adventure that continues to gather steam, with new guests and returning attendees alike. 
The Heron Farm & Event Center, 2361 Wait Corners Rd, Sherman, NY // $99 (camping included) // NightLightsFest.com 
Arts & Drafts Festival
Sept. 5 - 7
Erie, PA
Headliners: Cult Classics, This American Song, Falling Hollywood
The Brewerie at Union Station is Erie's longest running brewpub and restaurant, located in an eye-catching former train station. Arts & Drafts is a biannual event featuring more than 70 local artists and 14 different musical acts. The fall edition utilizes the trackside stage as well as the first-floor pub (the March version takes place entirely indoors), with full bands in the outdoor environment. A wide offering of craft beer and hundreds of pieces of art will be for sale in one of the defining moments of the season.
The Brewerie at Union Station, 123 W 14th St., Erie // Free, $3 after 8 p.m. (no camping) // brewerie.com
Resonance Music and Arts Festival
Sept 19 - 22
Slippery Rock, PA (1 hour 21 minutes away)
Headliners: Tycho, Papadosio, Keller Williams
Now in its sixth year of existence, Resonance Music Festival has found a new, much closer home. This year's event will take place at the lovely Cooper's Lake Event Venue and Campground, a 450-acre space alongside I-79, and a popular destination for medieval reenactments. Featuring an impressive lineup of top-tier, nationally recognized jam and electronica bands, this event merges visual arts as well for a one-of-a-kind closer to festival season, with what will likely prove to be the biggest of its kind in the region for a new generation.
Cooper's Lake Event Venue and Campground, 205 Currie Rd, Slippery Rock, PA // $185 (plus camping fees) // VIP options available // resonancemusicfest.com
Adventures all season at Nelson Ledges Quarry Park
Garrettsville, OH (1 hour 40 minutes away), 12001 Nelson Ledges Rd.
nlqp.com, tickets available at ticketquarry.com // No glass bottles, no dogs // group passes (includes camping for up to seven people), single day passes, and children's rates available (children 0 - 4 free)
Spring Badfish
May 31 - June 2
Headliners: Badfish, Bumpin' Uglies, Roots of Creation
The popular Sublime tribute band returns for another two nights of headlining sets.
$55 - 75 // badfish.com
Pyro Arts and Music Festival
June 6 - 9
Headliners: Nahko and Medicine for the People, Wookiefoot, Rising Appalachia
This "year of the phoenix" features a packed lineup of musicians, fire performers (hence the name), art installations, and workshops hoping to build a strong sense of community.
$120 - 150 // pyrodemayo.com
Spring Classic Fest
June 14 - 16
Headliners: Gilmour's Breakfast, Kashmir, Pettybreakers
A weekend of classic rock tribute acts featuring the music of Pink Floyd, Led Zeppelin, Tom Petty, and more.
$50 - 75 // ticketquarry.com/tc-events/spring-classic-fest-2019/
Grateful Fest
July 4 - 7
Headliners: Into the Blue, John Welton & The Awakening, The JiMiller Band
Bask in the music of the Grateful Dead, with tribute sets abounding and a fireworks display on (one more) Saturday night.
$70 - 85 // ticketquarry.com/tc-events/grateful-fest-2019/
Funk N Flow
July 12 - 14
Headliners: Lettuce, Tropidelic, Spafford
For its first incarnation, this groove-heavy festival features a strong lineup paired with the quarry's already impressive atmosphere.
$95 - 110 // ticketquarry.com/tc-events/funk-n-flow-2019/
Slightly Stoopid
July 19 - 21
Headliners: Slightly Stoopid, Matisyahu, Tribal Seeds
The California band brings their beachy vibes to the quarry with big-name guests in tow for a weekend-long stop on their "How I Spent My Summer Vacation" tour.
$120 - 140 // slightlystoopid.com
The Lazy Daisy
August 9 - 11
Headliners: The JiMiller Band, Vibe & Direct, Amoramora
The Cleveland Deadheads are back for two nights at the quarry for the fest's 18th year running.
$45 - 60 // ticketquarry.com/tc-events/the-2019-lazy-daisy/
Fall Classic Fest
September 13- 15
Headliners: Tusk, Eaglemania, Into the Mystic
This fall edition features classic rock tribute acts featuring the music of Fleetwood Mac, The Eagles, Van Morrison, and more.
$70 - 85 // ticketquarry.com/tc-events/fall-classic-fest-2019/
The fests at Legend Valley
Thornville, OH (3 hours 54 minutes away) // 7585 Kindle Rd. // legendvalleymusic.com // Camping included in ticket prices // RV and VIP options available
Dark Star Jubilee
May 24 - 26
Headliners: Dark Star Orchestra, Chris Robinson Brotherhood, The Marcus King Band
$159 - 194  // darkstarjubilee.com
Camp Anarchy
May 31 - June 2
Headliners: The Offspring, Rancid, NOFX
$141.75 // campanarchyfest.com
The Werk Out
August 1 - 3
Headliners: The Werks, Umphrey's McGee, Pigeons Playing Ping Pong
$139 (excludes camping) // thewerkoutfestival.com
WCOL Country Jam
August 16 - 17
Headliners: Jason Aldean, Old Dominion, Randy Houser
$84.99 - 149.99 (excludes camping and parking) // countryjamcampout.com
Lost Lands Festival
September 27 - 29
Headliners: Illenium, Zeds Dead, NGHTMRE
$229 (cost excludes camping) // lostlandsfestival.com
Fests worth the trek, and other honorable mentions
LaureLive
June 9, 10
Russell Township, OH (1 hour 39 minutes away)
Headliners: Hozier, Sheryl Crow, Dirty Heads
$125, $85 single day (no camping option) // VIP options available // laurelive.com
Cobblestone Live
Aug 2, 3
Buffalo, NY (1 hour 41 minutes away)
Headliners: Joywave, Langhorne Slim, Aqueous
$35 - 45, single day passes available // buffaloironworks.com
Dome Festival
May 16 - 18
Masontown, WV (3 hours 19 minutes away)
Headliners: Pigeons Playing Ping Pong, Aqueous, Magic Beans
$135 (plus camping fees), RV options available // domefestival.com
Nelsonville Music Festival
June 6 - 9
Nelsonville, OH  (4 hours 38 minutes away)
Headliners: Death Cab for Cutie, Mavis Staples, The Breeders
$165, single day options (plus camping fees) // VIP options available // nelsonvillefest.org
Three Rivers Arts Festival
June 7 - 16
Pittsburgh, PA (2 hours 5 minutes away)
Headliners: India.Arie, J Roddy Walston and the Business, Lucius
Free (no camping option) // traf.trustarts.org
Big Dub
July 24 - 28
Artemas, PA (4 hours 10 minutes away)
Headliners: Black Tiger Sex Machine, Boogie T, Caspa
$59 - 225, based on duration (plus camping fees) // bigdubfestival.com
MO POP
July 27 - 28
Detroit, MI (4 hours 1 minute away)
Headliners: Tame Impala, Vampire Weekend, Lizzo
$129.50 (no camping option) // mopopfestival.com
Veld Music Festival
August 3 - 4
Toronto, ON (3 hours 17 minutes away)
Headliners: Cardi B, Kygo, Skrillex
$189.50 CAD (no camping option) // VIP options available // veldmusicfestival.com
The Freakstomp Music Festival
August 9 - 11
Medina, OH (2 hours 16 minutes away)
Headliners: Tropidelic, Too Many Zooz, Bumpin' Uglies
$75 (camping included) // thefreakstomp.com
Borderland Music Festival
Sept 21, 22
Knox Farm State Park, NY (1 hour 41 minutes away)
Headliners: Gov't Mule, Greensky Bluegrass, Shakey Graves
437 Buffalo Rd, East Aurora, NY // $110 (plus off-site camping fees) // VIP options available // borderlandfestival.com
Nick Warren can be reached at nwarren@eriereader.com